Grandparents Day might not be as well known as Mother's Day and Father's Day yet, but we think the next generation will change all that! We've put together our very best ideas for bringing kids and grandparents together, and creating special memories they'll treasure this Grandparents Day – and forever after. Ready to spread some love? Let's go!
1. Write a lovely letter
Picture it: grandma and grandpa are having a mid-morning cup of coffee when they hear something special drop through their letterbox. One peek at the envelope and they know exactly who it's from: their favorite little ones! A letter can brighten up their day much more than a text message or an email – and it's the perfect way for kids to show off their handwriting and coloring skills to proud grandparents.
2. Send some pretty flowers
We've learned that for the most part grandparents already have plenty of 'stuff', and don't need any extra trinkets or gizmos (it just means more dusting, anyway!) But a nice bunch of flowers? That's a different story! Flowers add instant life and color to every home, and they're a great way to bring a bit of the outside in on a chilly day.
3. Frame a little one's masterpiece
Here's a cute way to remind grandma and grandpa that they're thought about every day: put one of their favorite drawings by their grandkids in a frame. It's a meaningful gift that will make them smile every time they see it – especially if your little ones are going through a phase where they only draw unicorn-puppy-ladybugs-in-space!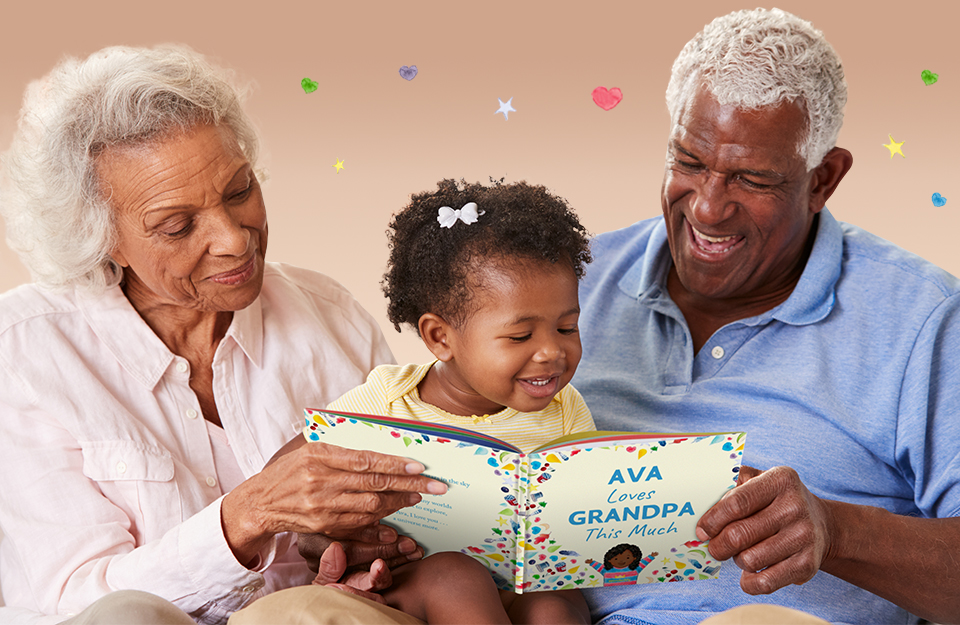 4. Set up a weekly call
Putting together a regular phone call schedule is a great way to check-in with grandparents – and give every member of the family something to look forward to! Whether they prefer a video call or a chat on a regular landline, making time for kids and grandparents to talk will strengthen their connections and cheer up everyone's day.
5. Lend a friendly ear
Storybooks and grandparents are a magical combination – but don't forget that grandmas and grandpas have a treasure trove of their own tales to tell! So encourage your child's curiosity about who their grandparents were before they knew them. Describing their childhoods and favorite memories will fascinate little ones, and transform grandparents into master storytellers.
6. Have some fun and games
Grandmas and grandpas, come out to play! Inviting grandparents to join in the fun of a wacky board game or a round of hide-and-seek is an action-packed way to make them feel included – if a bit out of breath. Even if the family has to play games remotely, it's still sure to be a giddy, grandparent-tastic delight!
7. Put your love in a story
What could be a more memorable Grandparents Day gift than a book filled with love, made especially for them? Our adorable personalized grandparent stories, I Love Grandma This Much and I Love Grandpa This Much let little ones show their grandparents how enormously they're loved, every single day. Just add the names of up to four grandchildren, add their personalized dedication and we'll weave them into a heart-melting keepsake. It's the most thoughtful gift for grandparents, ever!