Did you know kids can forget up to three months of classroom learning over the school holidays? It's known as 'summer slide' (a lot less fun than a real slide), summer learning loss, or 'summer brain drain' (ewww).
But wait – did you also know personalized books have a profoundly positive effect on children's literacy skills? Hurrah!
As part of our Summer of Reading campaign, here are our top tips for keeping your kids' imaginations and reading skills buzzing over the summer months. Including fun reading activities, best children's book festivals, kids' podcasts and more – so you can turn summer reading from a challenge, into a triumph!
1. Read cereal boxes at breakfast
Or yoghurt pots. Or milk cartons. Or newspaper comic strips. Anything you've got to hand!
2. Listen to audiobooks in the car
Long car journeys planned? There are some fabulous children's audiobooks available to keep them (and you!) entertained for hours. Right now we're loving Hank the Cowdog by John R. Erickson, How to Train Your Dragon by Cressida Cowell and narrated by David Tennant, and Julia Donaldson's A Treasury of Songs
3. Make a holiday guidebook
Check out our fun holiday activity The Tiny Traveller's Vacation Guidebook, where little ones get to review their trip!
4. Read a bedtime story together at night
Bedtime stories are a great cozy ritual. But they're also important to boost your little one's vocabulary, mastery of language, and logic skills.
5. Ask interesting questions at dinnertime
Get a bit more creative than 'How was your day?'. Try asking 'What made you giggle today?', 'Who was kind to you?', 'What did you learn that you didn't know yesterday?' or any of these questions here.
6. Write a story
Check out our blog 6 ways to kickstart kids' creative writing for some handy writing prompts to get your child's creative juices flowing.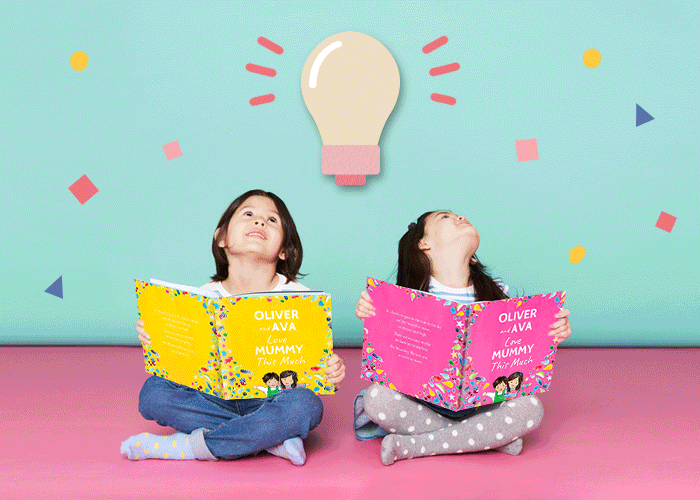 7. Visit your local library
When was the last time you visited your neighborhood library? Most of them run a fantastic program of family events over the summer holidays. So get on down there!
8. Try our reading game
Transform reading together as a family with our fun-filled downloadable activity: The Really Whacky Read-O-Meter. Giggles and grins guaranteed!
9. Listen to kids' podcasts
Podcasts ain't just for grown-ups! Some of our favorites include Wow in the World, Story Pirates, Circle Round and Tumble Science Podcast.
10. Learn a new word every day
Stick a word on the fridge in the morning. Award points for using it throughout the day. See if they can remember it by dinnertime! For inspiration, check out The Lost Words by Robert McFarlane.
11. Sign up to a summer reading challenge
How many books can your children race through over the holidays? The theme of this year's Summer Reading Challenge is Space Race. Sign up now to start logging their progress!
12. Find them a penpal to write to
Like this curious tarantula called Webster, who would love to find a human child to write to…
13. Make a cosy reading den
A crafty activity that'll encourage kids to read and stop them getting (card)bored! Find out how to make it here.
14. Download a reading app onto their tablet
Sometimes you can't avoid kids being on their devices. But how about making the most of their screen time and downloading a fun reading app? We're loving Pirate Phonics at the moment.
15. Put them into their own personalised story!
We already think our personalised books are pretty awesome. But research from the National Literacy Trust confirms that personalised children's books motivate kids to read more, and can put them three years ahead in their reading age by the time they turn 14. Fantastic!