Just because your loved one has graduated doesn't mean you need a crash course in writing the perfect graduation message. We've put together this list of well wishes to help you say 'congratulations graduate' in your own way. Whether your resident genius is graduating from high school, college or university, these messages will solve the problem of what to write in a graduation card – especially if it's accompanied by a meaningful graduation gift. Just don't ask us what X is equal to.
Our collection of graduation messages will suit all the bright sparks in your life, from sons and daughters to friends and family members. Study it carefully and you'll find the perfect words to express your admiration, excitement and (most importantly) love.
Sweet graduation messages

Express your happiness and pride with these words from the heart.
• Congratulations, graduate! I'm so proud of you, and even more proud of the person you've become. Remember to stay true to yourself as you set out on the journey of life.
• Happy graduation. Celebrate this special day by thinking back on your favorite memories and dreaming of an exciting future.
• You did it! Your graduation day is finally here and we're so proud of how far you've come. Congratulations on all your wonderful achievements, they'll be the first of many.
• Congratulations on your graduation. Go out into the world and do well – but more importantly, go out into the world and do good.
High school graduation messages

Congratulate clever teens with graduation wishes they'll always remember.
• High school is over – and the big wide world is waiting for you! Congratulations on your high school graduation.
• Congratulations to our high school graduate. Watching you grow up has been a joy, and we can't wait to see what you do next.
• Hats off to you for graduating high school today! Now the hard work is over, it's time to celebrate. We hope you enjoy every second.
• From your first day in nursery, I knew you were destined for great things. Congrats to my high school graduate.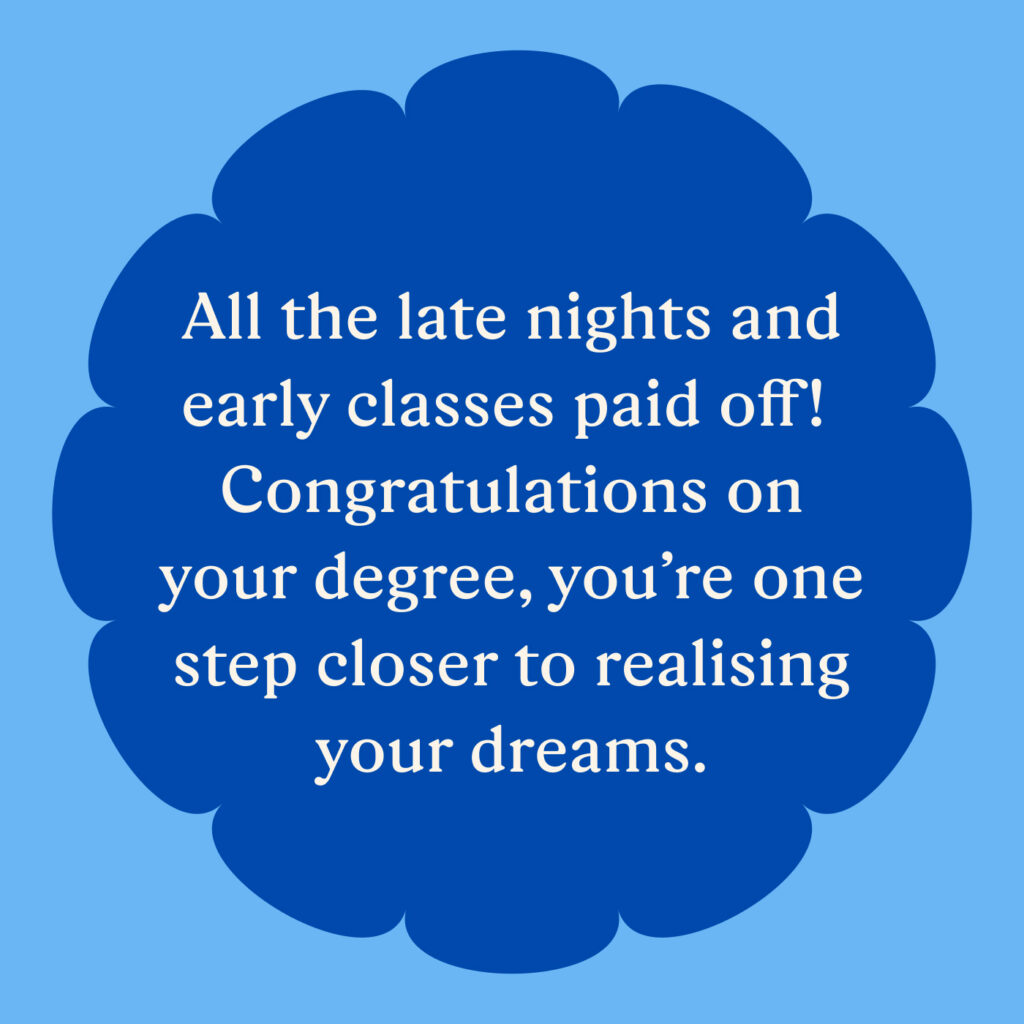 College graduation messages

Welcome college graduates to the world with words of hope and promise.
• Congratulations on graduating college – enjoy this moment and be proud of your success. Wishing you lots of luck for the future.
• All the late nights and early classes paid off! Congratulations on your degree, you're one step closer to realizing your dreams.
• Happy graduation day to our family genius. We're so proud of all your college achievements (and you look great in a hat and gown combo).
• Look at you, college graduate! Congrats on all your hard work, we can't wait to see how you make a change out in the real world.
Graduation wishes for a friend

Make friends feel on top of the world with meaningful graduation messages.
• Congratulations on graduating, bestie. Can't wait to take on the world together – our future looks so bright, we'll need shades!
• Amazing news about your graduation, I'm so happy for you. Hope you have so much fun celebrating today.
• Happy graduation! Forget the long, awkward conversations about your future, tonight we party!
• Congratulations to my partner-in-crime turned college graduate. Remember wherever you go and whatever you do, you'll always have me and I'll always have you.