It's time to gather together and share what you're thankful for over a mouthwatering meal! This holiday season, share perfectly worded well wishes with the friends, family and coworkers who mean the most to you. Use our funny, heartfelt and inspirational Thanksgiving messages to add a little extra love to your cards. 
Looking for a gift to make Thanksgiving feel extra special? Our personalized books are the perfect way to say thank you to a very special Mommy or Daddy. 
Thanksgiving wishes for family and friends
Heartwarming words and messages of gratitude to make loved ones feel incredibly special.
• Happy Thanksgiving to you and yours! Wishing you lots of happiness, peace and joy at this special time of year.
• There are so many reasons to be thankful this year, but you're at the top of my list. Happy Thanksgiving – you brighten up my world, each and every day.
• Happy Thanksgiving to my favorite people! Thank you for all the love, laughter and countless happy memories this year.
• Sending you happy Thanksgiving wishes to last all year. Hope you enjoy every moment of the holidays, and that the good times are filled with family, friends and lots of food!
• This Thanksgiving let's take time to count our blessings, enjoy the laughter of friends and family, and remember how lucky we are to have each other.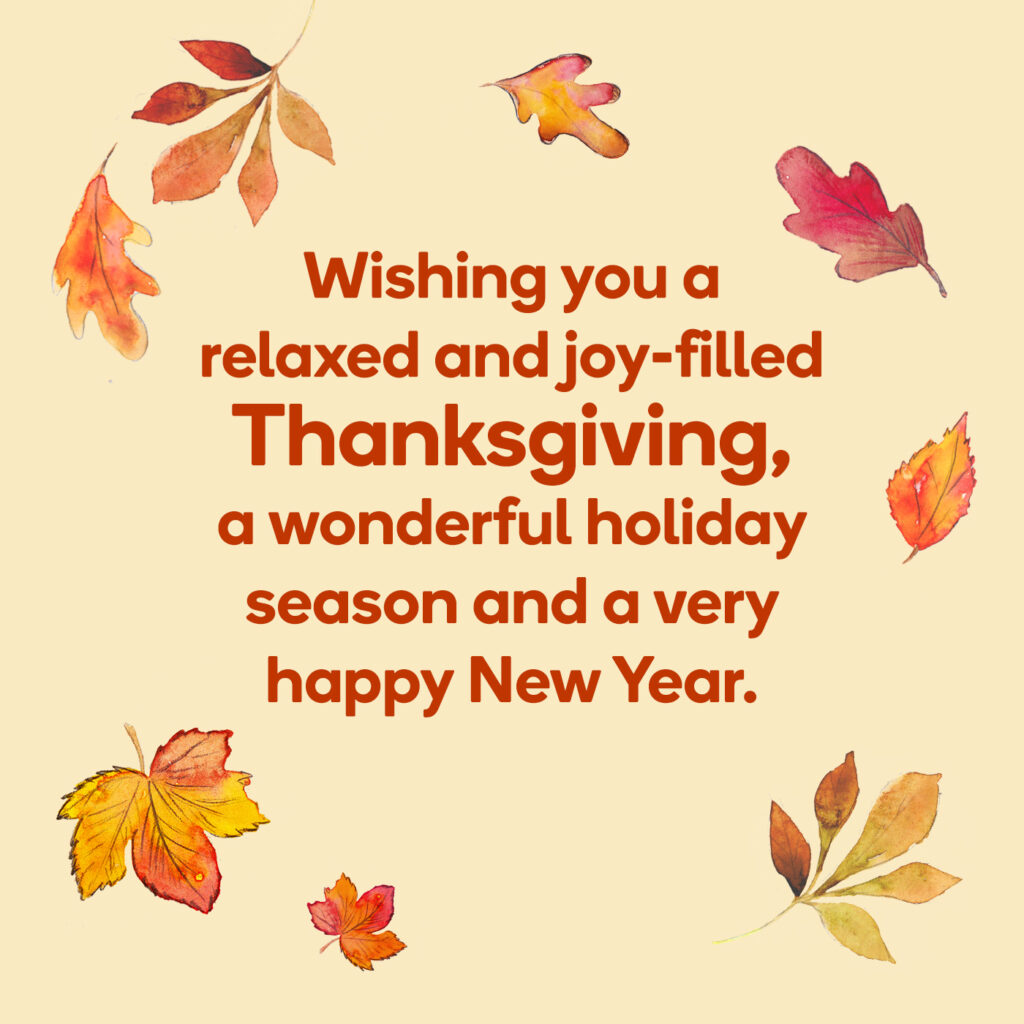 Funny Thanksgiving messages 
Laugh-out-loud messages and hilarious puns to share a giggle or two over the turkey. 
• This Thanksgiving, I'm grateful to have friends and family who take food as seriously as I do. Now let's eat!
• Wishing you a very happy and peaceful Thanksgiving – especially during your post-dinner nap.
• This Thanksgiving, don't forget: stuffing is the tur-key to my heart. 
• Happy Thanksgiving! Time to dig out your eating pants and get ready to gobble, gobble gobble!
• May your turkey stay tender, may your stuffing be delicious, may you enjoy your time together, may you avoid doing dishes!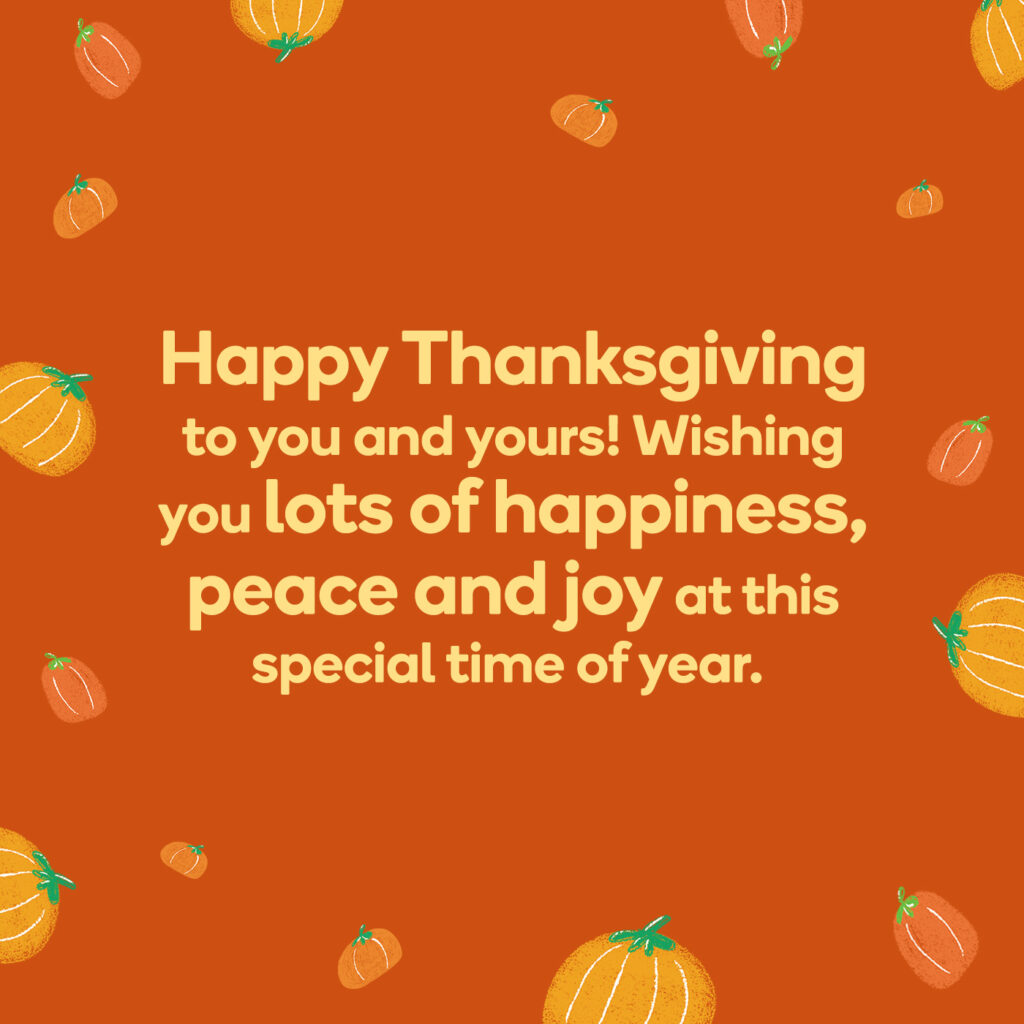 Thanksgiving messages for coworkers
Show how much you appreciate your colleagues with office-friendly well wishes. 
• Happy Thanksgiving! Thank you for making the office such a positive place to work. Keep the good vibes going all holiday long.
• This Thanksgiving I just want to express my appreciation for you and all you do. Your hard work and great attitude make working together a joy. 
• Happy Thanksgiving to a great colleague and friend, enjoy the long weekend!
• It's the season to express gratitude, and I'm so thankful for your expertise and companionship. All the best to you and your family this Thanksgiving. 
• There's no such thing as Monday morning blues when you're in the office. Thanks for being a great colleague and friend – happy Thanksgiving!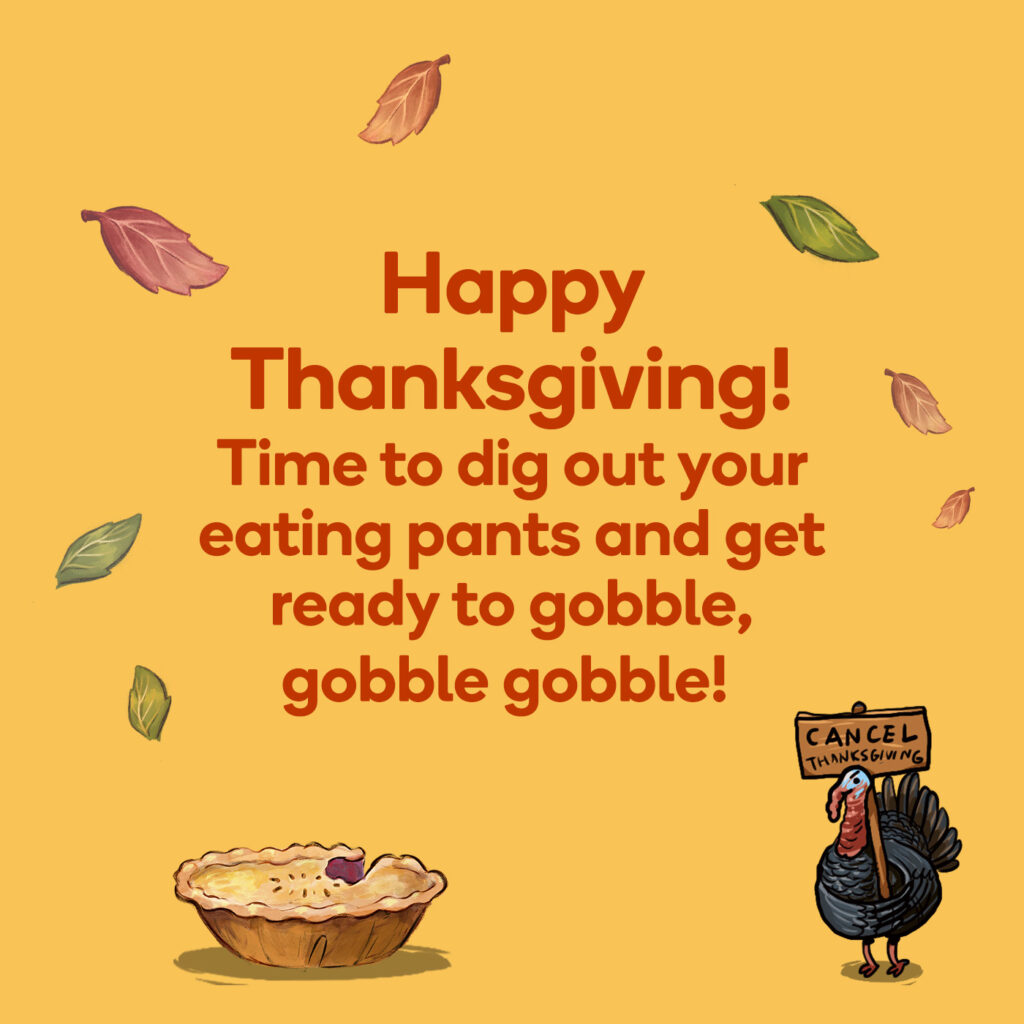 Happy Thanksgiving messages to employees 
Not sure how to express your gratitude for your team? These messages will do the job perfectly. 
• Happy Thanksgiving to a wonderful teammate. The work we do wouldn't be possible without you, I'm grateful to call you a colleague.
• I hope you have a wonderful Thanksgiving – you deserve a relaxing break. Wishing you a peaceful holiday, filled with happy memories.
• This Thanksgiving I'm grateful to be part of such a special team with colleagues like you. Thank you for all your hard work and passion.
• It's a pleasure working with you – hope you have a happy Thanksgiving filled with family, friends and food. Enjoy every moment. 
• Wishing you a relaxed and joy-filled Thanksgiving, a wonderful holiday season and a very happy New Year.