Dum, dum, du-dum, dum, dum, du-dum… There's a marriage on the cards! And as you're here, you're probably after some inspiration for engagement greetings, right? Then read on, as we've got engagement wishes galore.
If the lucky, loved-up pair are super-close, we've got engagement wishes for friends, family and even from one half of the couple to the other. We've also got more generic (but still thoughtful) congrats on your engagement ideas for those you don't know quite as well. 
And while you're here, it would be silly of us not to mention that we also have a pretty awesome selection of gift books, which one of the engagement quotes below would make a charming inscription in. Just a thought… 
If you're after some generic engagement wishes…
These engagement wishes work for everyone, but are still super thoughtful.
1. Congratulations on your engagement! Wishing you both a lifetime of love and happiness.
2. Sending ginormous congratulations on your engagement! It couldn't happen to a nicer couple.
3. Yay to love! Huge congratulations on your engagement, enjoy every moment.
4. Wishing you a happy engagement and even happier marriage. May you be in for a lifetime of love.
5. Engaged has a nice ring to it! Congratulations, what a perfect pair.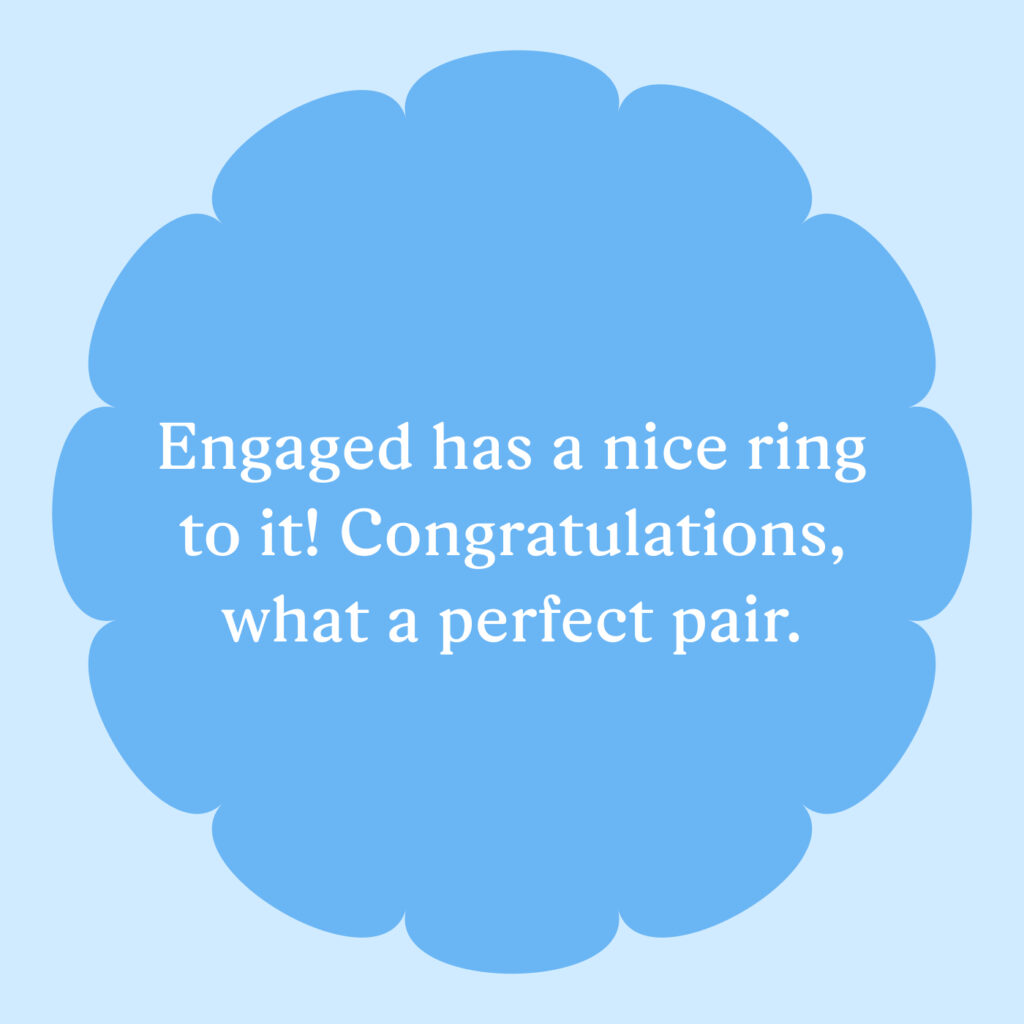 After the perfect engagement messages from friends?
You've lunched together, brunched together, double-dated and danced all night, and now they're embarking on their next adventure: down the aisle! Here are some friend engagement wishes we love.
6. You did it! Sending the most humongous engagement wishes to my favourite couple EVER.
7. Finally! Happy engagement to the best. May your life be filled with love, laughter and an unlimited supply of nachos. I can't wait to celebrate with you.
8. Two of my best friends are doing the best thing! I love when good things happen to great people – happy engagement, you two.
9. You two were meant to be together, I'm so glad you found each other. Thanks for making me a part of your journey, your love is really special to see.
10. Your happiness makes us so happy. Congratulations!
Engagement messages for family…
Whether you're a proud parent, gushing grandparent, aunty, uncle or sibling – here are plenty of ideas of what to write in an engagement card.
11. Looks like I'm finally getting the sister/brother I always wanted… Congratulations!
12. So many congratulations on your engagement. We couldn't wish for a better person to be joining our family. We can't wait to celebrate with you.
13. Congratulations on your engagement. It has been a joy to watch your love for each other grow, and we're thrilled to follow the next chapter of your story together.
14. Welcome to the family! Buckle up, you're in for a bumpy ride…
15. We can't believe our little one is all grown up and about to start a family of his/her own. We couldn't love you more, or be prouder of who you've turned out to be. Congratulations on your engagement, you deserve every happiness in the world.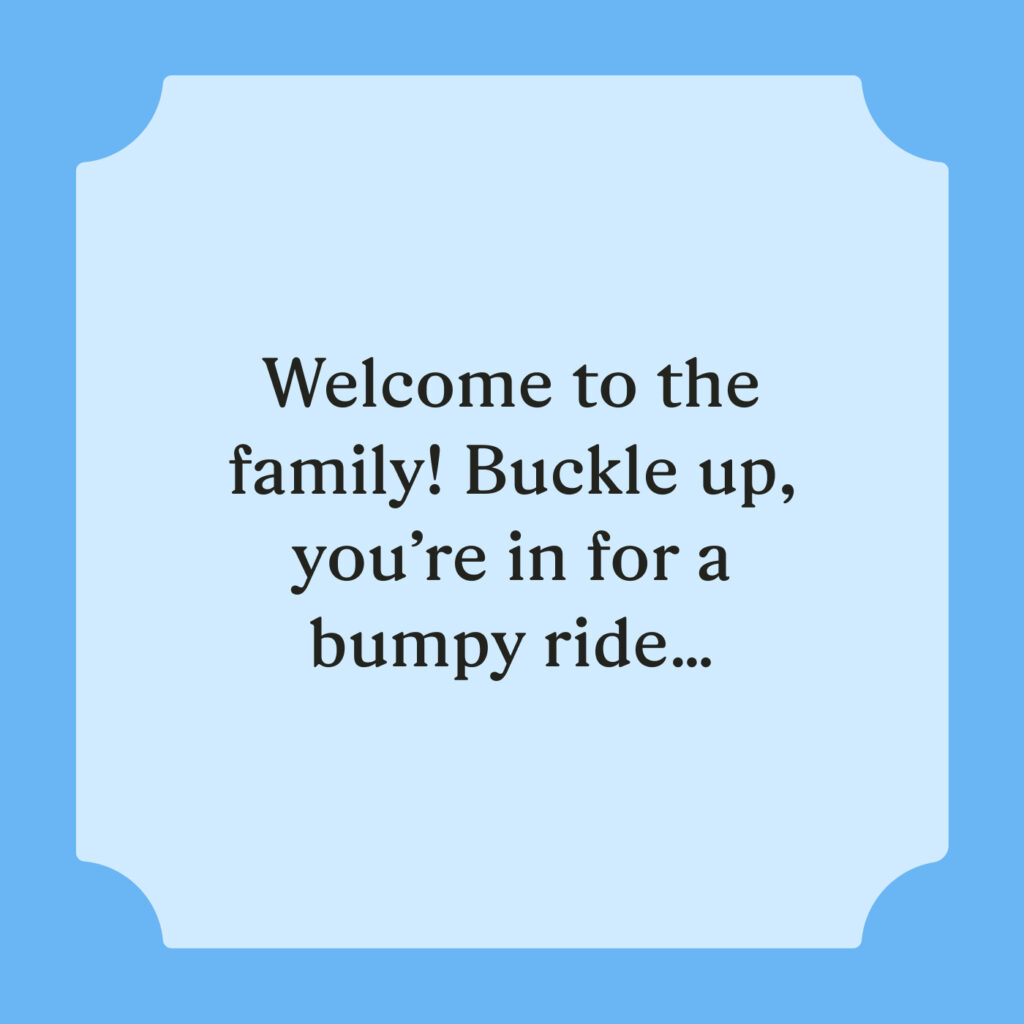 Short messages that say happy engagement
Sometimes, less is more. Here are a few engagement congratulations that put quality over quantity.
16. It's official! Congratulations!
17. You're engaged! So happy for you!
18. We love love. Happy engagement!
19. Love wins, and you two are champions.
20. When two become one… Happy engagement!
Funny engagement wishes 
They'll be laughing all the way down the aisle after reading what you wrote in their engagement card.
21. Roses are red, violets are blue, who's getting hitched? Oh, it's you two!
22. Enjoy your engagement… It's all downhill from here!
23. I used to want to get married, and then I remembered I like to have fun once in a while…
24. The lengths people will go to in order to bag a new set of plates is astounding.
25. About time you made it official!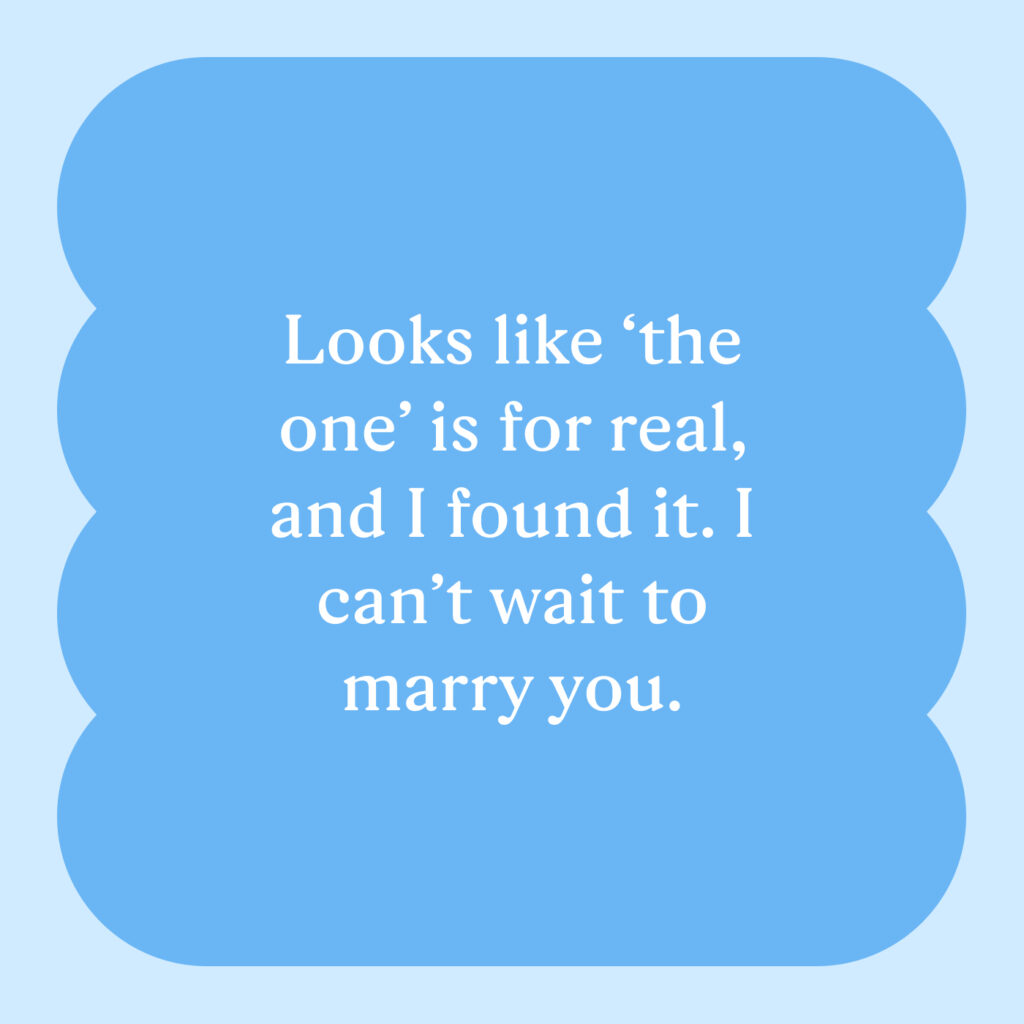 Messages from one spouse to another
We've got a brilliant selection of engagement messages for couples, too.
26. To my future husband/wife-to-be, this is just the beginning. I can't wait to do life with you.
27. Every day I thank my lucky stars that I found you. You make my days brighter, nights warmer and everything better. I can't wait to love you forever.
28. You'll do.
29. Looks like 'the one' is for real, and I found it. I can't wait to marry you.
30. To my soul mate, play mate and best mate – fancy getting married?
Engagement quotes
Lost for words when writing your engagement cards? Let someone else do the talking with one of these romantic engagement quotes.
31. "Gravitation cannot be held responsible for people falling in love." – Albert Einstein
32. "Love doesn't make the world go 'round. Love is what makes the ride worthwhile." – Franklin P. Jones
33. "When you realise you want to spend the rest of your life with somebody, you want the rest of your life to start as soon as possible." – Nora Ephron
34. "True love stories never have endings." – Richard Bach
35. "Love does not consist of gazing at each other but in looking together in the same direction." – Antoine
Now, time for a thoughtful and unique wedding present. How about a personalized book? Right this way…