Remember when you were little, and you'd dream about what it would be like to meet a real dinosaur? Then feast your sparkly eyes on our brand new book! I'm a Name-O-Saurus is a one-of-a-kind story based on what every dino-obsessed kid dreams of most: their very own adventure with dinosaurs.
This stupendous personalized story takes a child on a clomping, stomping, romping adventure where they get to be a pterodactyl, a velociraptor, a triceratops, a diplodocus, and a T-Rex. But most of all, they'll learn how fantastic it is to simply be themselves.
Find out what makes I'm a Name-O-Saurus one of the most roarsome personalized dinosaur books for kids…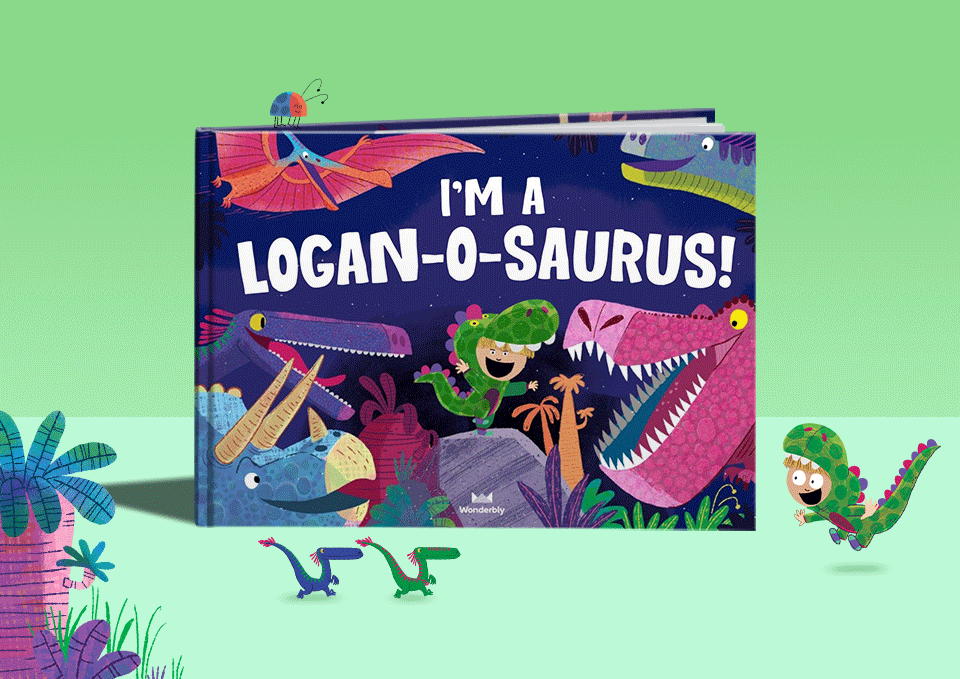 1. It's the dream gift for every dino fan!
One night, a child awakes to hear a hair-raising hullabaloo. They follow the noise, and discover they're in Dino Land… their dream has come true! They meet five different dinosaurs, who teach them how to flap, zoom, trample, stomp and roar. After all that excitement, a very happy, very dinotastic, very sleepy child climbs back into bed where they fall fast, fast, asleep.
2. It features all their favorite dinosaurs
If there was a Hall of Fame for dinosaurs, the top five would be in this book. We're talking pterodactyls, velociraptors, triceratops, diplodocuses, and a terrifically impressive T-Rex. Little readers get to trample and batter and clatter and crash, flap and roar and gallop and prance with these magnificent creatures throughout the story – and they even learn to dance!
3. Your child has their name transformed into SIX roarsome dino names
Little readers get not one, not two, but SIX splendidly personalized dinosaur names as they stomp through their very own story meeting their favorite prehistoric friends. They'll roar with laughter every time you read their unique dino names out loud.
4. We'll dress your little one up as a dinosaur
Choose the character that looks most like your child, and we'll dress them up in a dino suit to go romping through Dino Land. We're preeeeetty confident they'll go absolutely wild when they see themselves on every fantastical personalized page.
5. It's the perfect bedtime adventure for 2 to 5-year-olds
The lively, colorful illustrations will capture the attention of toddlers, and the soothing read-aloud rhymes will help them drift off to sleep while learning new and exciting vocabulary in the process. That said, we believe you're never too old to enjoy your own dinosaur adventure, and you may find this book is perfect for an older child (or even a grown-up!) in your life.
6. Write your own personal message on the first page
Like every magical Wonderbly story, I'm a Name-O-Saurus comes with the option to add a personal dedication on the first page. Where you can wish that special little someone a grrrrreat birthday, or share some special words of wisdom that they can read year after year. We think this little touch adds extra special sparkle to your gift.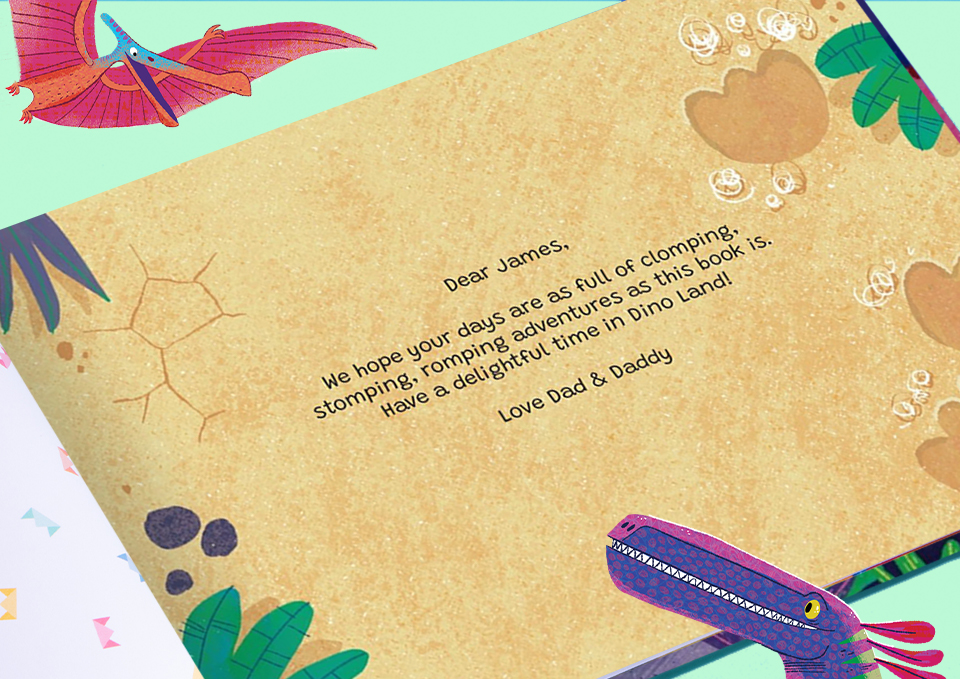 7. Choose from four dazzling front covers
Are they more into green or pink? Make their gift extraordinarily special with a choice of four vibrant colors in a softcover, super-sturdy hardcover, or luxurious layflat. Plus, every book is printed as a unique, one-off edition. We use thick, high-quality paper sourced from sustainable forests (FSC-certified), so it's good for our wonderful planet, too.
Know a little dinosaur fan?
Make all their dino dreams come true with our rip-roaring dinosaur children's book.Personalize your story now