Every grown-up who's ever played 'hide-and-seek in space' or pretended to be a unicorn knows the power of childhood imagination. A healthy imagination is a huge part of the magic and wonder of childhood – and helps a child's development enormously. Read on for tips on how to encourage imagination in children, with creative play that's fun for the whole family.
Take time out from toys
Forget fancy toys and tablets! All your child needs is a few household items and your encouragement, and they can do anything – thanks to their own natural creativity. Not sure how to start? Try a big cardboard box. With a few decorations and stickers (never underestimate the power of stickers) an ordinary cardboard box can be transformed into anything imaginable. From a rocket ship to a fairy-tale castle, you'll be amazed at the characters and adventures young children can dream up without even thinking about it. And without outside help from their usual toys and games.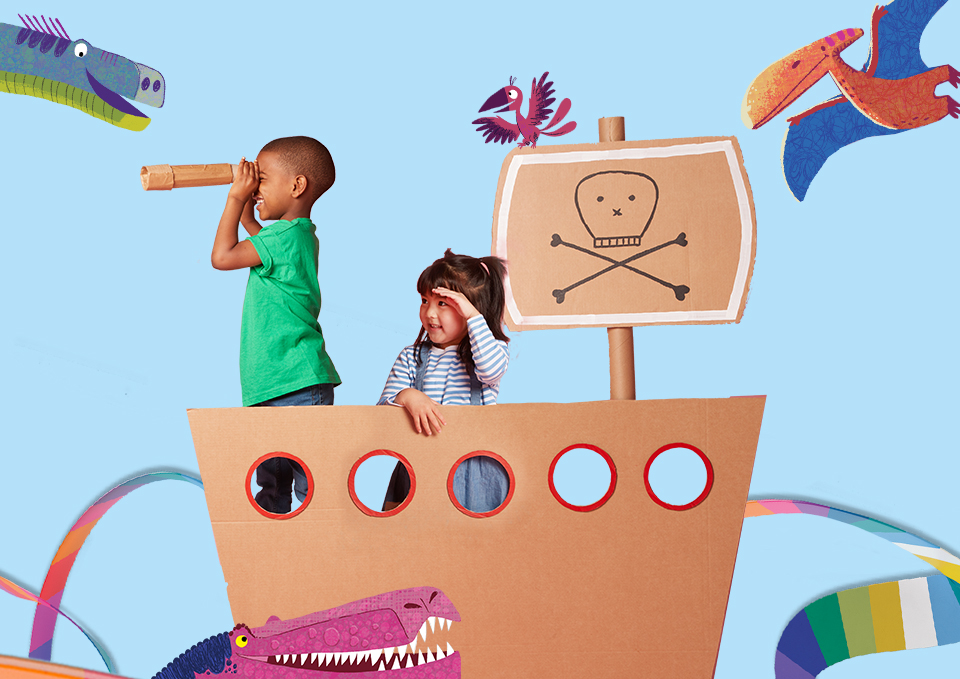 Include fantastic friends and family
A playdate with friends and family encourages kids to cooperate, and develop their problem-solving abilities. If your little one and their friend both want to be the pirate captain, it gives them a chance to take turns. Or your child may learn to play a game their sibling wants to play first, in exchange for playing their favorite game next time. Friendly imaginative play allows kids to process their experiences, expand their creative thinking and develop their social and emotional skills in safe surroundings. Here's to many happy play dates – and plenty of snacks!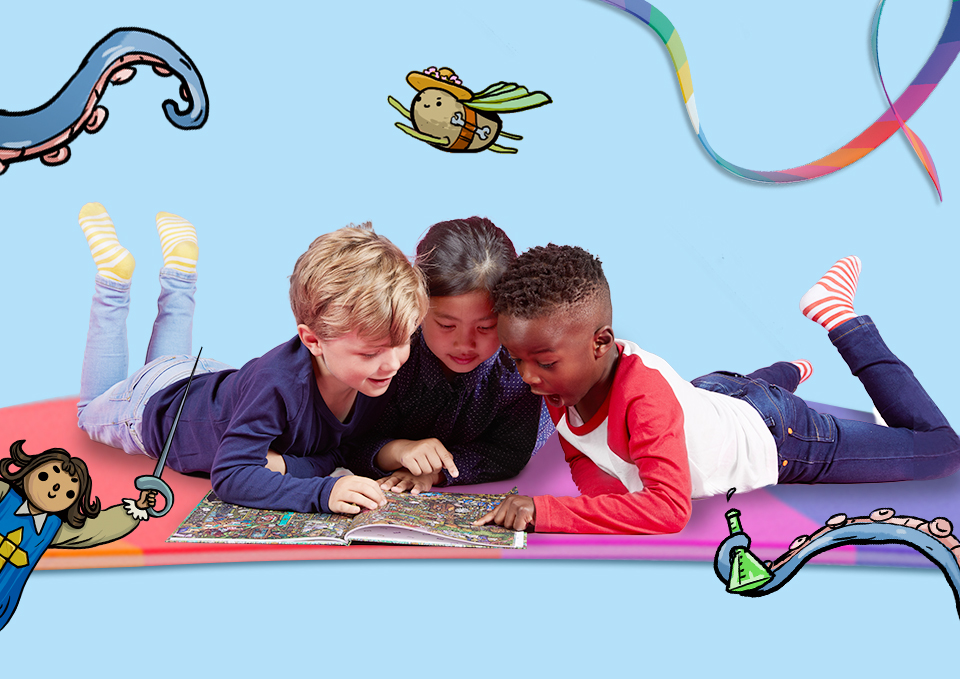 Everywhere's a playground!
Play time can be even more exciting when you take it outdoors, and it's a great way for kids to get fresh air and exercise. Change up your child's play environment by hosting a teddy bear picnic in the garden, or with a visit to the local petting zoo. Open spaces can really help kids dream big: a climbing frame makes for an incredible fairy-tale castle or undiscovered jungle (just watch out for any cheeky monkeys!). And don't forget to encourage little ones to explore natural objects like flowers, leaves and pebbles. It all helps boost their understanding of the natural world, and our play-worthy planet.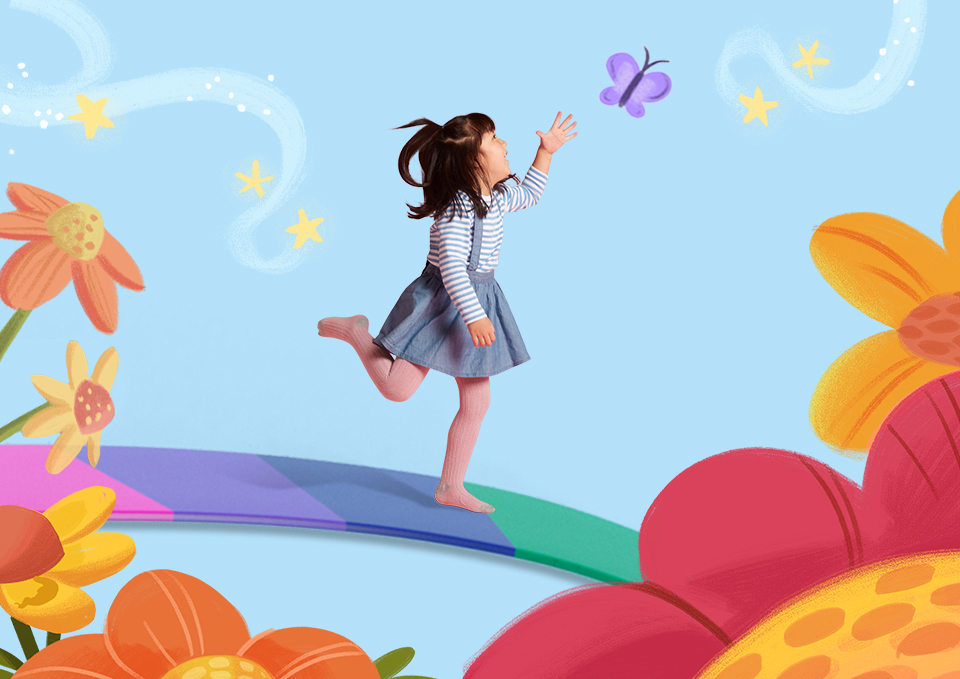 Make storytime magical
Nothing stimulates children's imaginations like storytime together with their favorite grown-ups. With their eye-popping illustrations and read-aloud rhymes, storybooks are the perfect way to spark a lifelong love of reading. We happen to think our personalized storybooks are extra magical, because they let children imagine themselves doing extraordinary things. Send a child on a romping, stomping dinosaur adventure in our roarsome story I'm a Name-O-Saurus, or transform them into a fairy-tale hero in the enchanting tale, Princess You The Great (it's also perfect for little princes). For a timeless keepsake, transport a child to Nursery Rhyme Land with Your Treasury of Nursery Rhymes and they'll appear in 30 classic songs and stories!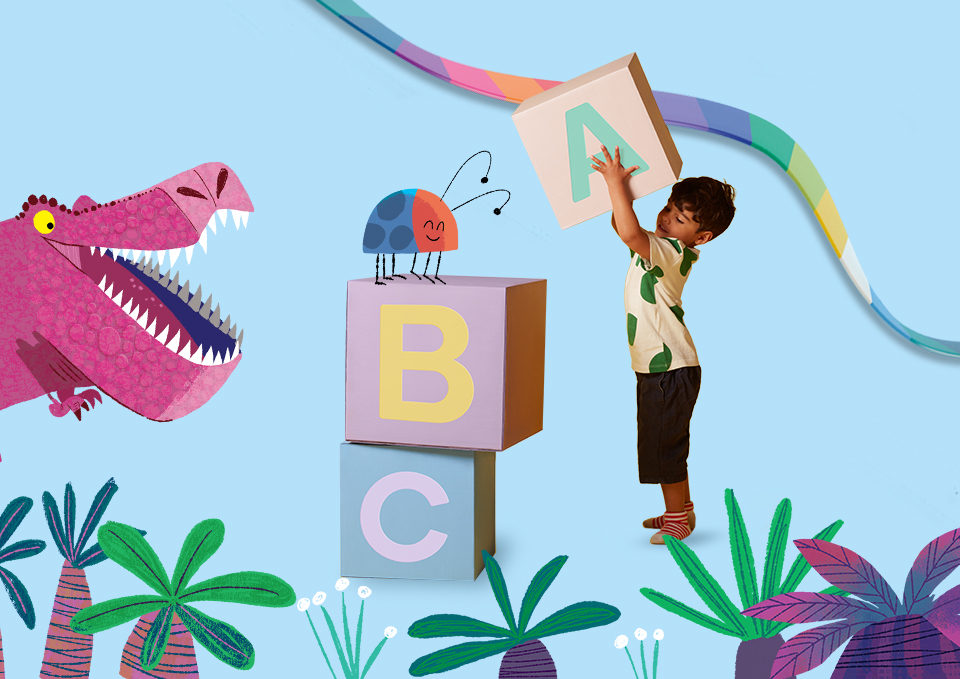 Treat them to open-ended toys
The magic of open-ended toys is that they can be played with in many different ways. Board games and video games only function in one way, but with open-ended toys kids can change the way they play depending on their mood – and whatever inspires them from moment to moment. Art and craft supplies, stuffed animals, building blocks and dressing-up outfits can all help unleash a child's imagination. They're also perfect for encouraging independent play in downtime, no grown-ups allowed!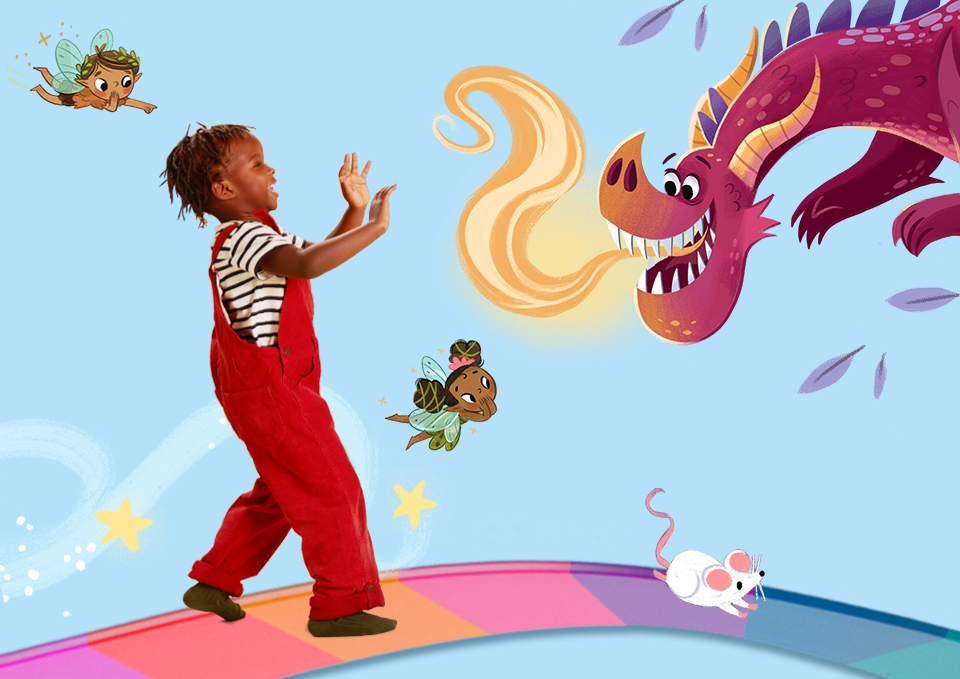 Let little ones take the lead
There's a big difference between playing and being entertained. Encouraging pretend play helps children explore different skill sets and actively engage in the world around them, rather than sitting in front of a screen. As your little ones play, pay attention to the characters and scenarios they create for themselves, and enhance them where you can. Going on a jungle expedition? Turn up a totally tropical soundtrack! About to battle a deadly dragon? Offer up a box lid as a sturdy shield! Remember not to take over, but let them lead the make-believe game. It's a sure-fire way to boost their confidence and their creativity. Hurrah! 
We hope these ideas inspire imaginative play in kids of all ages – and bring you many happy playtimes together.