Nothing beats a great birthday message. Whether it's scribbled in a card, printed in one of our personalised birthday books or iced slightly wonkily on a cake, it's the best way to make someone feel amazing on their big day. And once the party's over, your well-chosen birthday wish message will stay with them all year.
Whether you're writing a dedication for your kids, partner, parents, sibling or best friend we'll help you find the right words to make their heart melt (in a good way). Keep scrolling until you spot the perfect birthday message…
Birthday messages for kids of all ages

A perfect birthday wishes message for every little one in your life – from toddlers to teens.
• Happy Birthday! You're growing into an amazingly smart, funny little human, who makes us SO proud every day. Keep being exactly who you are.
• Happy Birthday to our little adventurer! Remember that the world is your oyster. You can be anything you want to be.
• Happy Birthday! Wherever you go and whatever you do, always remember to be kind, courageous and curious.
• Happy Birthday! We hope that you enjoy this gift and that, throughout your life, all your wildest and most wonderful wishes come true!
• Happy Birthday! You are so loved by everyone who knows you. Watching you grow has been our favourite adventure and we can't wait to see what the future has in store for you.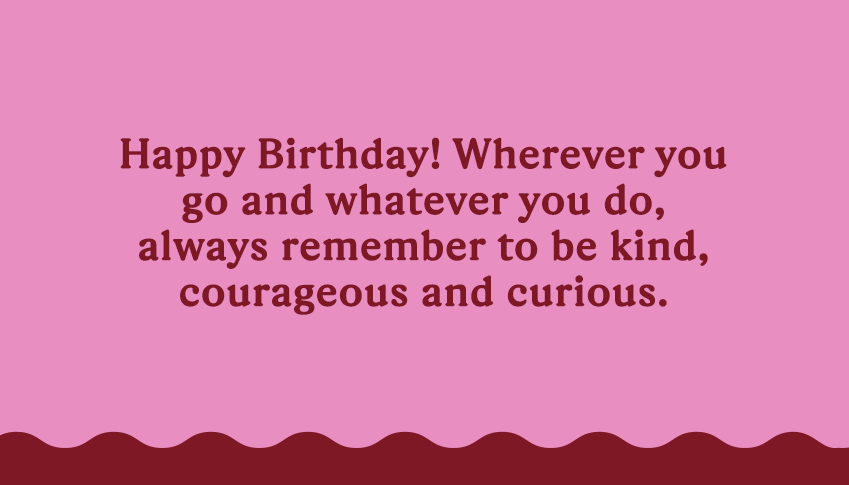 Birthday messages for mum or dad

Show loving parents how much you appreciate them with grateful birthday greetings.
• Happy Birthday to the person who looks after us and who makes every day an adventure! You might not wear a cape, but you're our hero.
• Happy Birthday to the best Mummy/Daddy in the world. You amaze us every day and we are so incredibly lucky to have you.
• Happy Birthday to the person who knows how to make us giggle and grin, whatever mood we're in. You're our absolute rock.
• Happy Birthday to the kindest, wisest, warmest person I know. You're amazing!
• Happy Birthday to the best hug-giver, bruise-soother, sandwich-maker and entertainer in the world! You're a marvel and we are so lucky to have you.
Heartfelt birthday messages for friends

Celebrate your favourite people with birthday messages inspired by good ol' friendship.
• Happy Birthday! Thank you for always being there, whatever the weather. You're a ray of sunshine.
• Happy Birthday! Thank you for all the late nights and the lazy mornings, for listening to me and laughing with me, for being there through thick and thin. I don't know what I'd do without you!
• Happy Birthday to my #1 biggest fan. I love you very much.
• Happy Birthday to my favourite person to get into trouble with. Here's to many more adventures to come.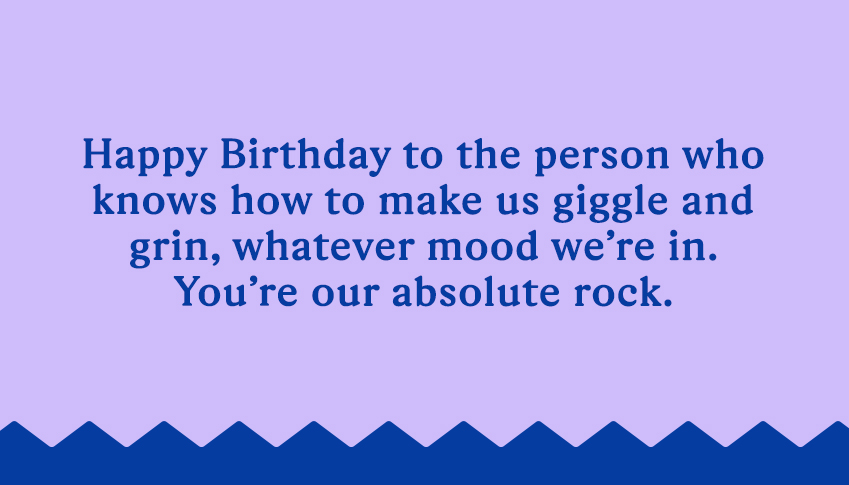 Thank you message for birthday wishes

Feeling the love after celebrating your own birthday? Find a message to express your heartfelt thanks
• Thank you for your wonderful birthday wishes – I felt so special. Can't wait to return the love on your birthday!
• I had an amazing birthday, thanks for making my day. Getting older is great with people like you in my life.
• Thanks to everyone who wished me a happy birthday, it means the world to me.
• Thank you for all the birthday wishes, reading them was the highlight of my day (as well as eating cake for breakfast). Looking forward to sharing the next year of my life with you!
• A big thank you for my birthday wishes! Your sweet, funny words will stay with me all year round.