Quick, someone summon the storks! It's time to deliver a heartfelt message to say congratulations on a new baby. Not sure what to say when someone has a baby or what to write in a new baby card? We've got oodles of ideas for you. At Wonderbly we want children to feel extraordinarily special (that's why we make personalised books!) and we know how powerful the right words can be.
Whether it's to welcome a baby girl or say congrats to a baby boy, we've got messages to cover every magical moment. Pop them in a card or even use them as a dedication in one of our newborn baby personalized books.
Short new baby wishes 
Wondering how to say congratulations when a little bundle of joy arrives? Try these short-but-sweet congratulatory messages.
• Little one, welcome! We're so pleased you're here. The whole world awaits, and there's nothing to fear! Words from Welcome to the World
• You made a tiny human! Congratulations!
• Ready for the roller coaster of parenthood? There's highs, lows and someone might throw up on you. You'll be great!
• Hello little one, goodbye sleep! Congratulations on the new arrival, can't wait to give you all a humongous hug.

Messages for a new mum
Send a heartfelt note to a new mum to remember this special moment (and reassure her she'll be great).
• Hello, little one! You and your mummy are about to embark on the adventure of a lifetime. We'll be there cheering you along all the way!.
• Congratulations! I'm so proud of you and know you're going to be a wonderful mother, just as you are a wonderful [friend/sister/daughter].
• Wishing you sleep, cuddles and magical moments together! You're going to be a great mum!
• Mum's the word! At least until she's/he's a teenager, then it's a grunt. Enjoy those baby years!
Messages for a new dad
Wonderful words to send to a new dad to say congrats on the baby.
• You're a dad! Welcome to the club. The hours might be long, but the benefits are great.
• Congratulations! We're so proud of you and know you're going to be an amazing dad to little [name]. We can't wait to meet him/her.
• Get ready to eat, sleep, change nappies, repeat. You're going to be a great dad!
•Congrats on the little wriggler! Let's hope he/she gets the family good looks and charm (sorry you missed out on them!).
Messages for new parents
Reassure first-time mums and dads with a moving message for newborn parents of a little boy or girl.
• Congratulations on the new baby! Commiserations that you'll no longer get any sleep!
• And then there were three! Congratulations on the new addition to the family. Get ready for laughter, tears (happy ones mostly!) and many magical adventures ahead.
• Congratulations! Hope the sleep deprivation isn't hitting too hard and you can stay awake long enough to read this card and know how much we all love and support you!
• Welcome to parenthood! Get ready for those tiny feet to tiptoe into your heart.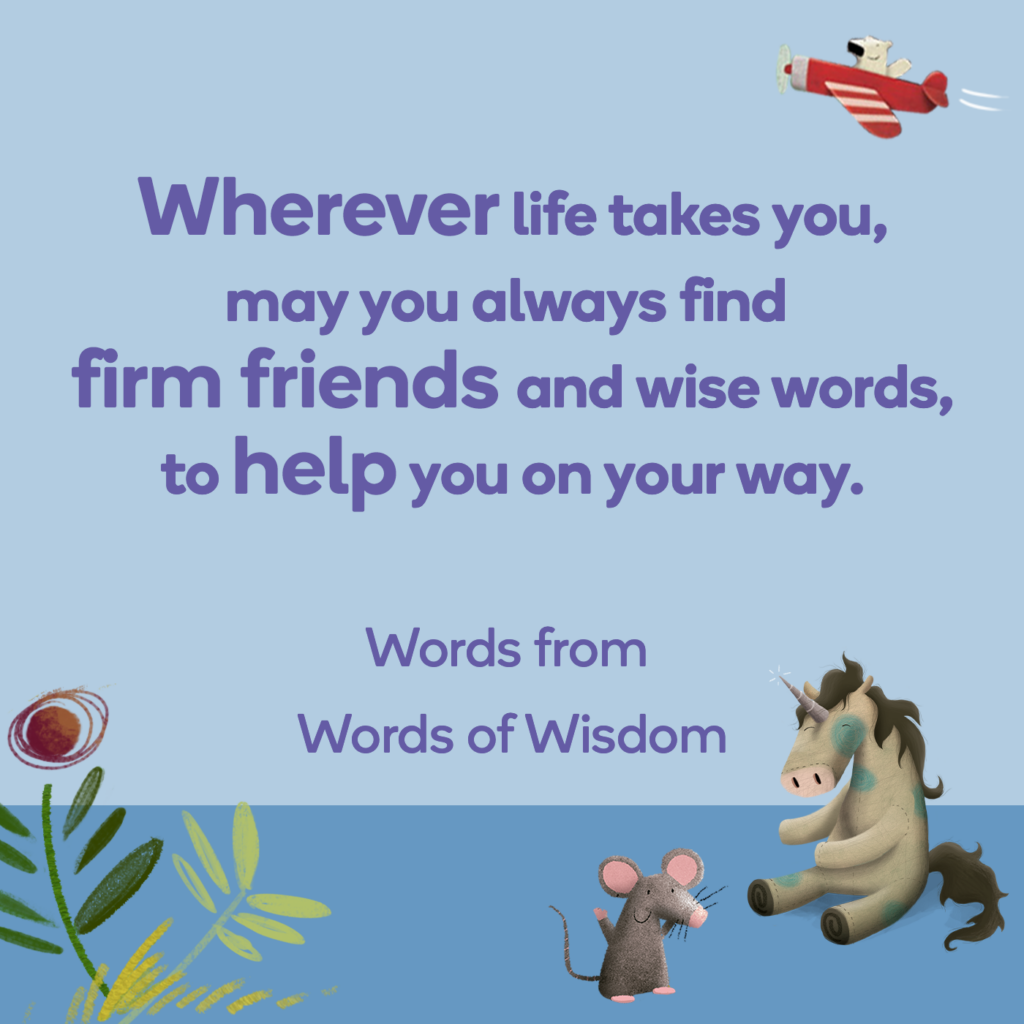 Welcoming a new baby in the family
Maybe it's your new bundle of joy you want to celebrate with a keepsake (or even a personalised book!). These messages are perfect for welcoming your new arrival so you can remember this moment and look back fondly as they grow up.
• Wherever life takes you, may you always find firm friends and wise words, to help you on your way. Words from Words of Wisdom
• As soon as you arrived, you cuddled up in my arms and nestled into my heart. I will love you forever and always.
• Welcome to our family! This is just the beginning of many magical adventures. I can't wait for every smile, giggle, first step and more. And yes, I will be recording it all to embarrass you with at a later date.
• Hello, little one! We wish you the happiest of days, the most peaceful of nights, and the biggest, boldest dreams – wherever they may take you. Words from Dream Big, Little One
• Happy Valentine's Day! Our love for you is limitless. We are so happy YOU are our daughter/son.
New baby quotes
From short baby quotes to newborn quotes or even new parent quotes – let the experts find the right words for you.
• "Every child begins the world again."  – Henry David Thoreau
• "I think, at a child's birth, if a mother could ask a fairy godmother to endow it with the most useful gift, that gift would be curiosity."  – Eleanor Roosevelt
• "Babies are such a nice way to start people." – Don Herold
• "A first child is your own best foot forward, and how you do cheer those little feet as they strike out." – Barbara Kingsolver
• "There are two lasting bequests we can give our children. One is roots. The other is wings."  Hodding Carter Jr
• There are places in the heart you don't even know exist until you love a child." – Anne Lamott
Baby boy quotes and baby girl quotes
Looking for quotes for a new baby girl or baby boy? Ooh and aah over these wonderfully wise words.
• "If I have a monument in this world, it is my son." – Maya Angelou
• "Sons are the anchors of a mother's life." – Sophocles 
• "Courage, sacrifice, determination, commitment, toughness, heart, talent, guts. That's what little girls are made of." – Bethany Hamilton
• "She stands firmly on her own two feet and I just behind her; should she ever need me." – J. Iron Word
Roving Word Wizardess Favourite childhood book: The Selfish Giant by Oscar Wilde. My dad used to cry (he cries a lot at books) reading this to me, and now I get rather wet eyes reading it to my daughter. The illustrations are so beautiful, too. Most gifted Wonderbly book: The Wondrous Road Ahead. It manages to turn big conversations into magical moments that can be understood by little people. When I'm not reading I'm: Looking for fairies in the woods. They're pretty sneaky but I'm determined to find them!