Looking for some bewitching bedtime books? We've got Halloween read-aloud stories for every little ghoul, goblin, witch or zombaby! Dim the lights, get nice and cosy and pick one of these terrifyingly tremendous picture books (your best spooOOooky voices encouraged). 
From fa-boo-lously funny stories and Halloween read-alouds for kindergarten to sweeter-than-a-toffee-apple tales for babies, there's a book to delight every age. Fingers crossed little ones fall under their spell and fast asleep at bedtime…
A medley of mischievous monsters are tearing their way through this personalised book, but take a closer look (if you dare) and you'll see all these monsters spell out the child's name! A spooktacularily silly story to read aloud at Halloween and throughout the year to help little ones learn to spell their name.
Great for ages: 2 to 6
The best bit: Spotting all the objects with the same letters as your name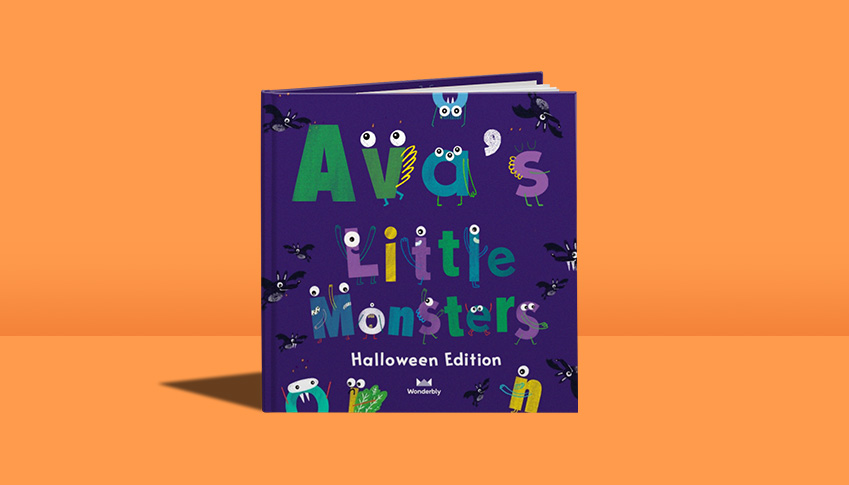 This bewitching rhyming tale stars a witch and her cat flying about, but when a dog, bird and a frog want to join them on the broomstick it soons go… SNAP. It's time for some quick thinking to escape one greedy dragon on the hunt for a snack.
Great for ages: 3 to 5
The best bit: How friendship saves the day
Funnybones by Allan Ahlberg and Janet Ahlberg
In the dark dark street, there was a dark dark house. And in the dark dark house… there was a new bedtime book! This classic story about a big skeleton, a little skeleton and a dog skeleton is an essential for any Halloween storytime.
Great for ages: 3 to 5
The best bit: The easy-to-remember words so everyone can join in
A monstrously funny picture book about a small werewolf with a BIG problem. With his very squeaky voice, Howler just isn't scary enough! So he's off to Monster School to learn all about being frightening, but in the process he might just learn an even better lesson – how cool it is to be yourself.
Great for ages: 3 to 5
The best bit: The empowering message and terrifyingly cute illustrations
Skeletons that love to boo-gie? What could possibly go wrong? Join this toe-tapping, rhyming tale as four skeletons get into a mischievous muddle. With guaranteed giggles, this picture book is a gruesomely good read for Halloween.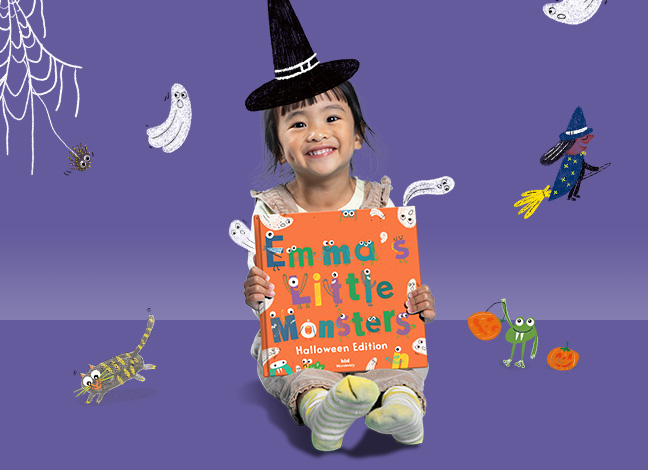 Great for ages: 0 to 5
The best bit: The brilliantly bold illustrations from Sue Hendra and Paul Linnett (and cat Skellybones)
Everyone's favourite crayons are back… and they want to go trick-or-treating. In this Halloween tale, Purple Crayon teaches the rest of the crayons what to do when they go trick-or-treating. From the bestselling series, The Day The Crayons Quit, this story is sure to be enjoyed by all ghouls and boys.
Great for ages: 3+
The best bit: Oliver Jeffers inspired illustrations for the crayon's costumes
Is it baby's first Halloween? Let them tuck into their own special Halloween story too! This adorable board book has interactive features to push, pull and turn on every page to help little ones get in the Halloween spirit.
Great for ages: 1 to 3
The best bit: The sweet rhymes perfect for a little pumpkin
A laugh-out-loud treat cooked up by acclaimed author Casey Lyall and artist Vera Brosgol. When a chef witch (and star of hit-show Bewitched Kitchen) tries to add some frogs to her recipe things don't quite go to plan. For frogs can hop, leap, hide… and escape! A hilarious story for little witches and wizards to devour again and again.
Great for ages: 4 to 8
The best bit: The witty words that hop and jump across the page as much as the frogs
An enchanting rhyming tale all about celebrating the Day of the Dead. Explore all the traditions, from eating sugar skulls to decorating with caléndulas and help little ones learn about a different cultural tradition.
Great for ages: 4 to 7
The best bit: The uplifting message and bold illustrations from Carles Ballesteros 
Halloween books don't need to be scary and this classic tale from Eric Carle is the perfect tale to read all year long. Early one morning a little spider begins to spin her web and she doesn't stop until it's finished… 
Great for ages: 0 to 3
The best bit: Exploring the 3D web with curious little fingers