It's finally here! The birds are chirping in the trees, the flowers are popping out to say hello and Easter – everybody's favorite springtime vacation  – has finally arrived. Now, while we don't sell personalized chocolate (yet!) we do have lots and lots of brilliant personalized books, which would make super gifts.
When you take a break from painting and hiding eggs, crafting bunting and cooking delicious meals, why not add a special Easter greeting in the front of the book you choose to make it extra wonderful for the recipient? Or perhaps you're just looking for the right message to write in your Easter greetings card this year? Whatever you need your Easter wishes for, here are oodles of eggcellent ideas…
Free Easter greetings
• Easter greetings this fine long weekend! May the weather be warm, the bunny punctual, the dinner hot and the chocolate found.
• I said a hip-hop, the hippie, the hippie to the hip, hip-hop happity Easter!
• It's Easter! Party time, eggcellent!
• Sending you sweet Easter wishes and hopping great baskets of chocolate for breakfast!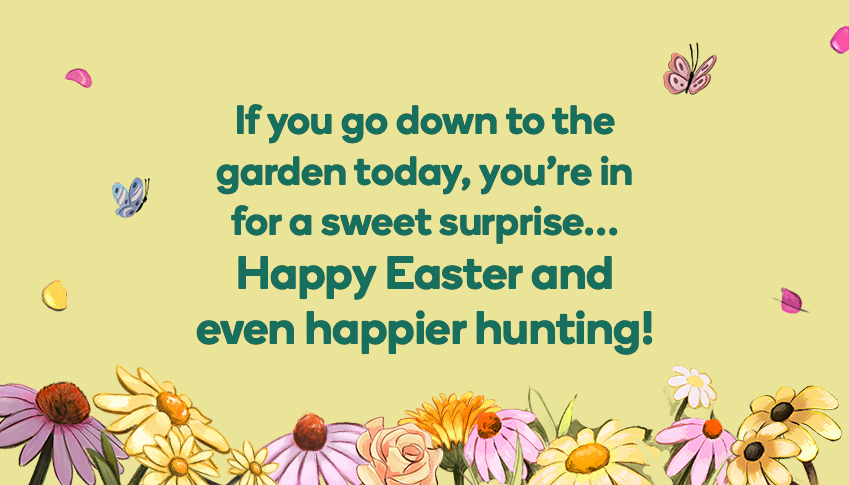 Easter wishes for family and friends
• Happy Easter to my wonderful family! Let's hatch a plan for some long weekend fun…
• Happy Easter to the best bunnies anyone could wish for.
• Easter Greetings to my super sweet parents – lots of love from your favorite chick.
• Happy Easter to all of you! Race you to the chocolate…
• Happy Easter chocolate day! Remember to leave some room for lunch…
Funny Easter greetings
• If you're reading this, you found me! I must be even sneakier next year! Well done on your super-sleuthing Easter hunting skills.
• Easter with you is everything it's cracked up to be!
• Sorry, no chocolate this year… Just yolking!
• Happy running-about-in-the-yard-in-your-pajamas-looking-for-treasure day!
• Happy Easter Sunday! Do you know what that means? Bargain chocolate shopping tomorrow!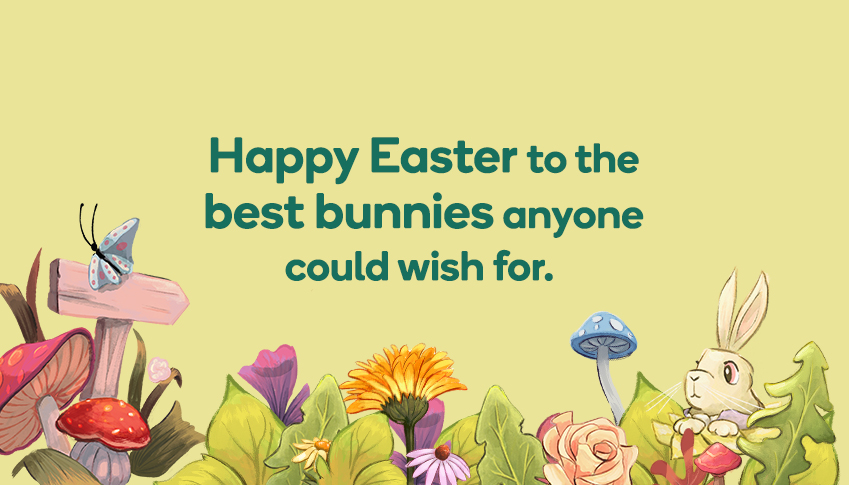 Motivational Easter wishes
• Blessed Easter wishes on this holy day. May the rest of the year be filled with grace and generosity.
• I'm so proud of you for completing your first Lent. Blessed Easter wishes, sweetheart.
• Faith makes all things possible. Blessed Easter wishes on this special day.
• "Blessed are those who have not seen and have yet believed." – [John 20:29]. I believe in you. Happy Easter.
• Wishing you joy, peace, health and an inspirational year ahead on this Easter Sunday.
Cute Happy Easter wishes
• To the most perfect egg we ever did hatch, Easter greetings from your mom and dad.
• If you were an egg you'd be golden! Happy Easter to my precious one.
• Easter is a time for family, and I'm so glad that you're mine. Here's to many more memories made, and hugs shared.
• Happy Easter wishes to my one true love, here's to many more.
• Happy Easter my darling. To me, you are as perfect as the blossom on the trees and as sweet as a basket full of treats. I love you.