Writing and illustrating our range of personalised rhyming Christmas books takes much more than just hours of hard work and gallons of coffee (although we need those things, too). We also need a suitably jolly atmosphere in which to work and, come December 1, Wonderbly HQ is flooded with singalong Christmas tunes to get us feeling festive. We've rounded up our top twenty seven to get little ones excited about the big day.
"Frosty the Snowman" by Etta James
Famous for many, many musical moments throughout history, most people associate Etta James with the opening strains of "At laaaaaaast…" but did you know that she's the voice behind the most universally familiar version of "Frosty The Snowman", too? Recorded in the summer of 1960 alongside Frank DeVol, it's a soulful, sweet melody all about a snowman that comes to life. 
"Revvin' Up the Reindeer" by Brady Rymer and the Little Band That Could
This jazzy homage to Santa's reindeer is more lovable than an entire hamper of puppies. Oozing with old-school jukebox vibes, your kids will love the jumpy beat…but hate it if you start swing dancing to it. 
"I Wish It Could Be Christmas Everyday" by Wizzard
If you don't know this one, you've been living in a Christmas-proof cave for many years. British glam rock band Wizzard unleashed this immortal floor-filler upon the world in December 1973, when it was famously beaten to the Christmas Number 1 spot by Slade's "Merry Xmas Everybody". It's a big, brash tune that kids will love shouting along to. 
"O Christmas Tree" by Aretha Franklin 
Originally known as "O Tannenbaum" (literally translated as  "O fir tree", more commonly known in English as "O Christmas Tree") is a German Christmas tune based on a traditional folk song. We love the soulful version by the one and only Aretha. 
"I Want a Hippopotamus for Christmas" by Kacey Musgraves
Originally a novelty song written by John Rox in 1953 and performed to highly twee effect by 10-year-old Gayla Peevey, this utterly bonkers Christmas ditty is actually a far easier listen when sung by Ms. Musgraves in her endearing alt-country style. Fun for children and adults alike. 
"Jingle Bell Rock" by Bobby Helms 
Millennials among us will fondly remember this tune as featuring in one of the pivotal scenes of Tina Fey's 2004 masterpiece Mean Girls, but our children just know it as a peppy, infectious Christmas tune with some snazzy guitar riffs. Go figure. 
"Have Yourself a Merry Little Christmas" by Frank Sinatra
Some festive tunes are good for hyping them up, and others work well for a wind-down. Stick on this number as part of a bedtime routine in the days leading up to Christmas, and they'll be dreaming of stockings and snow angels in no time.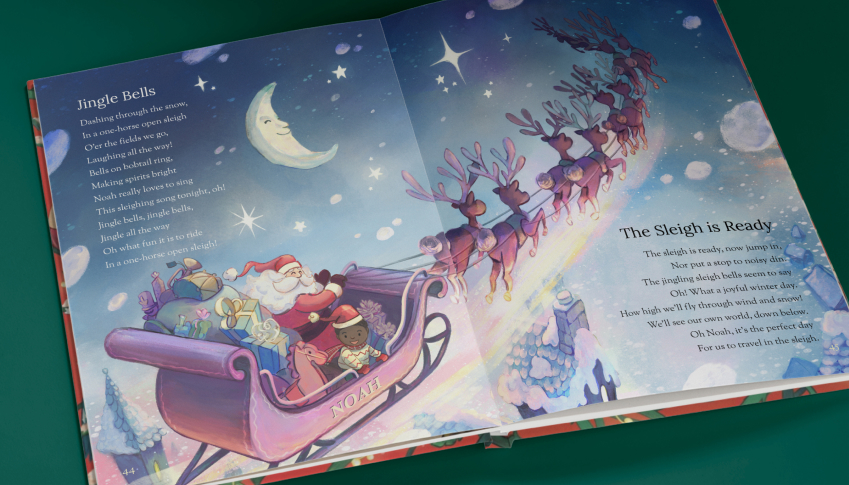 "Sleigh Ride" by fun.
This was a hit for The Ronettes in 1963, but our favourite contemporary version is the 2012 cover by New York pop/rock band fun. Lead singer Nate Ruess's twangy vocals lend themselves perfectly to the jingly refrain, making this classic once again cool. 
"Do You Wanna Build a Snowman?" from the Frozen Original Motion Picture Soundtrack 
Is it even a list of contemporary Christmas classics without a reference to Disney's Frozen? We think not. This cute-as-a-button ditty will have little ones belting out the words with gusto. Just be grateful we haven't suggested "Let It Go", okay?
"Feliz Navidad" by  José Feliciano
Written and first recorded in 1970 by Puerto Rican singer-songwriter José Feliciano, this is a jaunty tune that really does make it impossible to be anything but jolly. Simple, heartfelt lyrics blended with both Spanish and English, we recommend having this on in the background while wrapping presents. 
"Deck The Halls" Nat King Cole 
Every Christmas blog needs a Nat King Cole entry. This absolute belter of a classic Christmas jingle is derived from a Welsh melody dating back to the sixteenth century. There have been dozens of versions, but the 1959 offering by jazz legend Nat King Cole is the undisputed "King" of the covers (not sorry).
"Santa Shark" by Super Simple Songs
We're sorry. We're so, so sorry. But the truth is kids love the "Baby Shark" series more than Halloween, birthdays and Christmas combined, so the release of this festive version of every parent's least-loved song was probably inevitable. You can run, but you cannot hide. 
"Christmas Tree Farm" by Taylor Swift
If you didn't get Eras tour tickets, comfort your tiny Swiftie with this. As if Taylor Swift couldn't get more All American, yes, she genuinely did grow up on a Christmas tree farm. Watch the video together for home footage of a blonde, curly-haired, preschool Taylor. (And if you did get Eras tour tickets, any chance you're selling one?)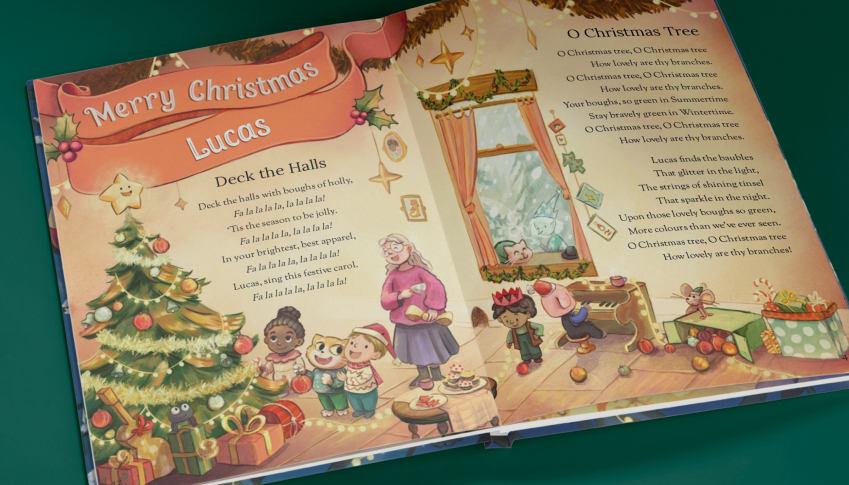 "Merry Christmas Everyone" by Shakin' Stevens
It's hit the UK charts every December since 2007 for a reason. From that first "Ooh, ooh, ooh, ooh, ooh, ooh, ooh, ooh, ooh, ooh", we're in the Christmas spirit. They'll have fun belting out the chorus. And you'll have fun trying to keep up with all the key changes. 
"We Wish You a Merry Christmas" by CoCoMelon
The classic Christmas carol probably goes back a long, long way – like a lot of folk songs, people aren't sure exactly when it dates back to. But if your little reindeer likes CocoMelon, give their version a try. What's a figgy pudding? We're still not sure.
"Rockin' Around the Christmas Tree" by Brenda Lee
Artful color scheme, or the gaudier the better? Bauble they crafted at school tactfully hidden at the back, or in pride of place? Whatever your Christmas tree decorating style, put this song firmly at the top of your playlist. 
"Here Comes Santa Claus" by Gene Autry
Gene Autry was also known as the Singing Cowboy, and true to form, he got the idea for this song when riding his horse through the Santa Claus Lane Parade in 1946 (now the Hollywood Christmas Parade). But if you don't fancy his brand of crooning, you've got versions by everyone from Bob Dylan to the Glee cast to choose from.
"Shake Up Christmas" by Train
Contrary to popular belief, San Franciscan pop rock group Train are not one-hit wonders. Okay, not many of their tunes have been as universally played in cafés, adverts and on road trip playlists as "Hey, Soul Sister". But this Christmas song is a happy, dancey one for little ones.
"Last Christmas" by Wham!
Released in 1984, this stone-cold classic from British pop duo George Michael and Andrew Ridgeley didn't reach number one in the UK until New Year's Day 2021. It never gets old – and nothing will prepare you for the bizarreness of the 2019 romcom of the same name starring Henry Golding and Emilia Clarke.
"Rudolph the Red-Nosed Reindeer" by Gene Autry
The Singing Cowboy is back with this festive favourite. The simple lyrics and solid rhyme scheme make it an easy one for kids to pick up and sing along to – and you can teach them the ad-libs if you want. (That's "Like a lightbulb!" after "you would even say it glowed" and "Like Monopoly!" after "join in any reindeer games". Obviously.)
"Rockin' Robin" by Bobby Day
It's hard not to dance while listening to this one. And bonus points for it being a stealth way to teach your kids some ornithology 101 – as well as the titular robin, the song names swallows, owls, ravens, buzzards and, er, orioles. Pass the binoculars.
"The Twelve Days of Christmas" by Super Simple Songs
Another folk classic, the earliest written version of this song dates back to 1780 – although it was likely sung a lot earlier. This carol is a cumulative song, each verse building on the one before. That makes it a nice memory game for little ones, as well as a way to practice counting. 
"12 Days of Christmas Cookies" by Cookie Monster
…And if you've exhausted the original version, try this one by the Cookie Monster – who deserves more chart success, honestly. Here he is singing about what he knows and loves best: cookies. Keep an eye out for Sesame Street favourites like Elmo and The Count who appear throughout the verses.
"Santa Claus Is Coming To Town" by Frank Sinatra
Another one with a simple narrative and lyrics that make it easy for kids to sing along to. And a message that reminds little ones that Santa's not only making his list, but checking it twice – so put down the iPad when we tell you to, okay?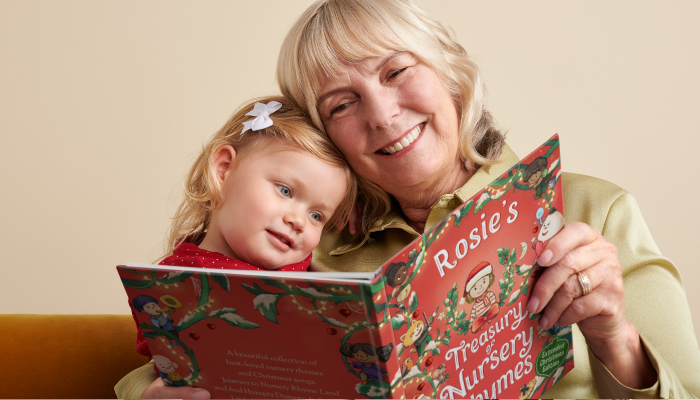 "Five Little Elves" by Super Simple Songs
A counting song that sees each elf one by one take a tumble into the snow from Santa's sleigh (don't worry, they all clamber back up in the end). Super Simple Songs always do nice animated videos to go with their jams, too.
"It's Beginning to Look a Lot Like Christmas" by Bing Crosby
The jury's out on when it's acceptable to start playing Christmas music, but at the earliest sign of Bublé being defrosted, this track is your go-to. Pop on the Home Alone films with the family afterwards – the Johnny Mathis version of this song features in Home Alone 2: Lost in New York. 
"All I Want for Christmas Is You" by Mariah Carey
Speaking of defrosting Christmas legends, it would be against the law to exclude Mariah from a list like this. This tune has broken the record for the longest gap between release and reaching number one, in both the US and UK – 25 and 26 years respectively. It's never too early to teach little ones about the ways of Mariah – long may her reign continue.
Excuse us, we need to go and watch Love Actually now.