Can't wait to introduce your toddler to the wonderful world of colors? Exploring all the colors of the rainbow is a great way to brighten up their preschool learning. We've packed our new personalized colors book for kids with brain-boosting details, to give your child's early learning adventure the green (and blue, and orange) light!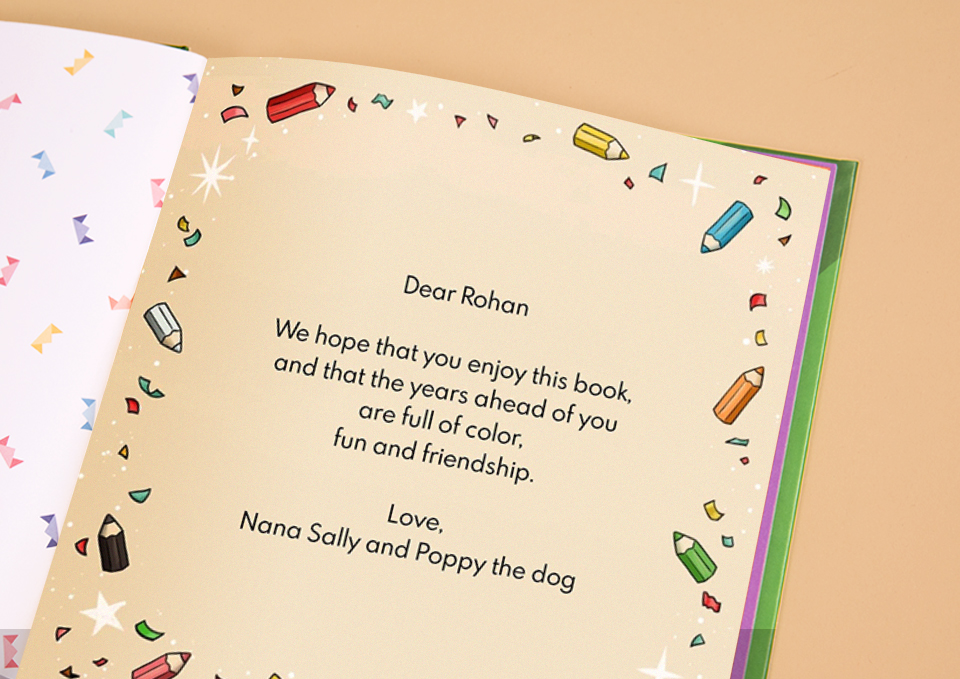 Help their true colors shine with a personal dedication
We'll print a special message from you to your little one on the very first page of their colors book, so every time they open it up they feel warm and fuzzy inside. Seeing their name in print is a surefire way to get your child ready to read – and discover every color!
Studies show it supercharges learning
Something special happens when children see themselves in a book: research has proven that it has a profound effect on their learning and development. A personalized story is more meaningful and memorable for a child – and it's the perfect way to encourage early learners.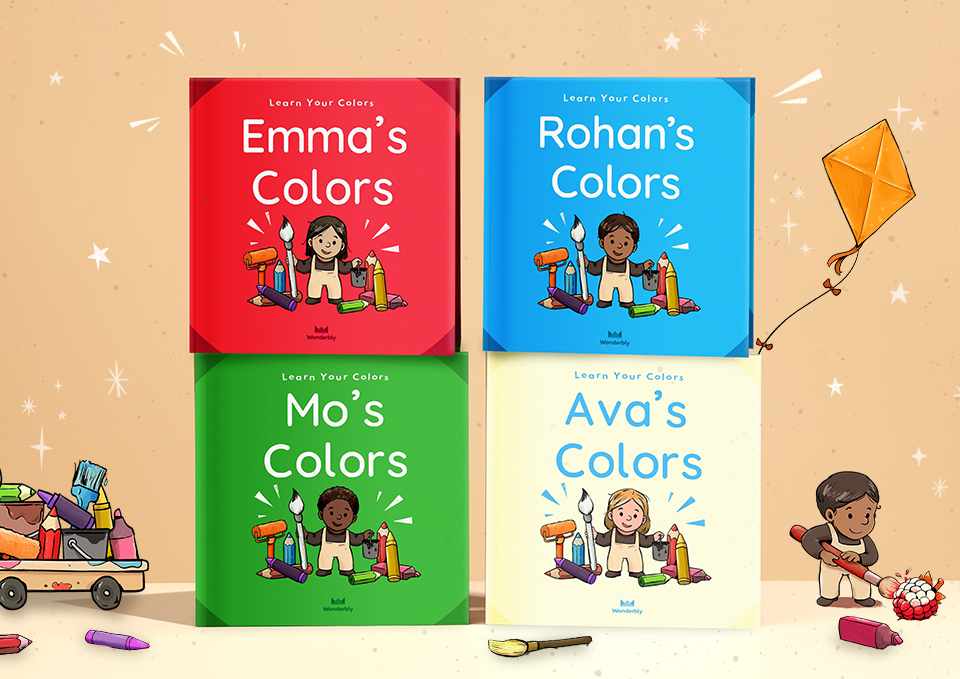 It's impossibly personalized!
So, what makes this book about colors different to every other color book in the universe? Well, your child's name and character appear on every single page, bringing colors to life with their paintbrush! And there's an extra surprise on the very last page – your child's name in HUGE letters, alongside every color in the rainbow!
Enchant your little learner with rhyme
The simple, catchy rhymes are designed to appeal to your child's ears, and help them form connections between sounds, letters and colors. Not to mention they're perfect for reading out loud! Your little one will love joining in with the catchy rhythms (warning: may cause repeat readings before bedtime.)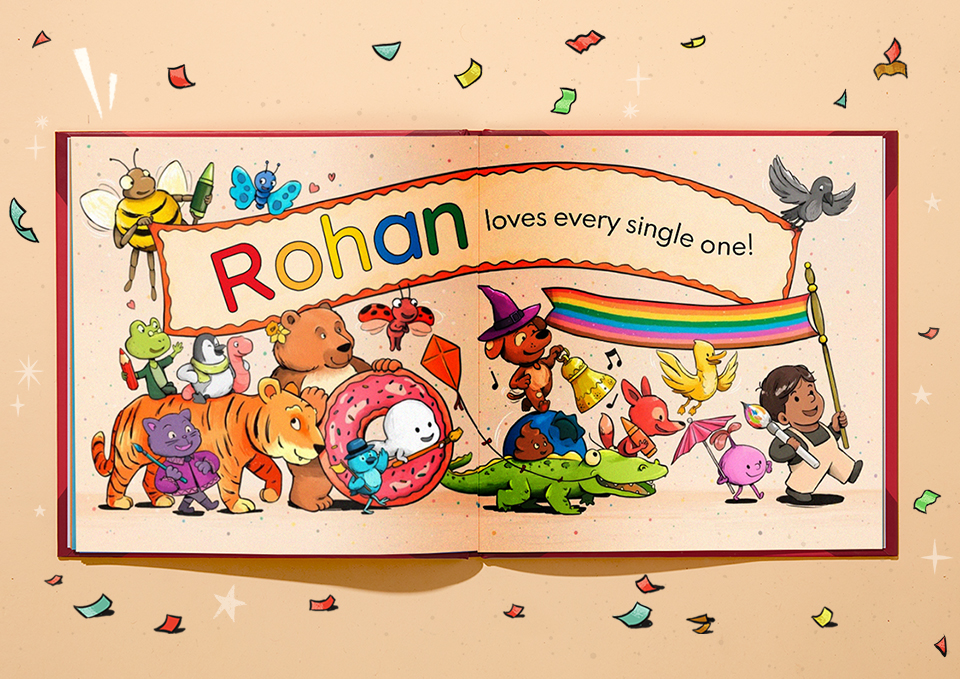 Kids see themselves in the story
The super-sweet characters come in a choice of six hair and skin tones for boys and girls, so you can choose the adventurer that most resembles your child. Seeing their personalized character in the book will spark your child's imagination, and make this colorful adventure extra impactful.
There's a choice of front cover colors
We couldn't create a personalized colors book without a choice of front cover colors, could we?! Pick your child's favorite shade from Apple Red, Frog Green, Bright Blue or Vanilla. We'll add your child's name and adventurer to their colorful front cover for a book that's totally, uniquely theirs.
Add to your learning library
Letters, numbers and colors are the building blocks of early learning, and our personalised series introduces your child to each with adorable illustrations and delightful details, to inspire confidence and curiosity. Complete their learning library with ABC For You, our personalized alphabet book, and 10 Little Yous, our personalized counting book.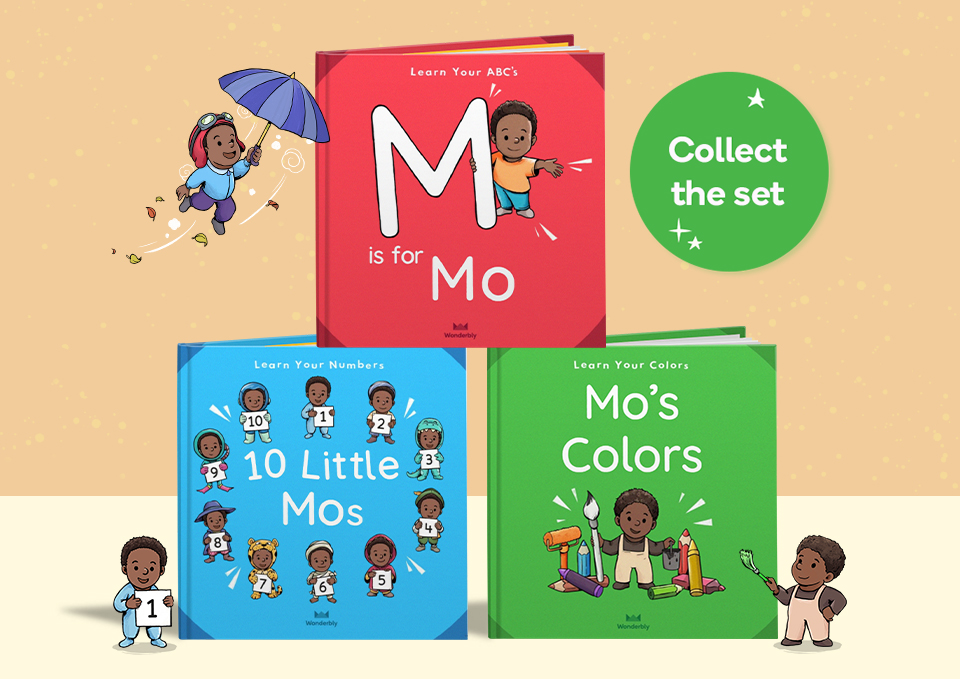 It's excellently, excitably interactive
The eye-catching illustrations, vibrant colors and gigglesome visual jokes are perfect for little fingers to point out – it's an interactive learning extravaganza! Your little one will spot new details with every reading, making this early learning adventure one they'll want to explore over and over again.