Our fancy dress box is positively bursting with World Book Day ideas (3 March 2022). Come and delve in! We've got how-to tips, what-to-know tips and even what-to-do-if-you-don't-like-dressing-up tips.
Let your little one reveal one of their alter egos with inspiration from our much-loved books Where Are You..?, The Birthday Thief, and another very very famous book character, someone we know you love very much… can you guess who?
So come on let's see what easy Read Across America costumes we can find for you…
Chef
Hot out of the kitchen in Where Are You?, it's a Read Across America costume idea you can whip up in a flash and look sweeter than any Dr. Seuss character.
You'll need:
Pencil

Glue

Cardboard

Sellotape

Scissors

Ribbon

Felt tip pens or crayons

Don't forget the book!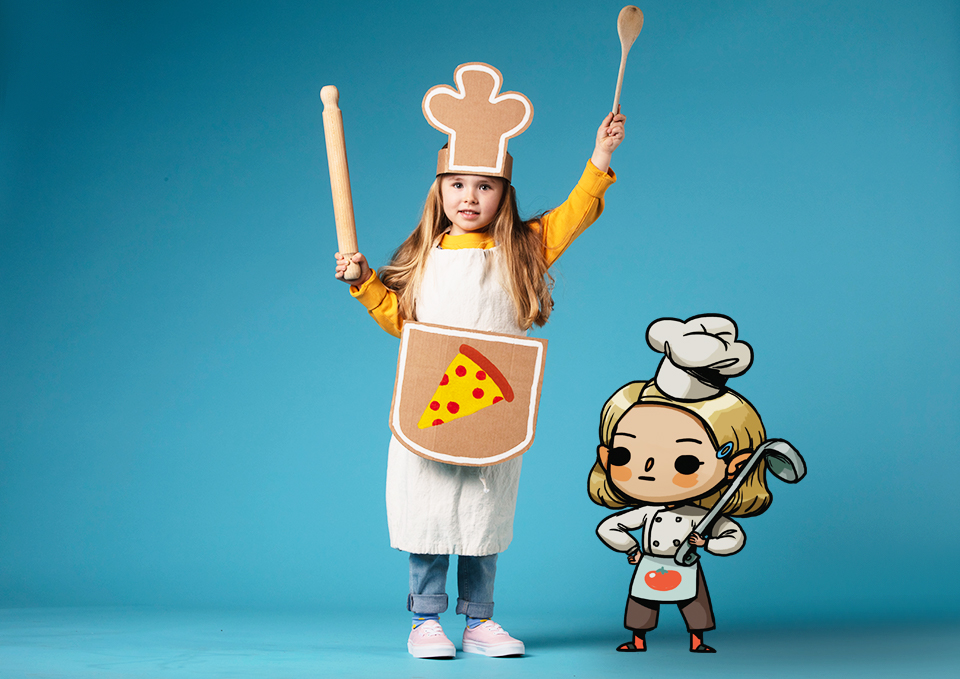 Step 1
The first step in this delicious task is making a chef's hat. Cut a strip of cardboard about two inches wide, and long enough to wrap around your little one's head. Glue the ends of the strip together to make a ring.
Step 2
Use a pencil to draw your finest chef's hat on to cardboard. Then cut it out and glue it to the front of your cardboard ring.
Step 3
What's a chef without their apron? Messy, that's what. Cut a rectangle out of cardboard – this will be the main part of your apron.
Step 4
Cut two lengths of ribbon and attach one to either side at the top of the rectangle. These will be your apron strings.
Step 5
Furnish your apron with a picture of your favorite food. We chose pizza because… well, pizza.
Step 6
Be aware of the very hungry caterpillar at all times, they've got their eyes on your pizza…
Doctor
We need a Doctor STAT! Transform your child into a vet that can mend the Cat in the Hat's sore paw, or save Harry Potter after one of his wild wizard showdowns.
You will need:
Pencil

Glue

Cardboard

Sellotape

Scissors

Red felt tip pen or crayon

A grown up's white shirt

A bulldog clip

Don't forget the book!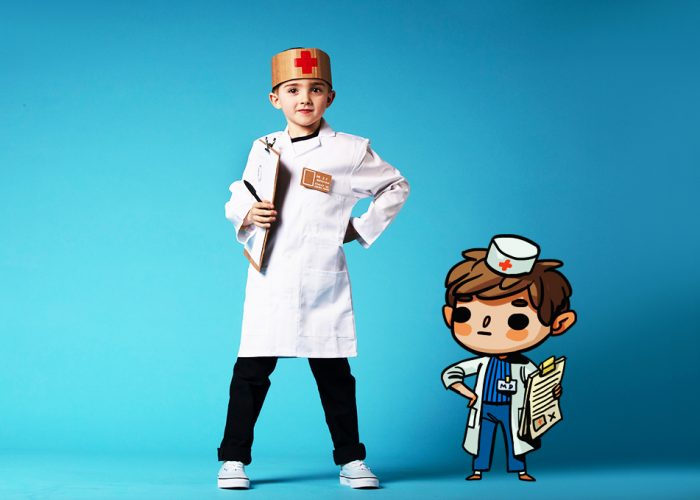 Step 1
No doctor is complete without a hat, so make that first. Just like the chef's hat above, simply cut a strip of cardboard about two inches wide, and long enough to wrap around your little one's head. Glue the ends of the strip together to make a ring, just like a
headband
.
Step 2
Draw around the ring you've made to create a circle then cut it out. Careful now.
Step 3
Using sticky tape on the inside of the hat, stick the circle flat against the cardboard ring.
Step 4
Draw a nice thick red cross on to the front of the hat with a red felt tip pen.
Step 5
Every doctor needs a clipboard to make them look extra-important. Cut a rectangle of cardboard that's roughly 32 x 23cm (a little bit larger than a sheet of A4 paper).
Step 6
Put a bulldog clip on one end of your rectangle, then clip on some pieces of paper. Sorry, patient notes.
Step 7
You won't be allowed in the hospital without your all-important ID badge. Cut a piece of cardboard that measures roughly 8 x 5cm. Stick a safety pin on the back with sellotape.
Step 8
Fill in your ID card by drawing your face. Then write your name and other pertinent information.
Intergalactic superstar
Lights, camera, action! Your little one will be the star of the show (and envy of the playground!) in this super-fabulous ensemble.
You will need:
Pencil

Glue

Cardboard

Sellotape

Scissors

Felt tip pens or crayons

Clothes with colour and or prints

Don't forget the book!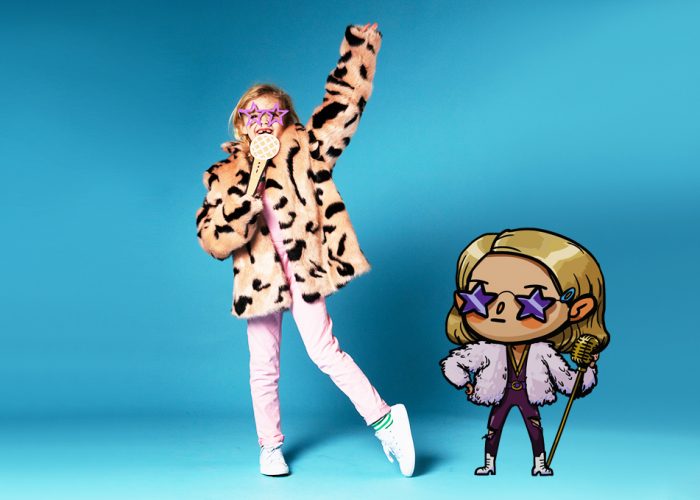 Step 1
Draw your best microphone shape on to cardboard.
Step 2
Cut out your microphone. Use felt tips to add some details, like your intergalactic superstar alter ego name.
Step 3
Draw your finest pair of fancy sunglasses on to cardboard. Stuck for inspiration? Elton's got you covered.
Step 4
Cut around the edge of your fancy sunglasses. Then cut out the middle of the glasses (careful!) so you can see through them.
The Birthday Thief
It's so easy to make, even Peppa Pig could do it, and she doesn't even have opposable thumbs! This outfit could quite possibly steal the show on Read Across America day.
You will need:
A red top or

t-shirt

Some red leggings

A party hat

Spotty stickers and other decorations (optional)

Colourful numbers and sneaky bandana templates (just download and print them out)

Elastic

Sticky tape

Scissors

Pencil or pen

Don't forget the book!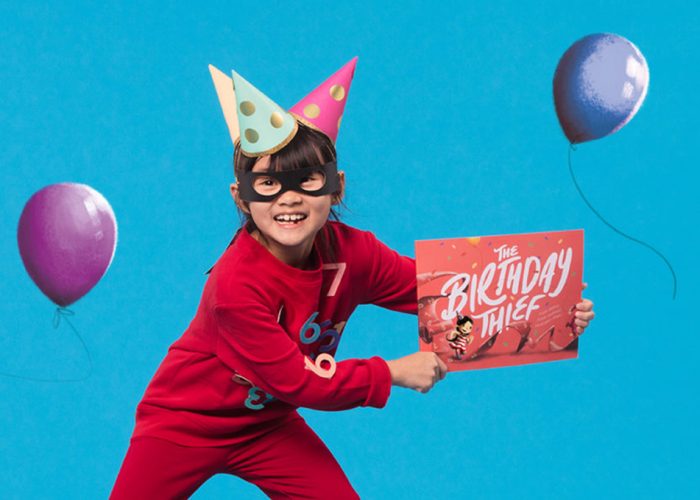 Step 1
First things first, sneak as sneakily as Santa, and raid your home for all of the materials on our handy list. Download and print out the colourful numbers and sneaky bandana templates.
Step 2
Grab some scissors and carefully cut around the dashed lines so you have a selection of colourful numbers ready for sticking. Don't forget to cut out the middles.
Step 3
Using the stickiest sticky tape you can find stick the colourful numbers to your red outfit and ta-da! The transformation begins!
Step 4
There's just one more thing to do. Carefully cut out the sneaky bandana (don't forget the eye holes). Using a pencil or pen press a hole through the circles marked and tie some elastic to each side with a strong knot. The Birthday Thief is born!
You! Who me? Yes you!
For little ones who would rather eat a bowl of warm yoghurt with brussel sprouts than dress up, dress up as yourself! After all, you are the undoubted superstars of all of our books, and utterly fantastic in every one.
You will need:
Yourself

Your favorite clothes

Your beaming smile

Your favorite book!
Step 1
Little one to wake up, yawn, stretch, get washed, brush teeth, brush hair (optional).
Step 2
Choose something to feel wonderful in. It can be anything, take your pick from the wardrobe – or floordrobe; sports kit, pajamas, onesie, favourite party outfit….w h a t e v e r you want it. A little one is the star of the book, so anything goes.
Step 3
Eat breakfast – be careful not to spill anything down the outfit!
Step 4
Walk into school, book under arm – or in bag – and celebrate one of the greatest book characters of all time….you!
Psst! This costume idea is inspired by a real-life hero…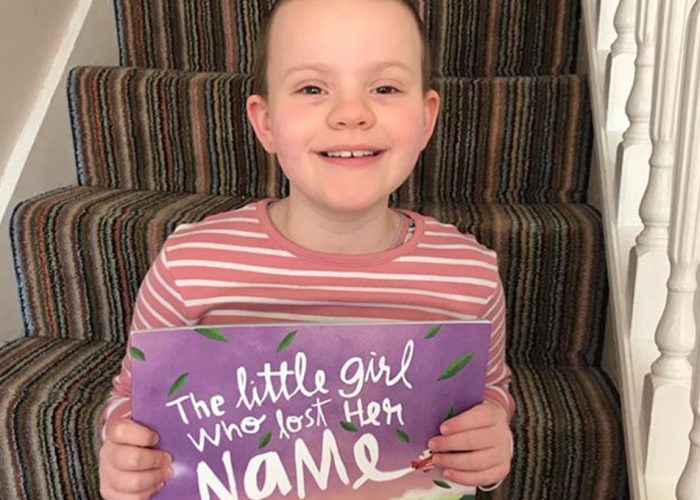 Tayen dressed up as her wonderful self for World Book Day 2019. Her proud mum wrote to us, "Due to sensory problems, Tayen isn't a fan of costumes anymore so declared she was going as herself! We felt pretty smug when we remembered she had been given a book about a little girl who lost her name! It's perfect and she loves the story."
Bookmark it! Read Across America is Wednesday 2 March 2022!
We are so excited to see what you all create and wear this year! We hope this has helped. Do keep us updated on your World Book Day fancy dress ideas – share your photos on Facebook, Twitter or Instagram.