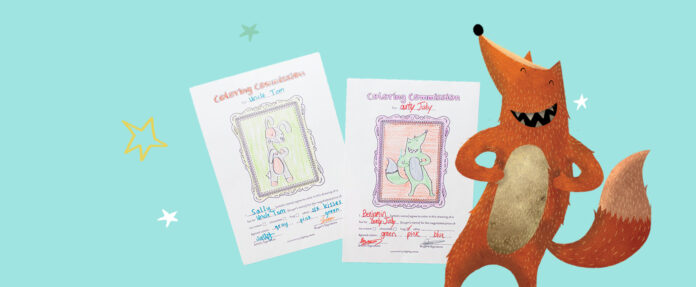 Just print out the template and pick your little artist. You're going to have to agree on a price – good art isn't free. Ice cream? Chocolate? A session of puddle splashing? The art market is notoriously fickle, and kids are tough negotiators.
When they're done, you can display the work on your fridge or wall. Print out our art placard too, so visitors to your home (sorry, gallery) can admire your one-off masterpiece.
This is a really fun way to request a picture. Download the template, choose between a Rabbit and Fox and get negotiating!
Fox and Rabbit are characters in our rather marvellous personalised children's book, The Little Girl/Boy Who Lost Their Name. Each child meets characters based on their name. So Fenn will meet Fox and Freya will meet Fox and Rabbit (lucky Freya).