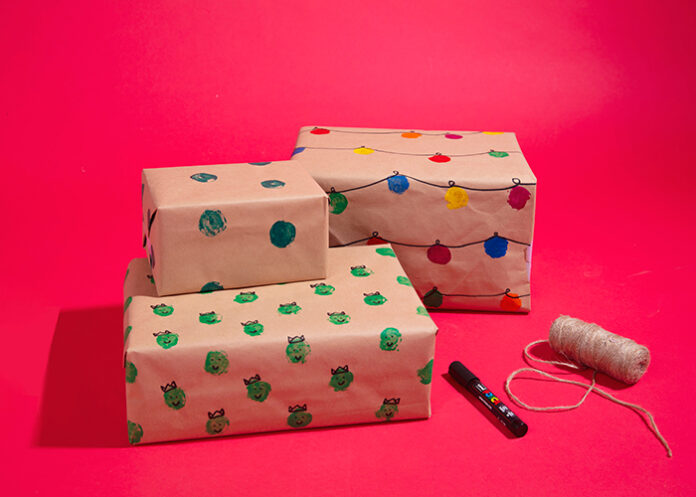 The quintessential Christmas dinner veggie – or little green trump machines? Love 'em or hate 'em, we can all agree on one thing. The humble garden sprout makes a gorgeous stamp for gift wrap. Go on… give it a go with your little sprouts.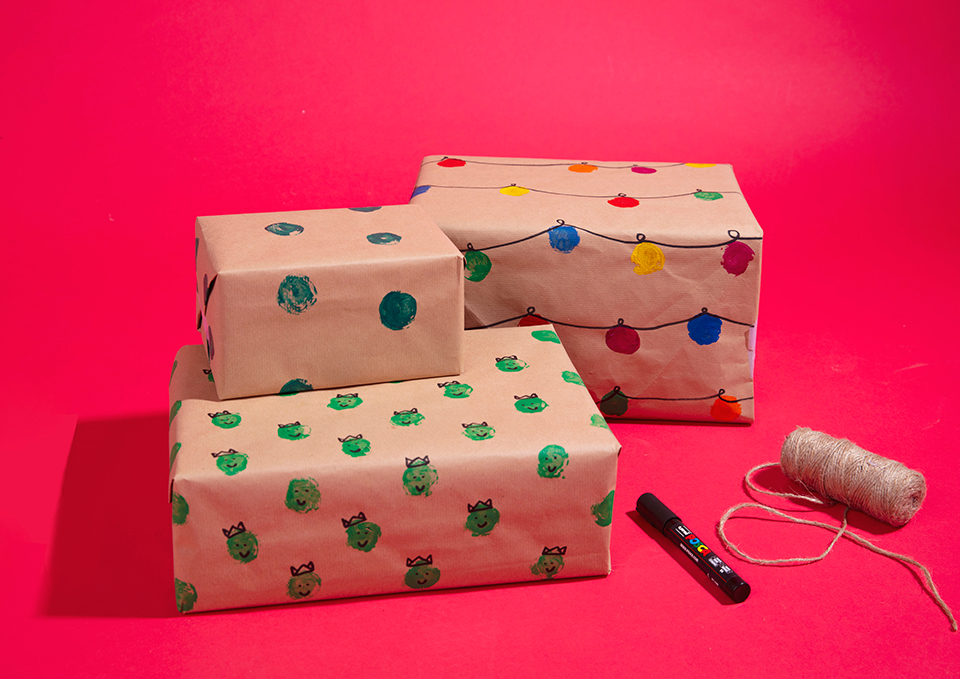 You will need:
Brussels sprouts (obviously)
Plain craft paper (we've used brown, but you can use any colour)
Paints
Plate
Felt Pen
String
Knife
Step-by-step brussels sprouts gift wrap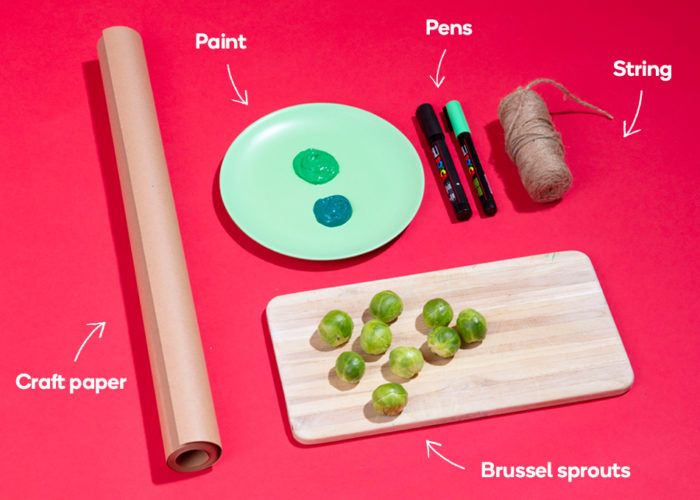 Step 1
Gather together everything you need. Don't let those sprouts get away.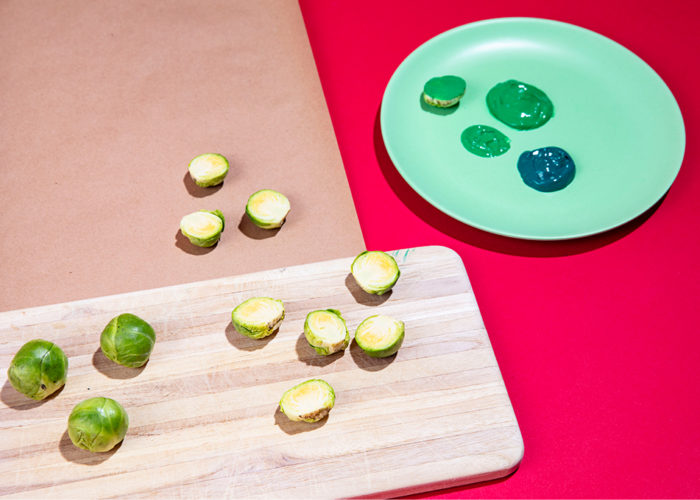 Step 2
Assemble your stamping station. Roll out your wrapping paper. Cut your sprouts in half. And squirt your paint onto plates. (Go for a dainty dollop rather than a massive splurge.)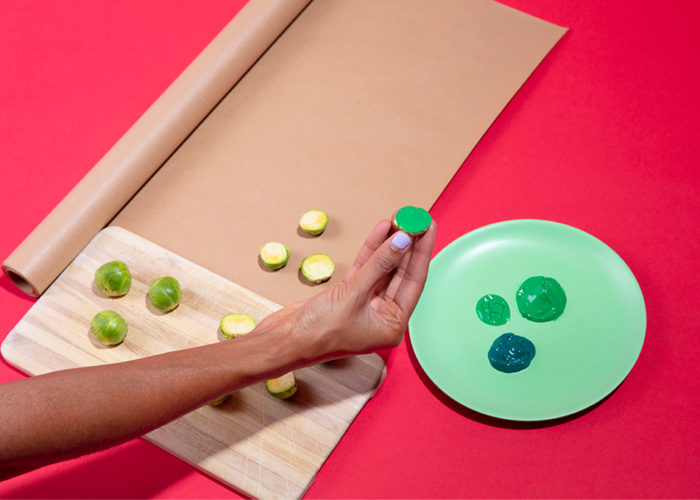 Step 3
Dip the flat side of your sprouts into the paint. But wait! Not that much. Just a little bit of paint so you can see the pattern when you stamp it. You can always practice on a piece of scrap paper first.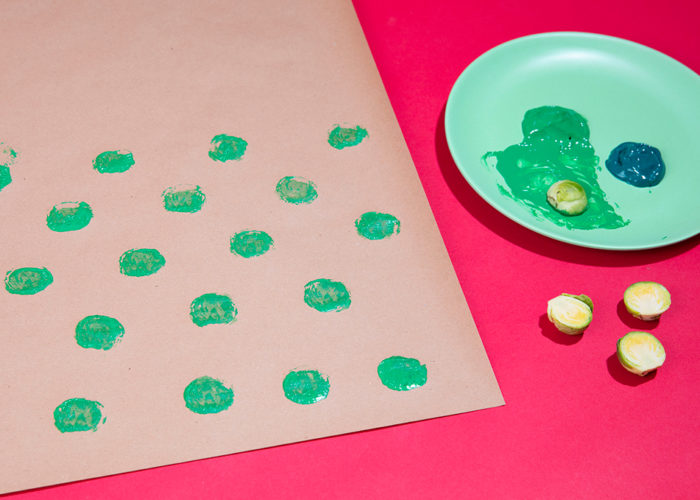 Step 4
Stamp away! You can get creative with your own design. Lots of spots? Loads of colours? Go wild!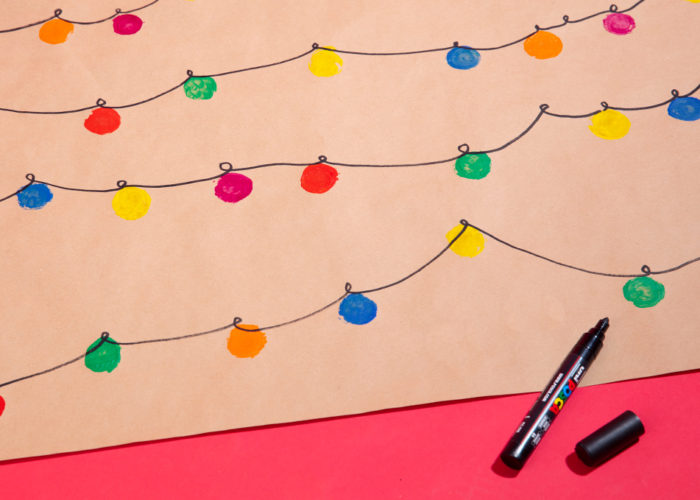 Step 5
Keep your spots as they are for a more traditional look. Or for a more 'veggie' design (veggie… edgy… oh we know, it's awful) you can add some fun doodles with your pen. Suddenly your sprouts look like Christmas lights… or even royalty!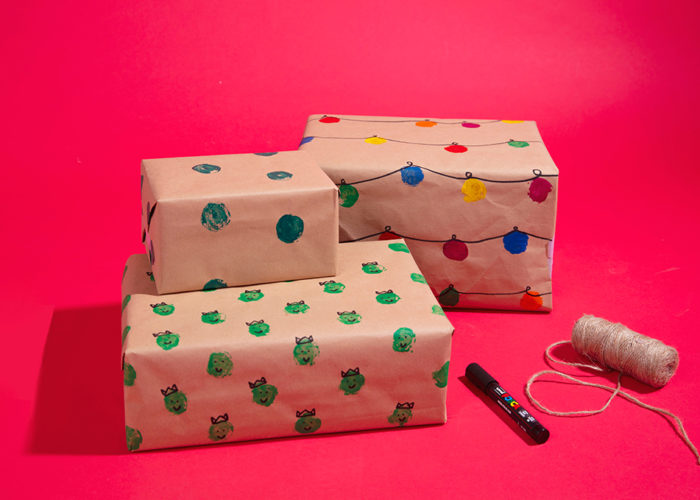 Step 6
That's a wrap! Wrap up your Christmas pressies and give them to your favouritest people in the whole world.
Did you know?
Ever wondered why your little one hates sprouts? Well, it might not be their fault.
They might have a pesky little gene called TAS2R38 – which makes Brussels sprouts and other cabbages taste bitter. Who knew!
If you are one of the lucky people who loves sprouts, good news! Each one is chockablock full of vitamin A, C and folic acid. In fact, an average serving of sprouts packs four times more vitamin C than an orange.
There are more than 110 varieties of Brussels sprouts. If you're serving them for Christmas dinner this year, you're likely to be gobbling the varieties known as Brodie, Crispus and Maximus.