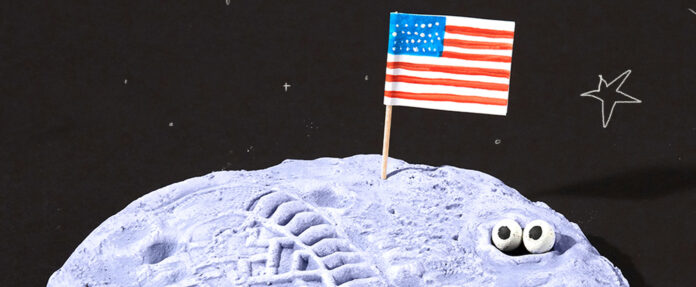 This cosmic salt dough craft is inspired by our personalised space adventure book The Incredible Intergalactic Journey Home. In the story, your little one embarks on an impossible journey through the solar system with their intrepid robot companion, Hubble.
But there's no need to fire up the family spaceship just yet! With this tutorial, you and your young space travellers can create your own magnificent piece of the moon with just three kitchen ingredients: salt, flour and water. (Although be warned, it's not for eating. Unless you really like salt. A lot.)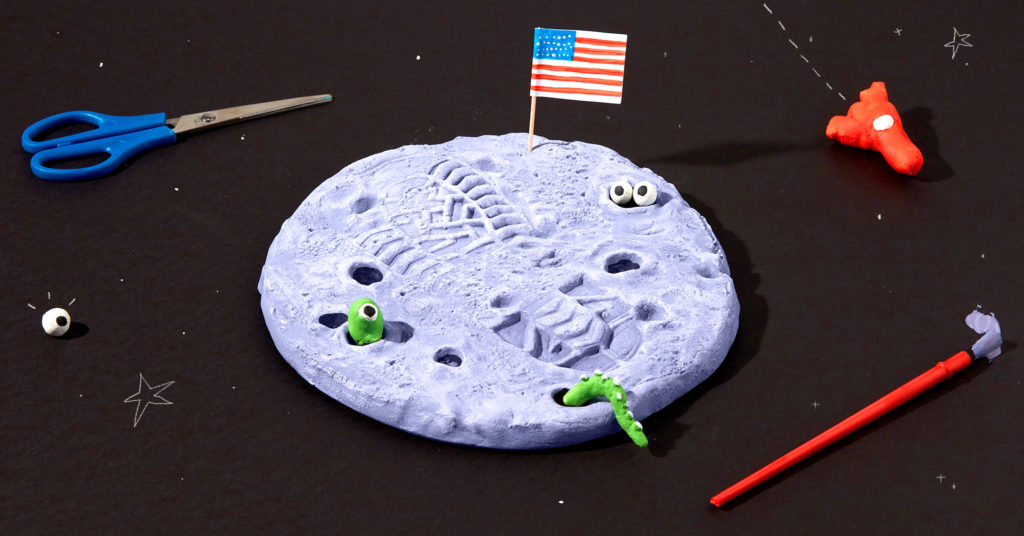 You will need:
For the salt dough
250g flour
300g salt
180ml moon water
(or regular tap water)
For the moon
Rolling pin
Rocks and sponges
Space boot (optional)
To decorate it
Paint and brushes
Cocktail stick
Paper
Glue
Your best moon-landing voice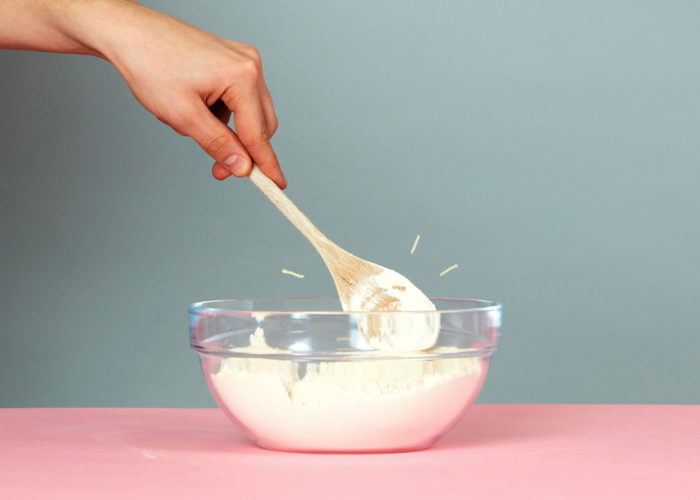 Step 1
It's a little-known fact that all successful moon missions start with the ceremonial combining of flour and salt. Stir them together so the mix resembles lunar dust.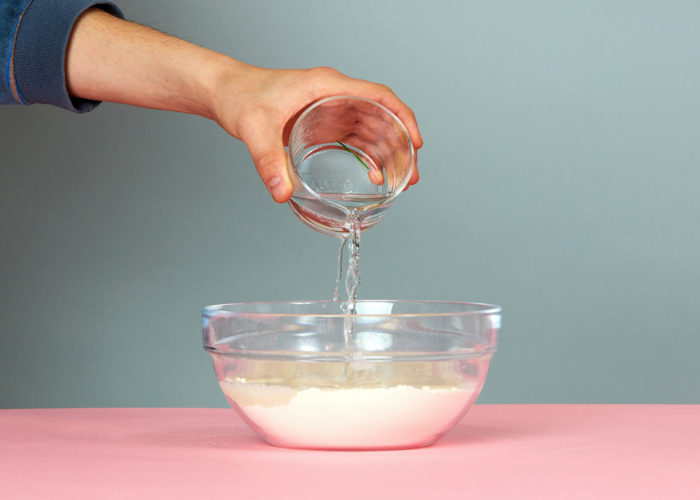 Step 2
Gradually add the lunar water and stir in a full-moon circular motion to bind the mixture together.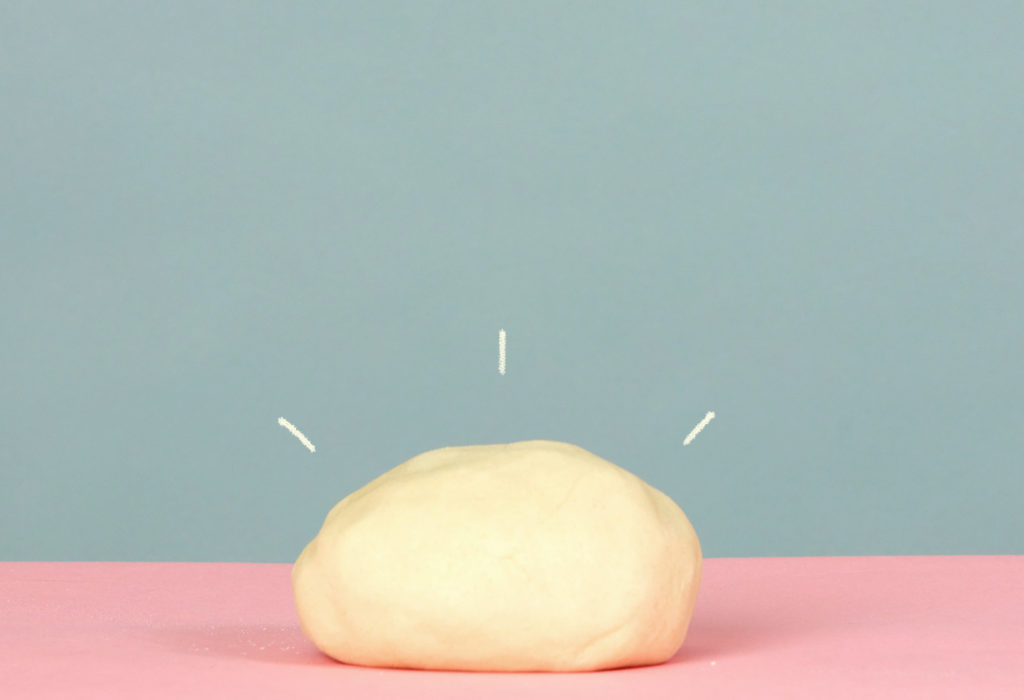 Step 3
With enough kneading, you should be left with this satisfyingly squidgy ball of dough, ready to be rolled into a flat moon surface.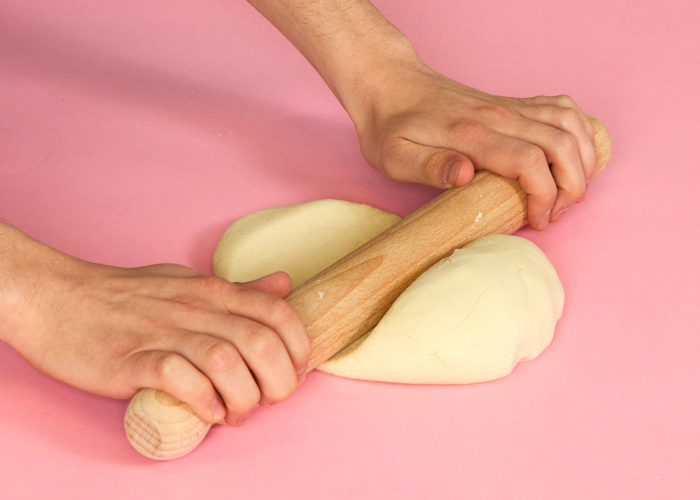 Step 1
Roll out the dough till it's as thick as the moon's crust. Our resident space-travel experts suggest 1cm to 1.5 cm thickness.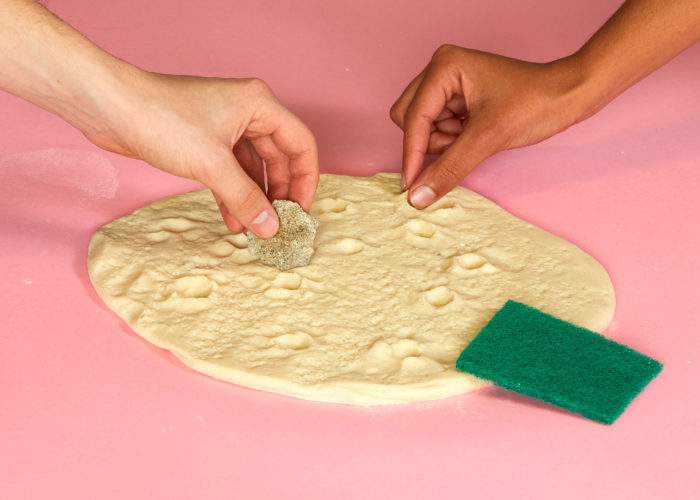 Step 2
Now to add some moon-tastic textures. Use rocks and sponges for a bumpy surface. With your thumb and fingers, pinch together some spectacular craters that could be spotted by the naked eye all the way from Earth.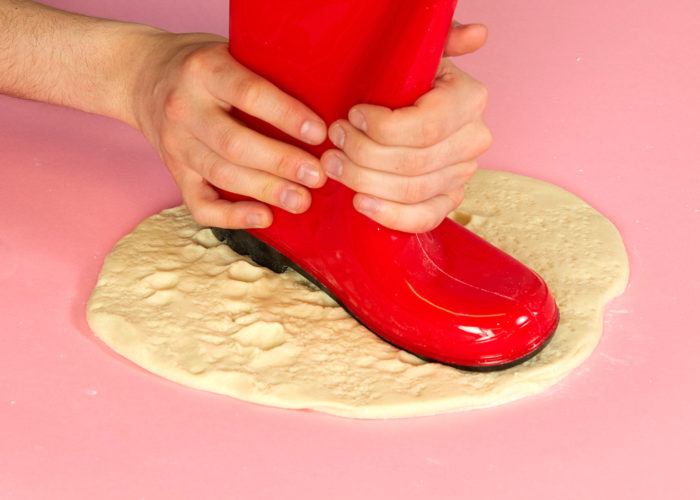 Step 3
To prove it really is your little one's own piece of the moon, it will need their footprint. (Grownups, you might want to use an old rubber boot, rather than their shiny new school shoes.)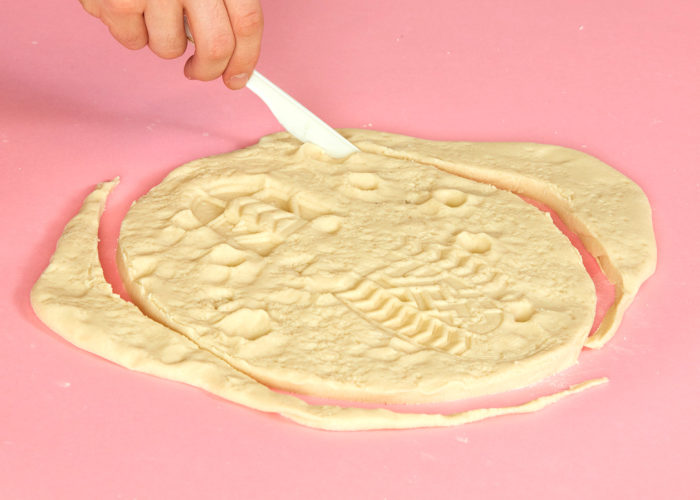 Step 4
Carefully trim the edges so you have a circle – you could use a plate to help you make it as round as the moon.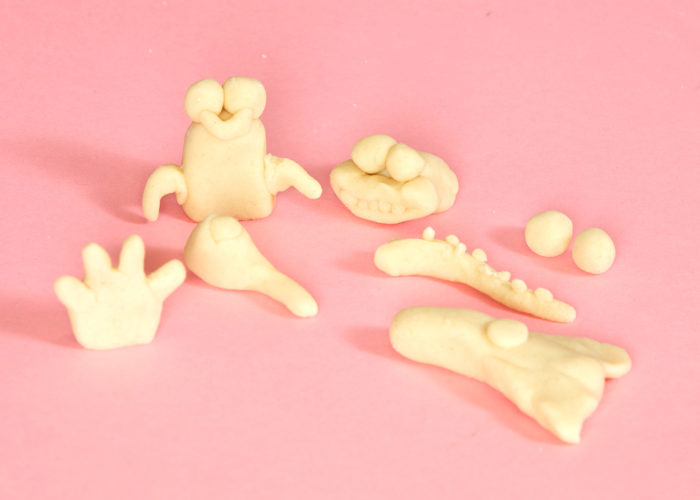 Step 5
No moon is complete without some friendly moon-dwelling creatures. Mould them out of the excess dough by rolling up little balls for eyes, and sausages for tentacles. We'll paint them once they're out of the oven.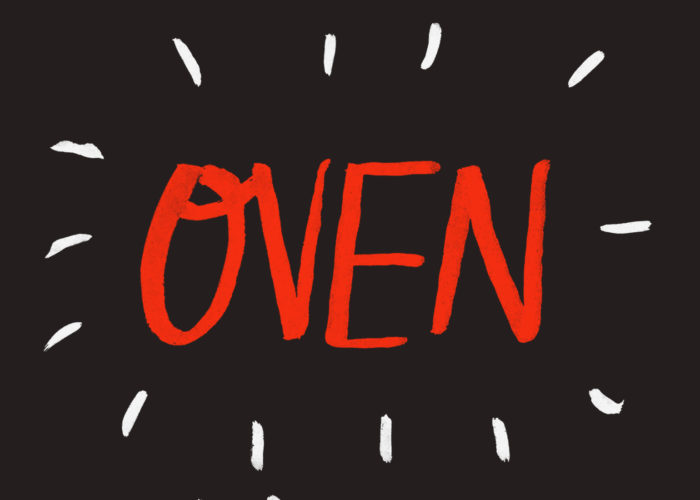 Step 6
It's time to place the salt dough creations in the oven at 160C (320F). In around 20 minutes it will be as hard as a moon-rock. (Although the little moon-creatures will only need five minutes.)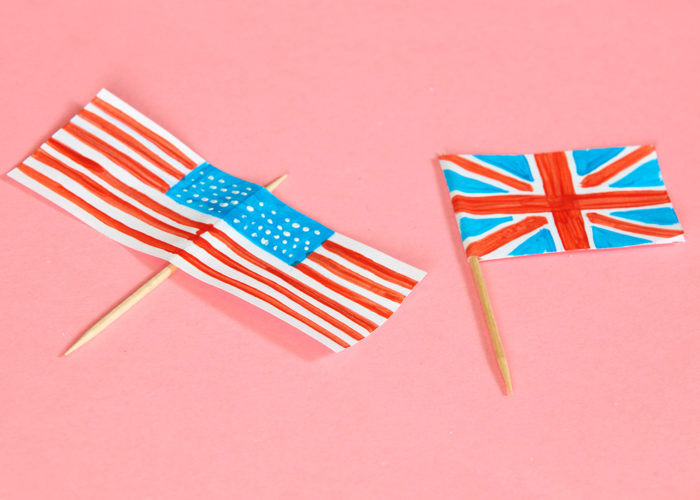 Step 1
While your moon surface hardens in the oven, you can get the flag ready. Draw your favourite pattern on a long rectangle of paper – you could even add your kid's name – then wrap it around a cocktail stick and glue it together.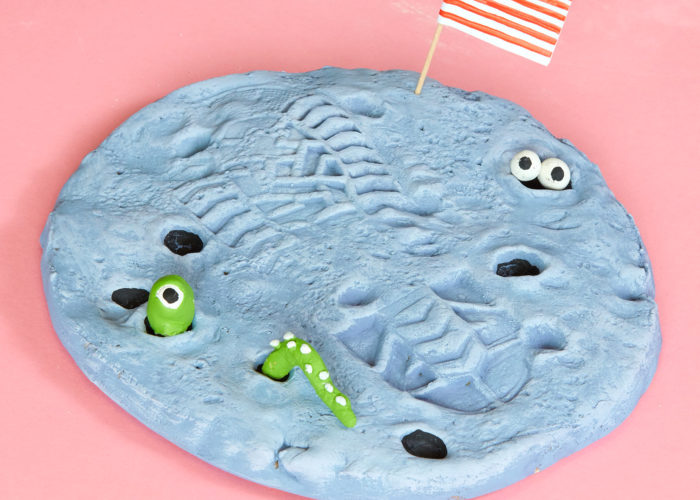 Step 2
Once your moon surface has baked and cooled, you can get painting. We used a nifty technique called 'drybrushing' to make it look extra-extraterrestrial.
How to drybrush (it's easier than it sounds, promise):
Choose your biggest brush and paint a dark base colour.
When the base is completely dry, mix a lighter colour and dip a clean brush in it.
Now dab the brush onto a kitchen towel until most of the paint has come off it.
When most of the paint is wiped off the brush, go over your darker base colour with it, making big sweeping circles.
And hey presto. Effortless detail that shines like the moon!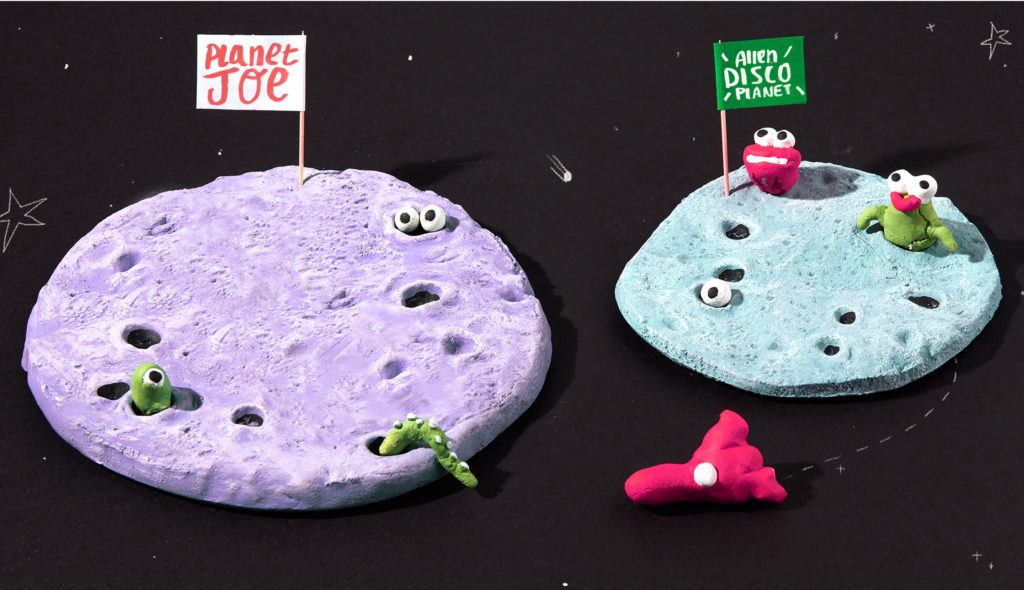 There's always space for more
Indeed, why limit yourself to the moon? You could go to infinity and beyond by playing around with shapes, colours and creatures to create a whole universe of interplanetary landscapes.
The inspiration for this lunar landing activity came from our book, The Incredible Intergalactic Journey Home. In it your curious child embarks on a trip through space with Hubble, their adventurous robot companion. It's a very, very long way from home…will they ever find their way back?