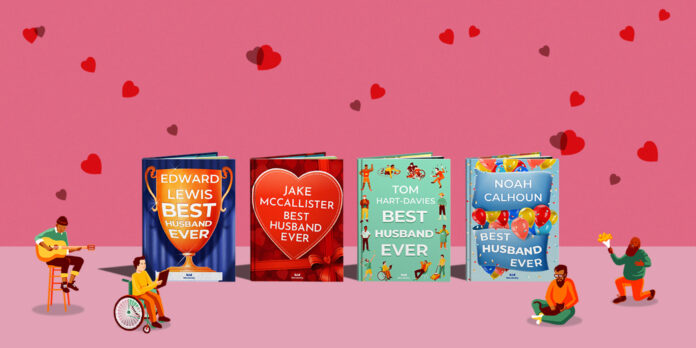 Whether you're celebrating your first anniversary or you've been together many happy years, our new personalized book will make your husband laugh out loud – and fall in love all over again – for many more magical years to come.
1. Choose eight qualities that make him the best
This book is based on your husband's special qualities, so you get to pick the eight values you think reflect him best, from funny to loving to hardworking, and many more. Each one becomes a different chapter in his book, and he won't believe how perfectly it describes him!
2. Perfect for your paper anniversary
The traditional first-anniversary gift is made of or inspired by paper – and what's a better use of paper than a personalized husband book, filled with loving details?! It's a totally unique way to celebrate your relationship, and put a new spin on an old tradition.
3. It's funny and full of feels
We've packed this book with incredible personalized detail, and filled every gap with funny lines that will keep your other half gasping in wonder and chucking to himself, page after page. It's a perfect blend of romantic and hilarious – just like your husband!

4. An incredibly personalized present
Every page is filled with unique, meaningful detail which celebrates exactly what makes him the best, ever! From bespoke adverts to custom certificates – every last detail is lovingly personalized, just for him.
5. You can include the kids (if you like)
For a glorious gift that features the whole family, there's the option to include up to four kids' names in his book. But it's totally up to you – this is a unique present that only you can give to your husband, so make it all your own!
6. Share your own words of love
For an extra meaningful touch, you can add a personalized dedication message to mark whatever special occasion you're celebrating together – from your anniversary to Valentine's Day or 'just because'. We'll print your words of love on the very first page, for free.
7. Lasts longer than socks
This heartfelt, hilarious book only gets better with age. From the first 'wow' moment when your husband sees his name on the cover, to the incredible personalized details that he'll still be spotting on his eighth… ninth… tenth reading – this is a gift he'll treasure for years to come.