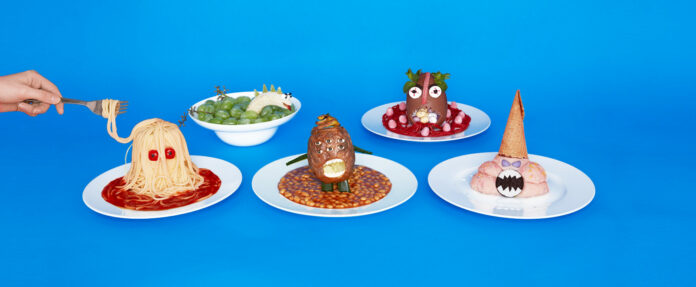 While researching food monsters for our fantastical new book Kingdom of You (which features some of the most dreadfully delicious food monsters ever, by the way), we came across all sorts of unbelievably appealing characters.
Some were so gruesomely good, we couldn't keep them to ourselves. So here are five of the most delectable food monsters we've ever seen, plus a tutorial on how to create one of them. They'll certainly make kids think twice about playing with their food!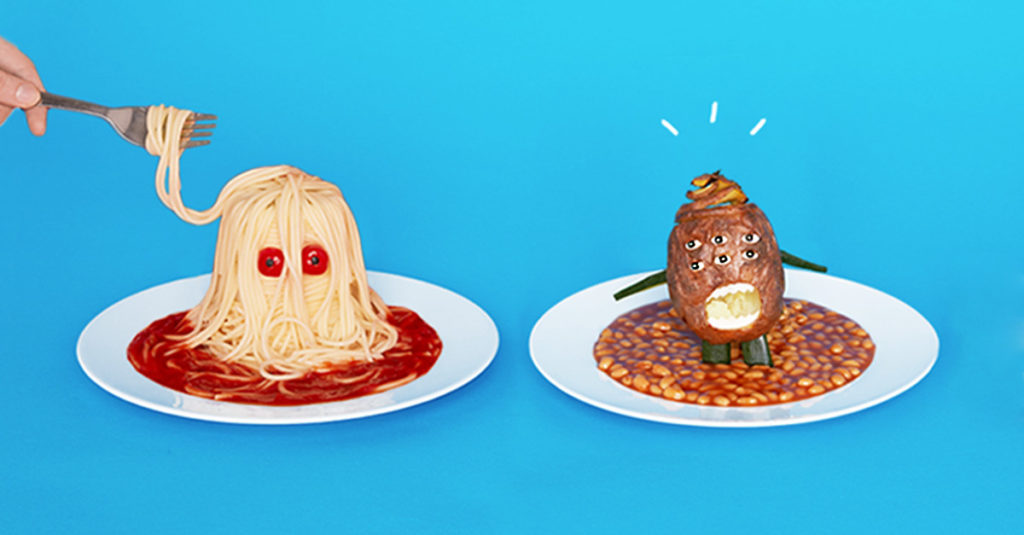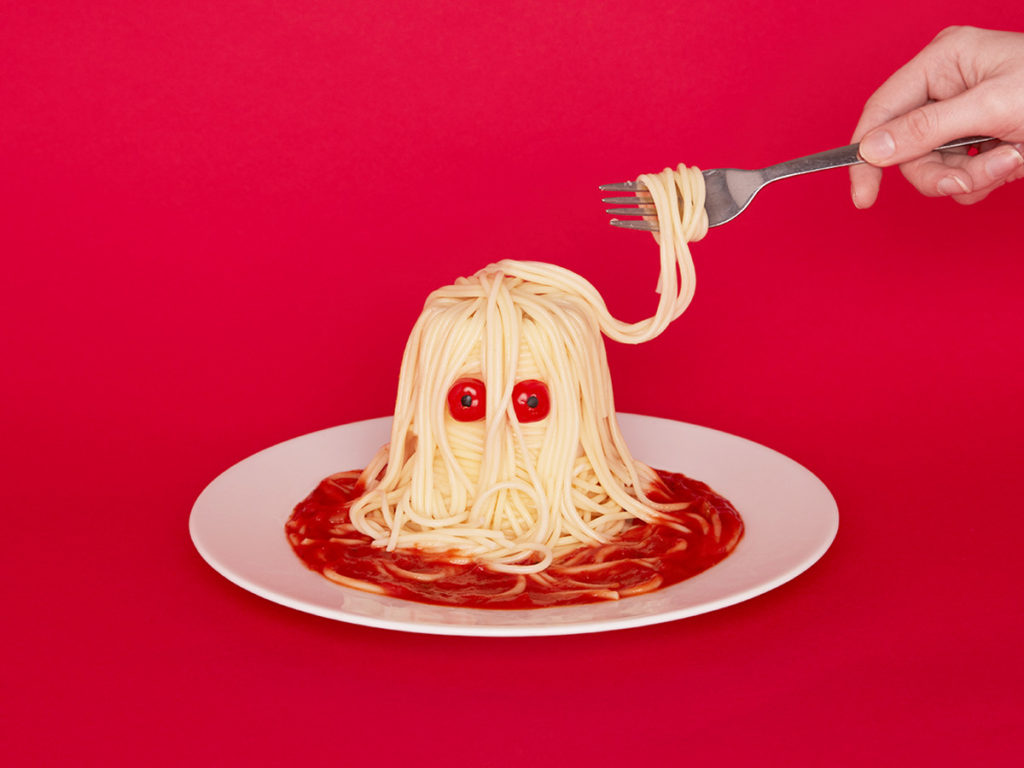 1. The Terrible Tanglist
In the depths of a tomatoey swamp lives a creature in all sorts of tangles. No wonder – there's an astounding amount of spaghetti here (piled on top of an upside down cup, in case you were wondering). Don't look directly into its olive-stuffed cherry tomato eyes though, or you'll enter a weird trance that makes you lick your plate clean.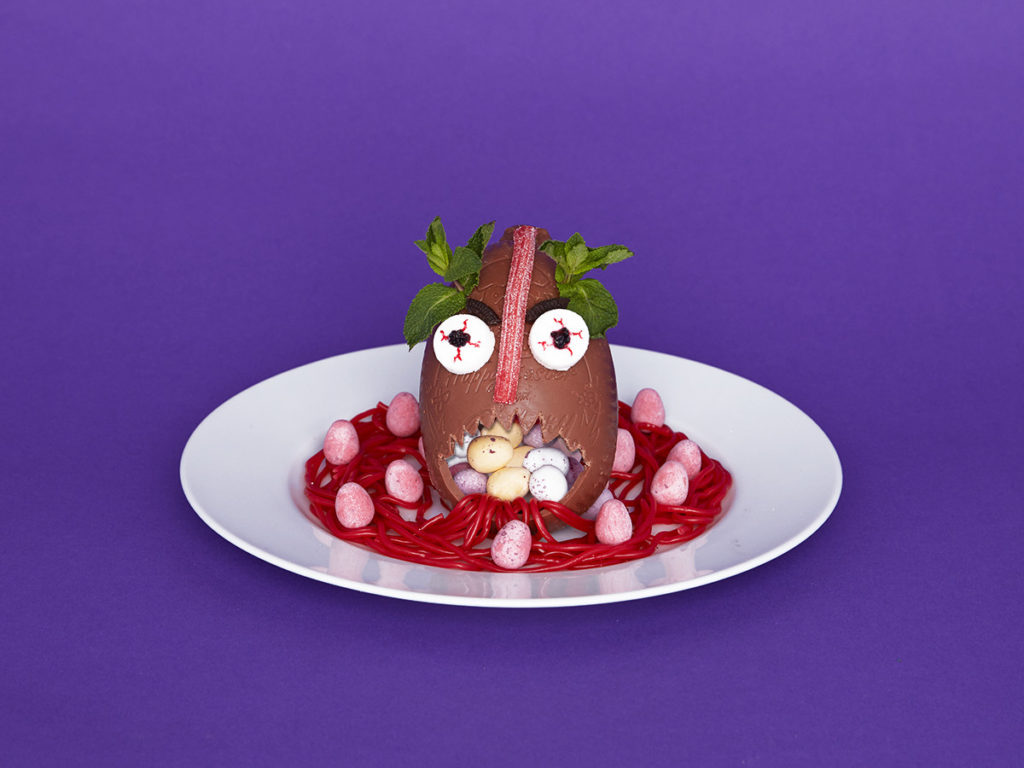 2. Lord Beaster Egg III
Lord Beaster Egg III is a celebrity icon in the food monster world. Because, you know, his grandfather was the Lord Beaster. To make sure he's always snapchat-ready, he gets his teeth regularly sharpened (by grownups who can handle a scalpel), and keeps the veins in his marshmallow-eyes extra pronounced with red food dye. He swears by strawberry lace and dashing mint accessories to complete any look.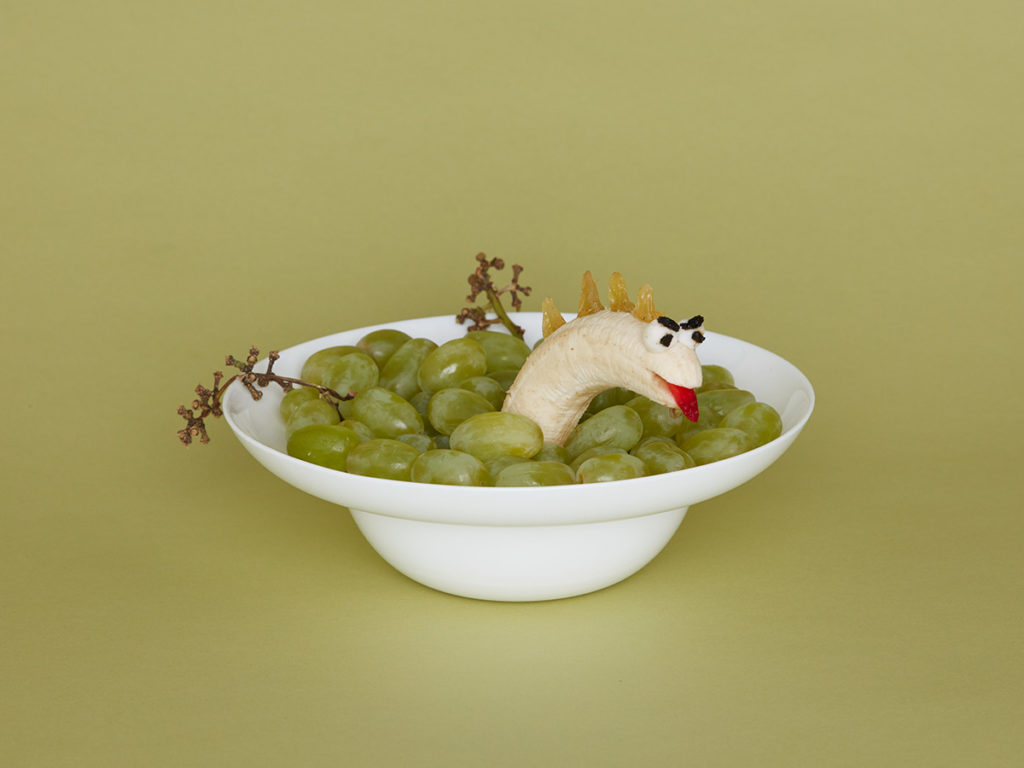 3. The Slippery Swampstress
Dwelling in this juicy swamp of grapes is a feisty banana monster. With dried fruits for spikes, raisins for eyebrows, fondant icing eyeballs and a strawberry tongue, you'd be forgiven for assuming she has a sweet streak. But don't be fooled: she'll bite your fingertips off in a heartbeat. Approach with caution.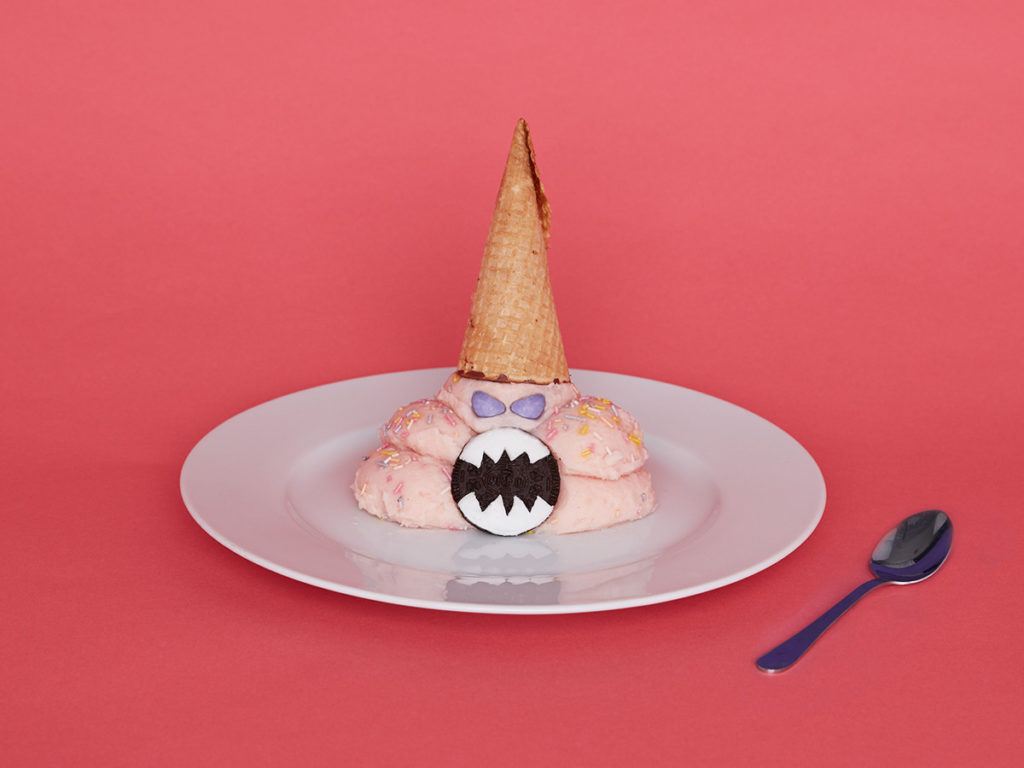 4. Melting Cone-Head Giant
Pah! We could devour this monster in no time because it's made out of scrumptious ice cream, and speckled with delicious sprinkles. What's that you say? His biscuit mouth is shockingly spiky-looking? Actually, now you mention it, those gigantic fondant icing teeth do look fairly sharp. Okay, and those smarty eyes are really quite mischievous. In fact, we're just going to put down the spoon and slowly back away…
The All-Seeing Zombie Spud is extra tricksy, so here's a tutorial on how to transform him from a regular potato into a towering meal. Once you're done, the only challenge will be to tell his grumpy growl apart from rumbling tummies.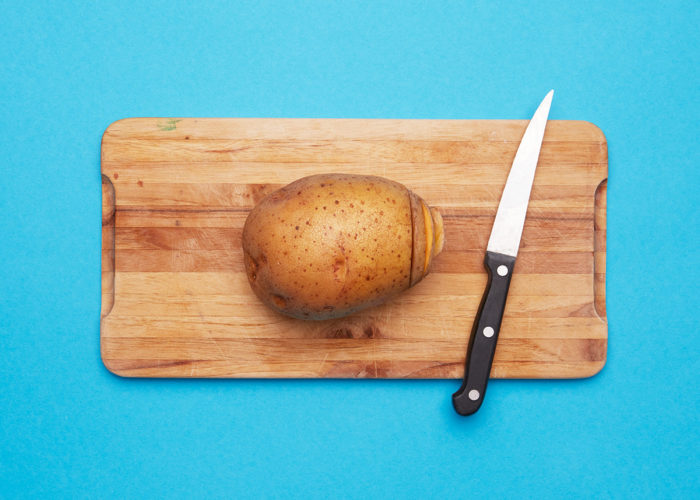 Step 1
Nothing makes a potato (or any other vegetable) more groggy than a really good quiff. We've styled this one by cutting a few small slits at the top. Now pop it in the oven to bake for an hour at 200 degrees celsius. That should crisp up the skin and make its insides all scrumptiously mushy. Like an actual zombie.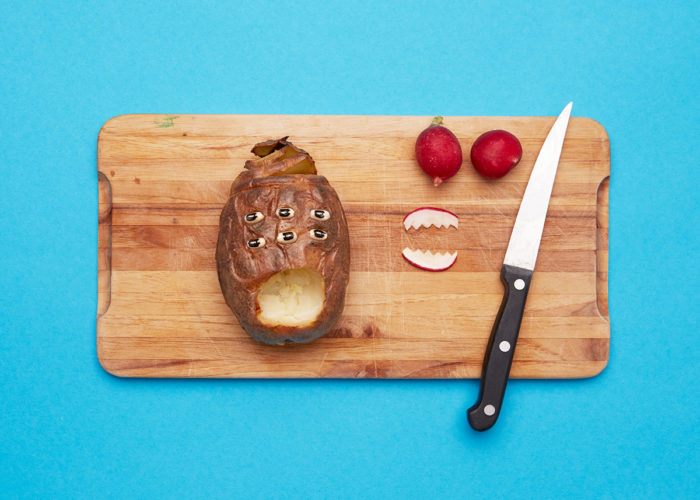 Step 2
Once it's baked, let the spud cool and hollow out its mouth. A couple of spiky radish slices will make those pointy white teeth. Our Zombie Spud here has six beady black-eyed bean eyes, but you can add as many eyes as you feel brave enough to handle.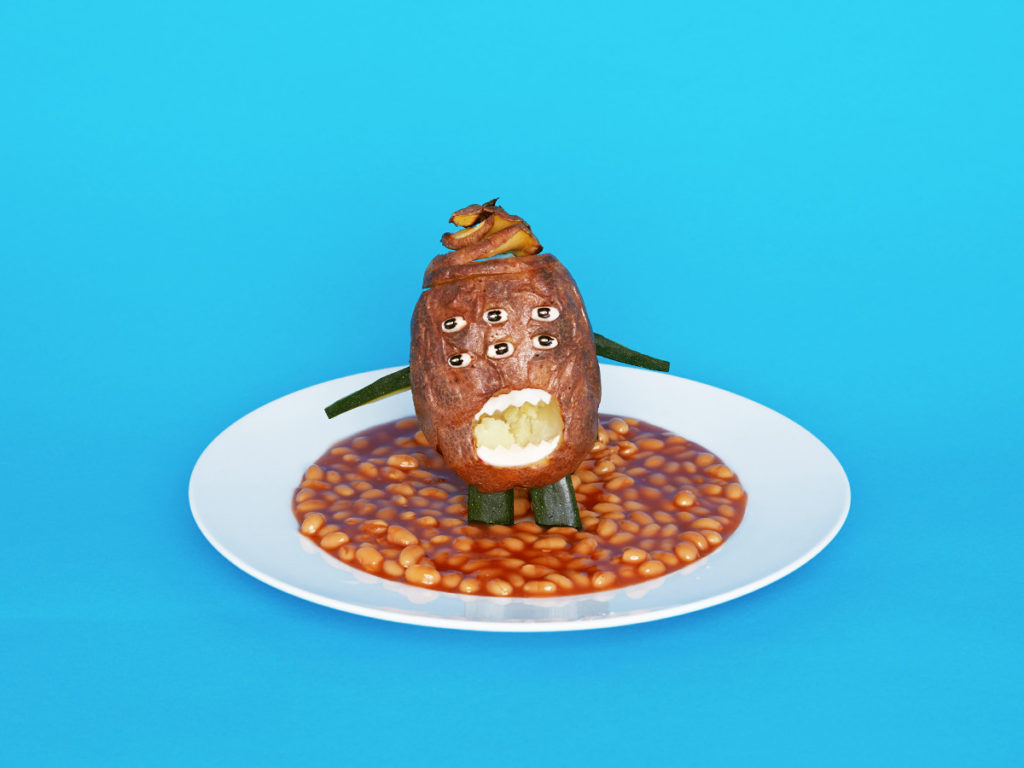 Step 3
To finish, chop up some courgettes for the arms and legs, sit him in a puddle full of baked beans, and prop him up with the leftover courgette. That'll make him really grumpy. And please keep a close eye on him and shovel him down before he tries to escape!
This activity was inspired by our fantastical new personalized book, Kingdom of You. In the story, after creating their own magical kingdom, your kid comes face-to-face with a ginormous food monster made out of their favorite food. It's every kid's a dream come true…until things turn a bit, er, pear-shaped (we just couldn't help ourselves).