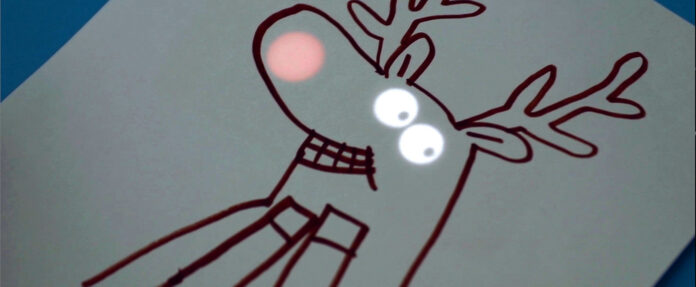 Not a creature was stirring…
Here's a delightfully silly way to make drawing more fun this Christmas – two new festive Blinkies that are sure to give the kids (and grownups) a giggle. As with all our Blinkies, it's as simple as putting pen to paper: draw something, play a Blinkies animation on your phone or tablet, and place the paper on top.
If you're new to Blinkies, there's an entire series for you to explore. We've also made them into a free app that you can download here.
We all know Rudolph is a red-nosed reindeer…
But with this Blinkies, he could be anything you want. A red-nosed rhinoceros. Or goldfish. Or blender. Anything!
What's Santa been hiding in his beard?
Really tiny gifts would have been the obvious answer, but it turns out it's… birds. Hungry birds. Santa is full of surprises.
Get the app
Download our free Blinkies app for the rest of the animations. It's a fabulously fun way to amaze the little ones (or even your dinner guests) and get everyone drawing together and help turn your Christmas picture into an animated scene.
Blinkies is brought to you by Wonderbly. We bring storytelling and technology together to create magical moments between children and grownups. When we're not making apps that bring drawings to life, we're creating the most amazing personalised gifts on the planet. Have fun!