Drum roll, please!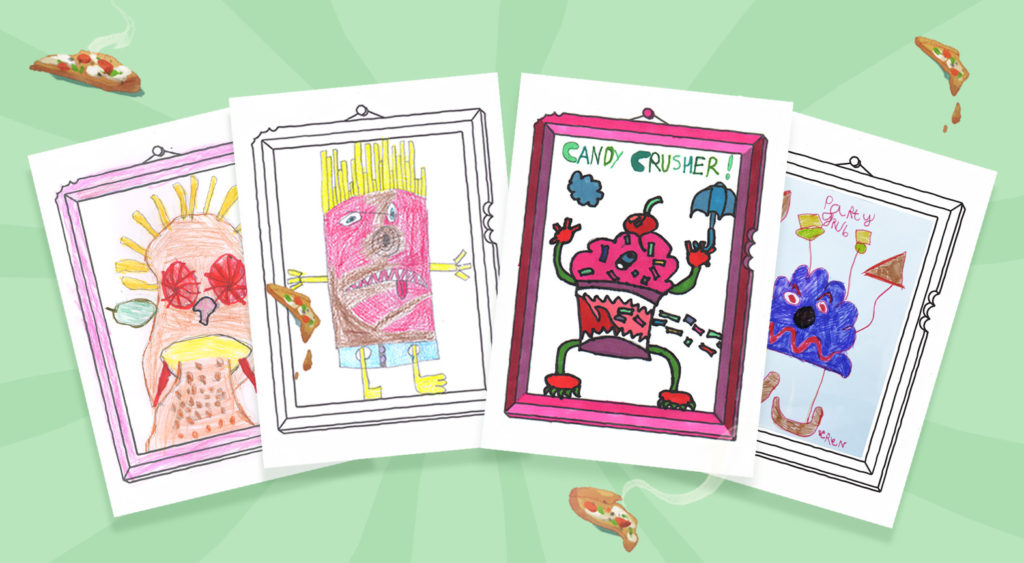 Inspired by the hilariously gruesome food monsters that feature in our lavish new book, Kingdom of You, we recently announced our first ever food monster drawing competition. Where your little one's drawing could be transformed into a professional illustration by the artist behind Kingdom of You, Marija Tiurina.
The rules were simple: turn your favourite food into a monster, then send it to us as a drawing. And make it as deliciously dreadful as possible.
Every drawing we received was bursting with imagination, monstrousness and hilarity. Thank you to everyone who entered. Marija was so bowled over by them all, she struggled to pick just one to transform into professional illustrations. So she picked seven!
Without further ado here are the world's first ever Food Monster Award winners.
Feast your eyes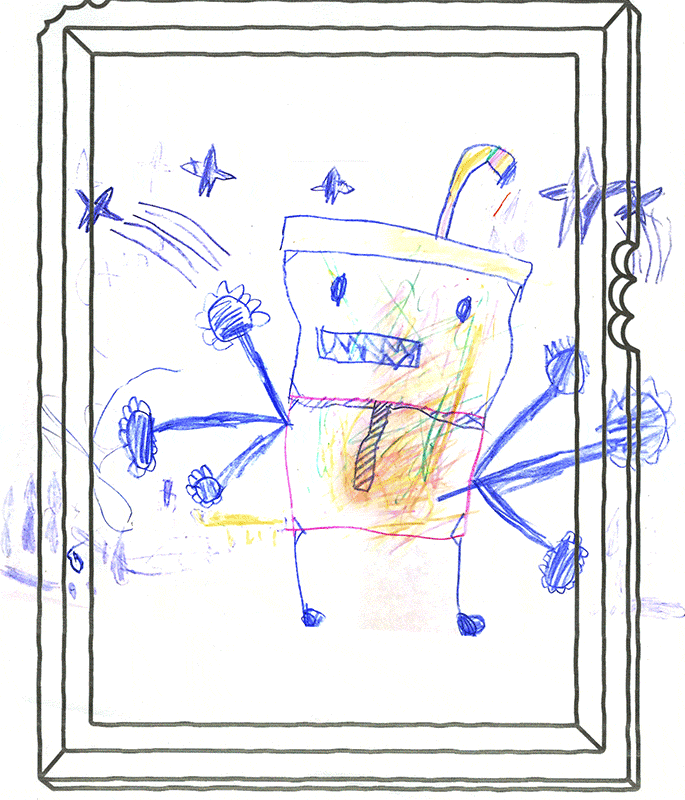 1. Capri the Juicy Spider by Kai, age 5
Kai told us: "Capri lives in an igloo in Fruit Glacier. She's allergic to her cat, Banana, so she sneezes juice everywhere. Capri is part-spider, part-fruit-juice, and she likes to wiggle. A lot. She is also president of the Juice Club."
Marija's comments: Kai's design is beautiful. I'm glad to see Capri enjoying her career as the Juice Club president, despite the cat allergy. I know I'll think of Capri from now on, whenever I come across a wiggling spider or a cup sneezing juice.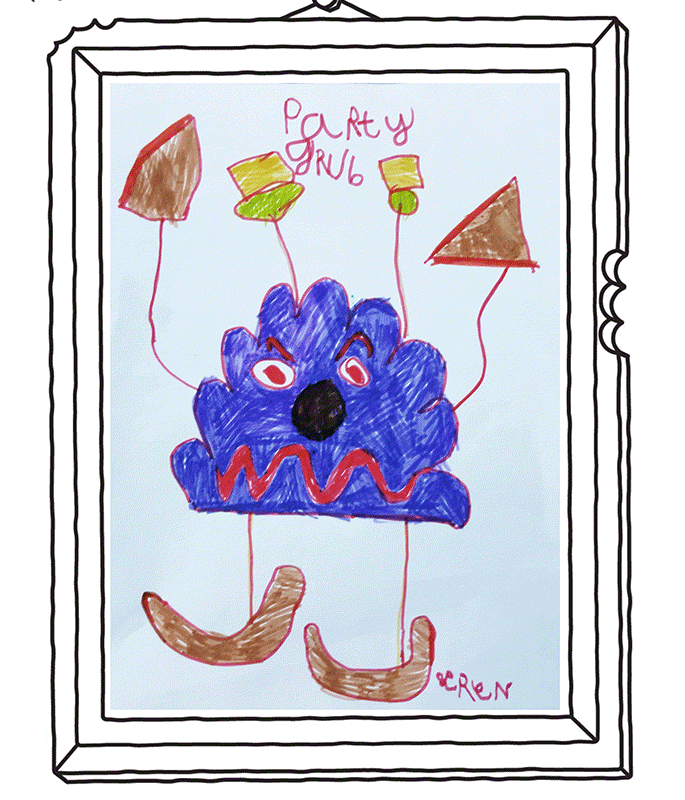 2. Party Grub by Seren, age 5
Seren told us: "Party Grub lurks around bouncy castles waiting to pounce on children with his silly wobbliness. His sausage on stick feet and sandwich hands, cheese and pickle ears and biscuit nose certainly make him one big party grub!"
Marija says: I love Party Grub's shape and colours. My favourite fact about him is that he's made of party food (although the origins of his body remains a mystery!)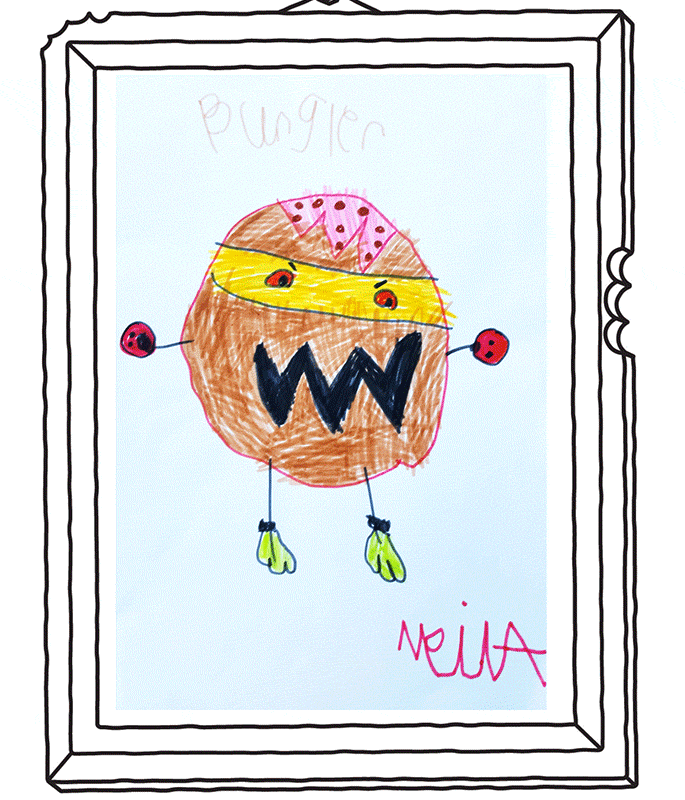 3. Burgler by Neiva, age 5
Neiva told us: "Burgler has a mustard mask for a disguise, tomato hands and lettuce feet. But certainly no gherkins! He lives in the bun house, which is very much like a fun house."
Marija's thoughts: Burgler's mustard mask for disguise and food-limbs made this a strong entry. I still haven't identified what the mysterious pink pattern on his head is, but it certainly adds to the enigma.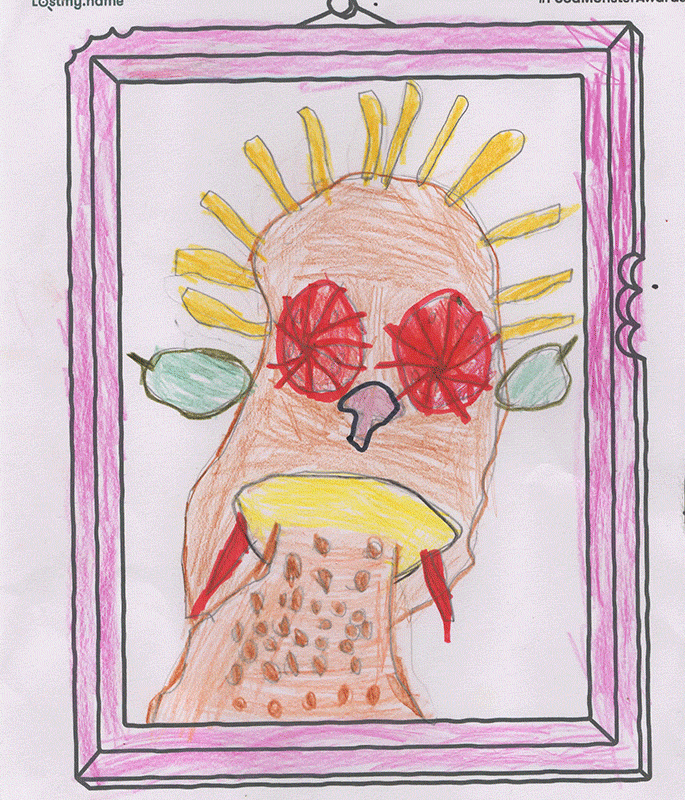 4. Jacket Jaws by Lily, age 5 1/2
Lily told us: "Jacket Jaws is made with beans, cheese and salad. Beans come out with a loud 'BURP' sound whenever he burps. And his edible eyes are his weakness." 
Marija's comments: The humble jacket potato is a staple in British cuisine and clearly in kids' imaginations too! This is a brilliantly terrifying design. Jacket Jaws is full of character.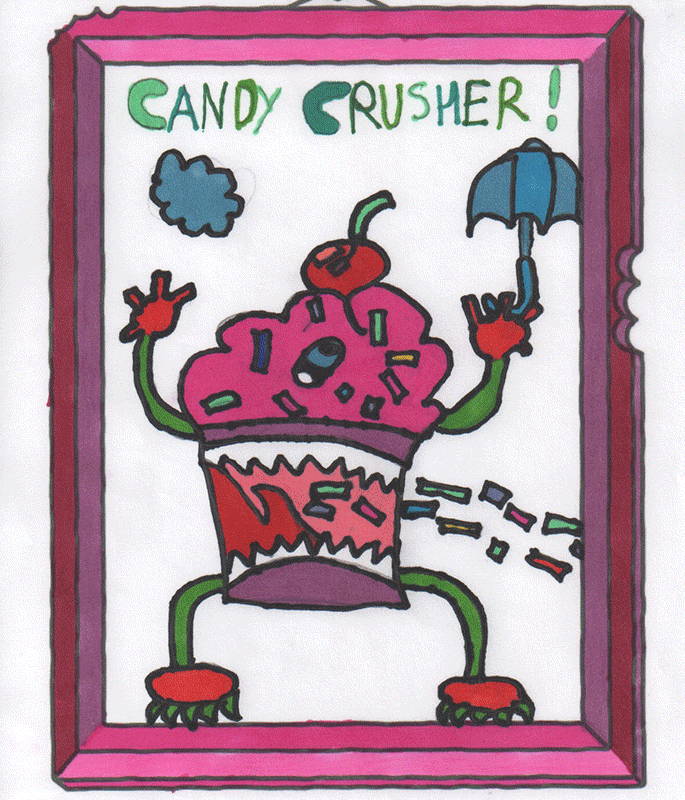 5. Candy Crusher by Isabella, age 9
Isabella told us: "Candy Crusher's hobby is crushing and mashing up food. He lives in the food clouds, shoots sprinkles out of his mouth and carries an umbrella, while shouting 'pow, pow, pow!'"
Marija says: Isabella has a great eye for colour and shape. I wouldn't be surprised to see a blockbuster sci-fi action film featuring Candy Crusher in a few years' time.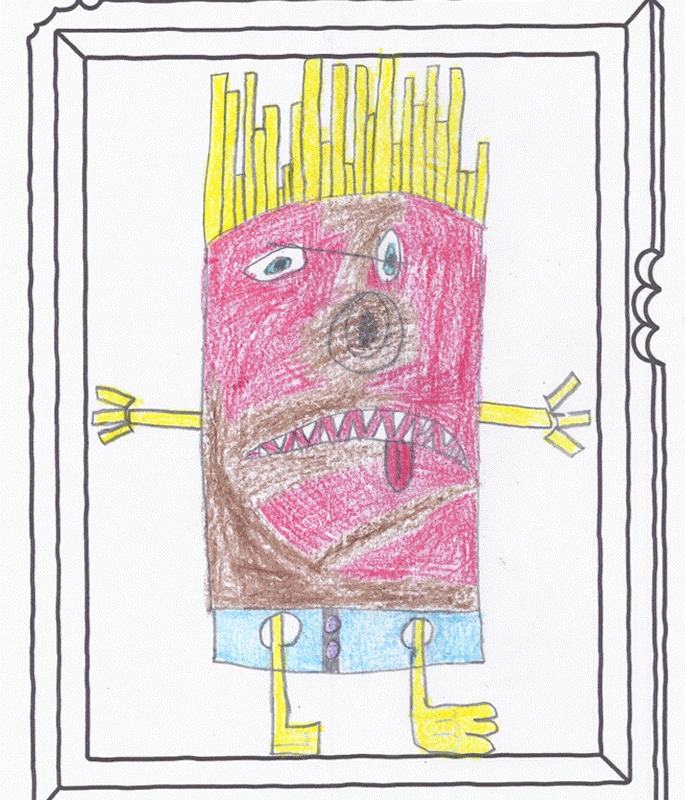 6. Gruffafries by Eevielle, age 9
Eevielle told us: "Graffafries loves french fries (even though he vomits them out once an hour or so). He lives faaaar away in the desert, where he eats himself (the french fries). He has a scar over his eye from when he was born. These species only live until they are 9 (because they eat themselves). He is only 5."
Marija's thoughts: This is an endearingly bizarre character, who I was drawn to not just by the comical side, but also by the notes of darkness in his backstory. I hope he manages to live the remaining four years of his life happily in the desert.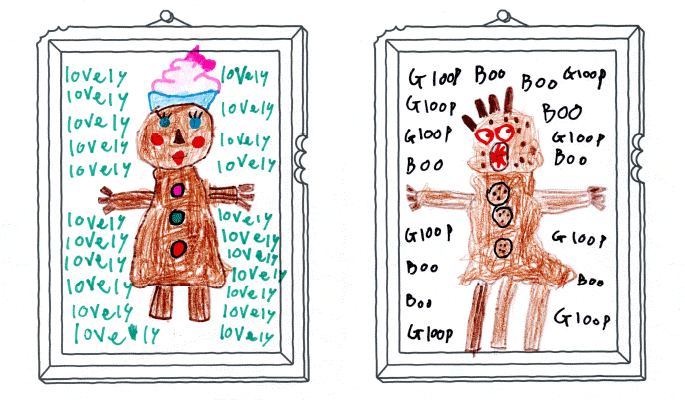 7. Chocolola + Chocaboola by Daisy, age 6
Daisy told us: "Chocolola and Chocaboola are brother and sister. They are made from cookie mix, smarties, flakes, chocolate fingers. Chocolola has a Toblerone nose."
Marija's comments: These monster siblings were so irresistible, I just couldn't pick one over the other. Daisy has shown real dedication in designing this deliciously chocolatey duo. Very nicely shaped characters!
Hungry for more?
These food monsters are just the start. Marija has illustrated three more to go in our latest, most lavishly personalised book, Kingdom of You. In the story, your little one is not only granted their own kingdom, but a monster supply of their favourite food too. But will it be too much for your young highness to handle?