Portrait of the artist as a young… artist
How do you know pirates love to draw? Because they say ARRRRRRRRT all the time.
Well, enough bad jokes and onto some brilliant drawing. Read our interview with Adam Hancher – illustrator of The Wondrous Road Ahead and My Golden Ticket – to find out exactly how one goes about creating artwork for impossibly personalised children's stories.
How did you get into drawing and illustrating? Were you really good at colouring in as a kid?
Of course I drew for fun when I was very young. I was mainly into portraiture, my favourite subjects being Sonic the Hedgehog, Tom and Jerry, Teenage Mutant Ninja Turtles, Ren and Stimpy… the list goes on.
I didn't study art at school. I started college with the intention to one day become an astrophysicist, or meteorologist, or engineer, until I realised how important maths was for those things, and I was quite bad at maths. I changed things around and took up more creative subjects. I found my way onto an Art and Design Foundation course and this is when I started to draw. The illustration module interested me the most, so it just felt natural to see where that path took me.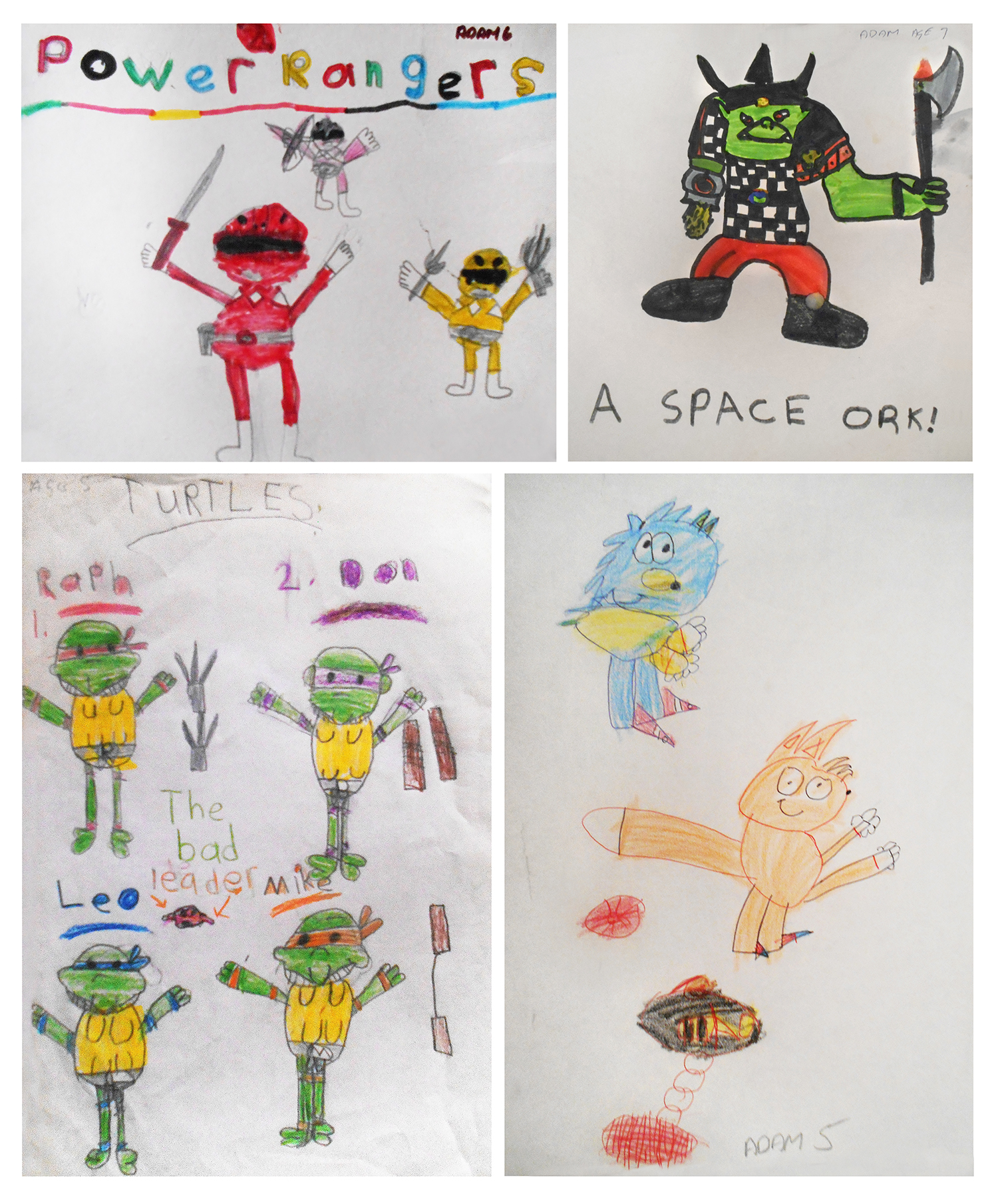 What was your favourite book to read when you were little?
It's hard to pick a favourite. I did like The Funny Bones, by Janet and Allan Ahlberg. "On a dark dark hill there was a dark dark town. In the dark dark town there was a dark dark street", I loved the repetition, the characters were bizarre, the illustrations were so vibrant, it's a great book. The Iron Man, by Ted Hughes also left a lasting impression on me. Andrew Davidson's accompanying wood cut illustrations are incredibly beautiful.
Some of the biggest influences on my style are the cartoons and video games I grew up with. The bright and bold background designs, the beautiful box art, the narratives that unfold – it's all very similar to what's found in a children's book. These things truly sparked my interest in storytelling. I'd like to recreate some of that enjoyment I experienced through the children's books that I produce.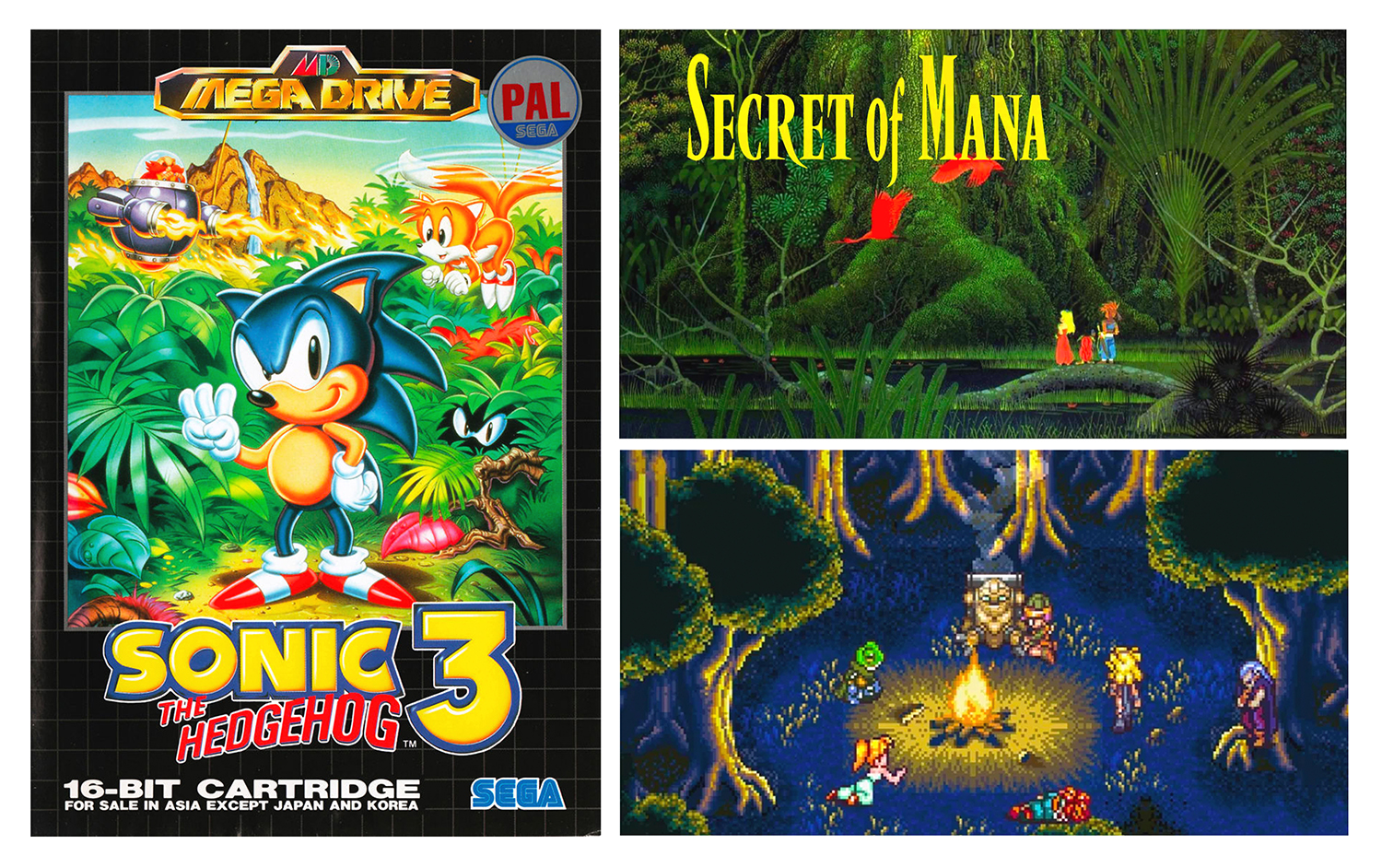 When you're given a new book to illustrate, what's your process?
For The Wondrous Road Ahead, I worked really closely with the author Julia Gray. Early on we played around with some basic concept sketches and sample text. At this stage research is very important for me. Creating mood boards, soaking up other stories, researching historical events, it all builds a foundation and grounds the project. Once we were happy with a loose direction I sat down with Julia to plan the story.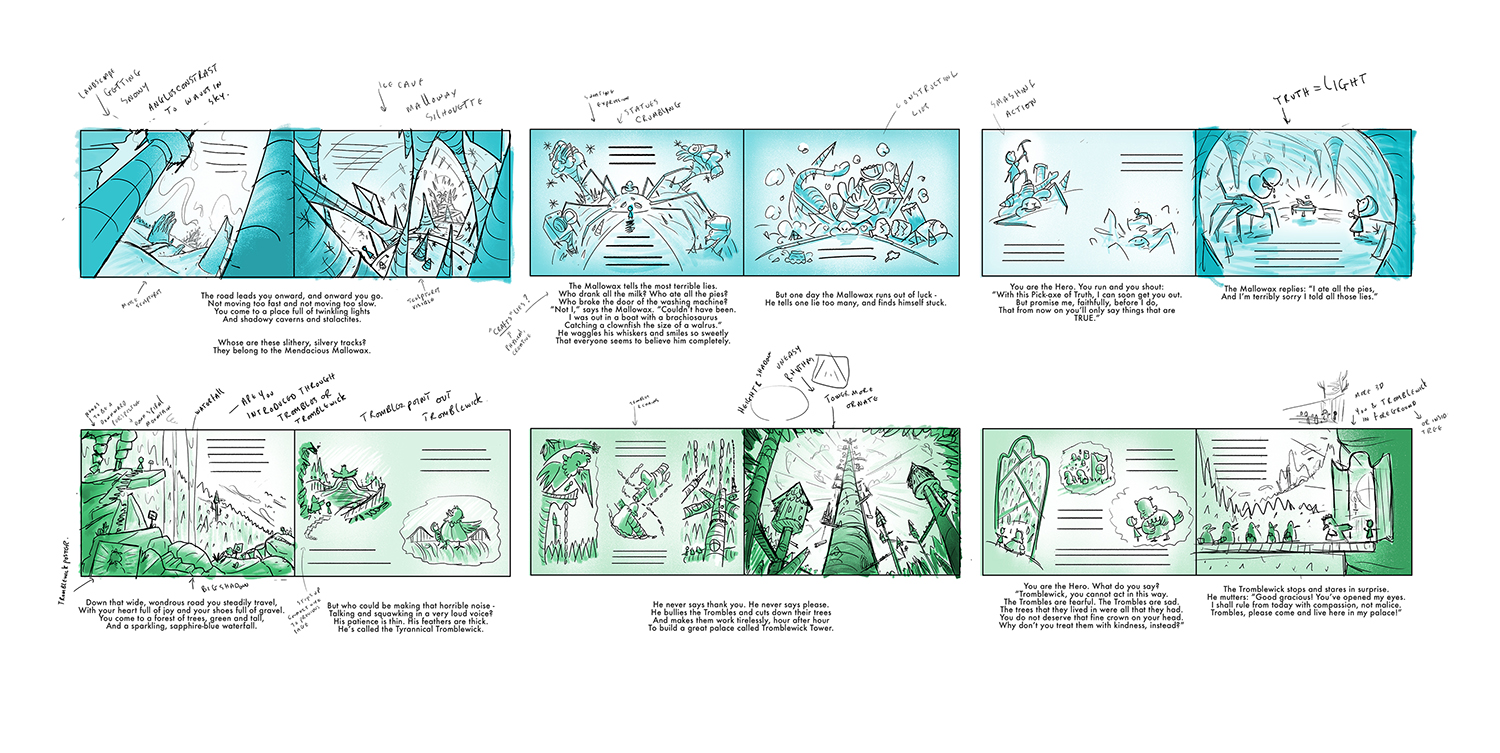 Together we discussed who the various characters were, the environments they inhabit and what problems they are facing. We planned the story structure together with very, very, basic sketches and then we parted ways. Julia wrote the words, and I drew more detailed thumbnail sketches. We would meet up, discuss these ideas, and tinker with them a little more until all the story beats worked. Then I'd progress to a second round of sketches before moving on to final artwork.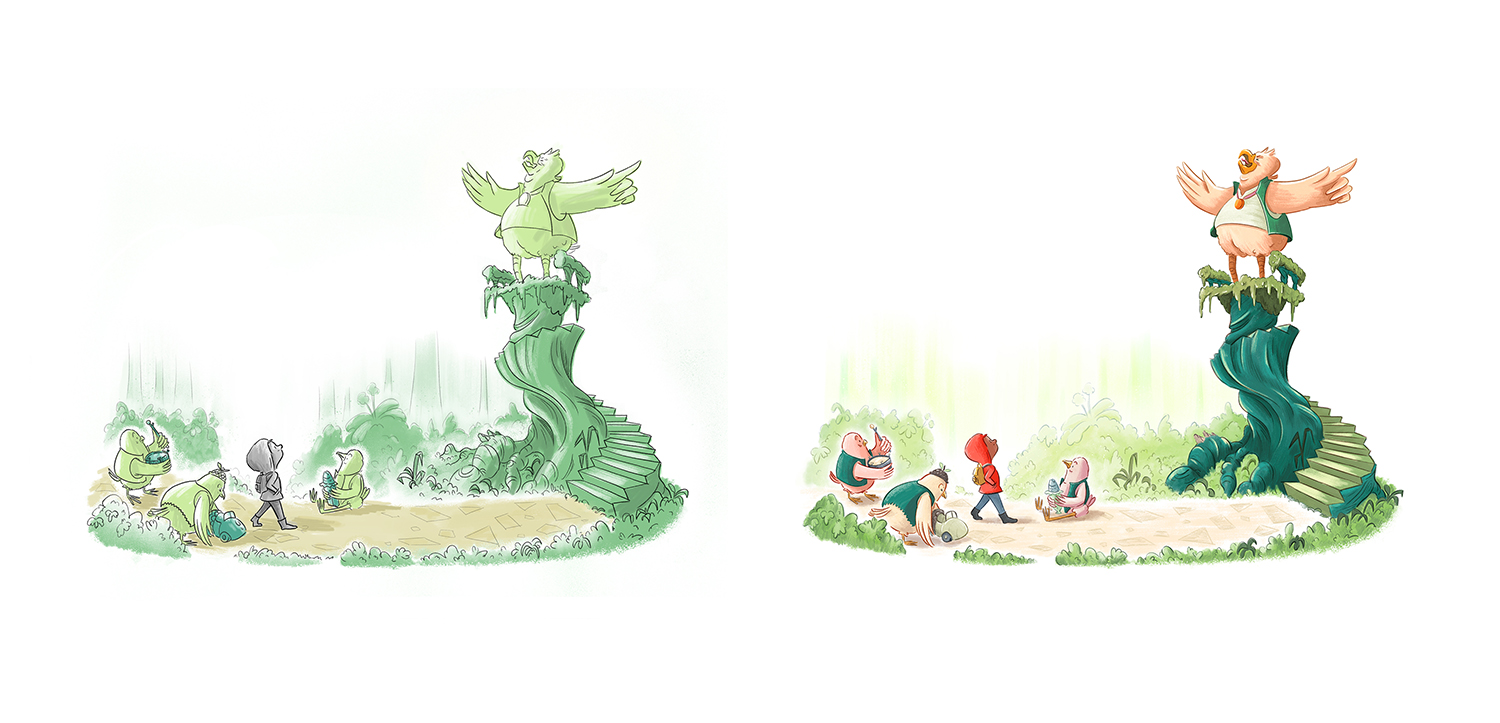 How does illustrating a personalised book compare to a traditional one?
It's really quite different. In The Wondrous Road Ahead, parts of the story are interchangeable – they could appear before or after another – so it's more difficult to plan character arcs and hit all the beats within a traditional story structure. Designing a protagonist is also tough. You want an interesting character, but it needs to be a character that many different children can imagine themselves as being.
How did you create all the weird and wonderful characters?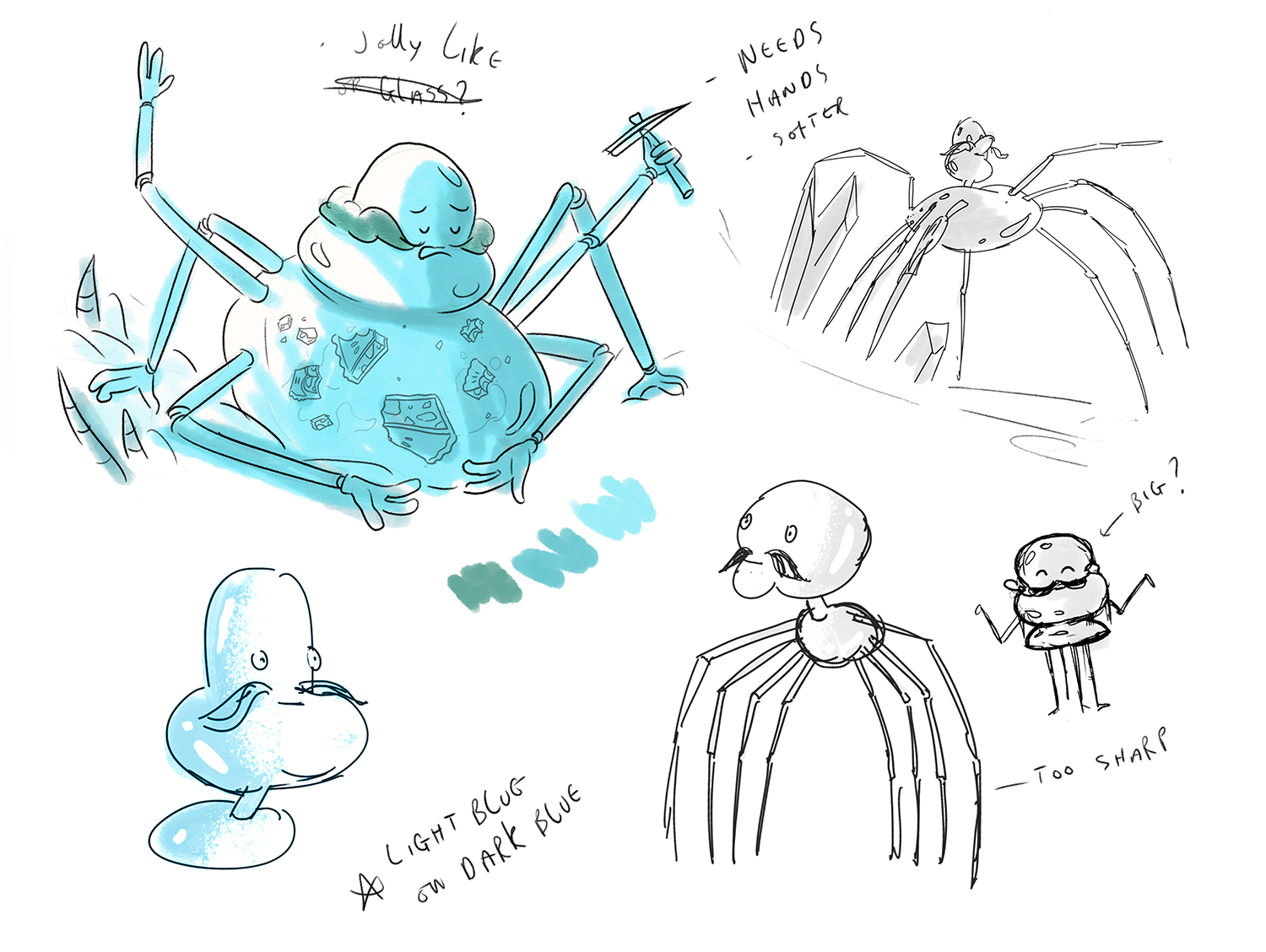 On reading Julia's first draft I realised there would be some strange characters in this fantastical landscape. So for inspiration I had fun researching every bizarre character I have met through books, comics, films and so on. Julia and I decided on the basic features of each character, then I sketched up rough ideas.
It's very important to think about what the character represents. The Mallowax tells lies, and we decided to visualise these lies as ice sculptures in the Mallowax's cave. The Mallowax is quite a compulsive liar, so I gave him many arms and hands to better sculpt his multitude of fibs. You can see here early sketches of the Mallowax, compared to what he later evolved into.
Talk us through your colour palette for each strength.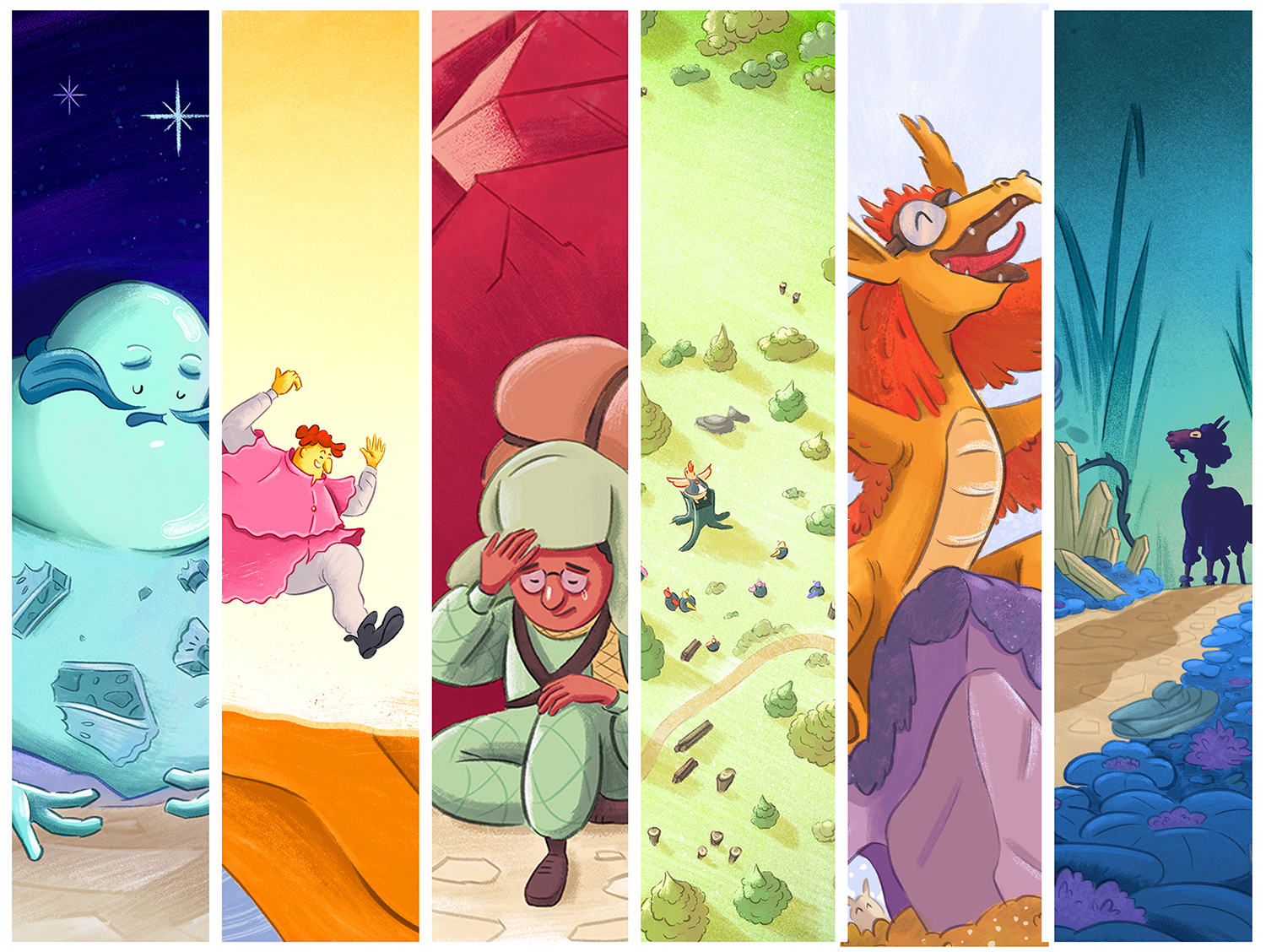 I decided early on to give each character and their environment a distinct set of colours. This is to clearly define each strength associated with the character, creating variety.
Some choices play with associations that colour may have. For example, yellow is often tied to cowardice so we decided to pair that with Bravery instead. The forest setting of the Kindness narrative made green the obvious choice. Red is a colour of passion and strength so we paired that with Determination. We decided to set the theme of Honesty within an icy cold environment, so blue was an obvious choice. The Uninterested Unch wallows in a muddy swamp until he breaks out into the sunshine, so a muddy yellow changing to a vibrant orange seemed fitting. This left respect and the Indigoat. It's in the name with this one, so there we have it, Indigo.
If you weren't an illustrator, what would you be? Any advice for budding young artists?
Astrophysicist, Meteorologist? Probably not. I think realistically if I didn't become and illustrator I would have found another way to be creative, a graphic designer, or a carpenter maybe. Making things, forming ideas, telling stories, these are the things I enjoy about my job and these are the things that I am good at – the drawing is simply the outlet. So my advice would be explore many different things that interest you. Read, research, talk to grown-ups, join clubs outside of school, discover what you enjoy and are good at. See where it takes you. Most importantly put the hours in and work really hard. That always helps.