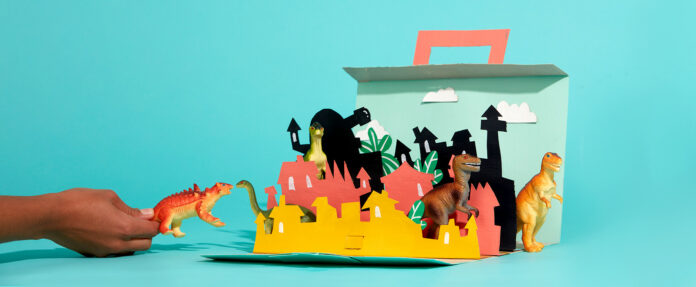 This activity is inspired by our lavish new book Kingdom of You. In the story, your little one gets three magical wishes, and conjures up a personalized kingdom based on all of their favourite things.
With this sensational pop-up version, your young king or queen can take a piece of their own kingdom along to every royal visit – grandma's house, sleepovers, long car journeys. Perfect for young royalty with lots of important places to be.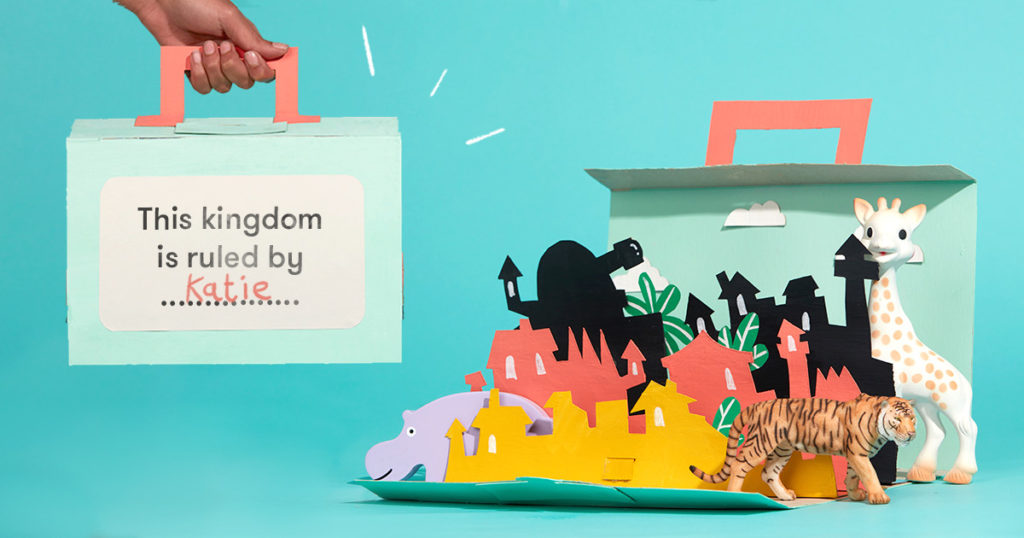 You will need:
Sticky tape or strong glue
Scissors
2x cereal boxes
Paints and a paintbrush
Your finest royal wave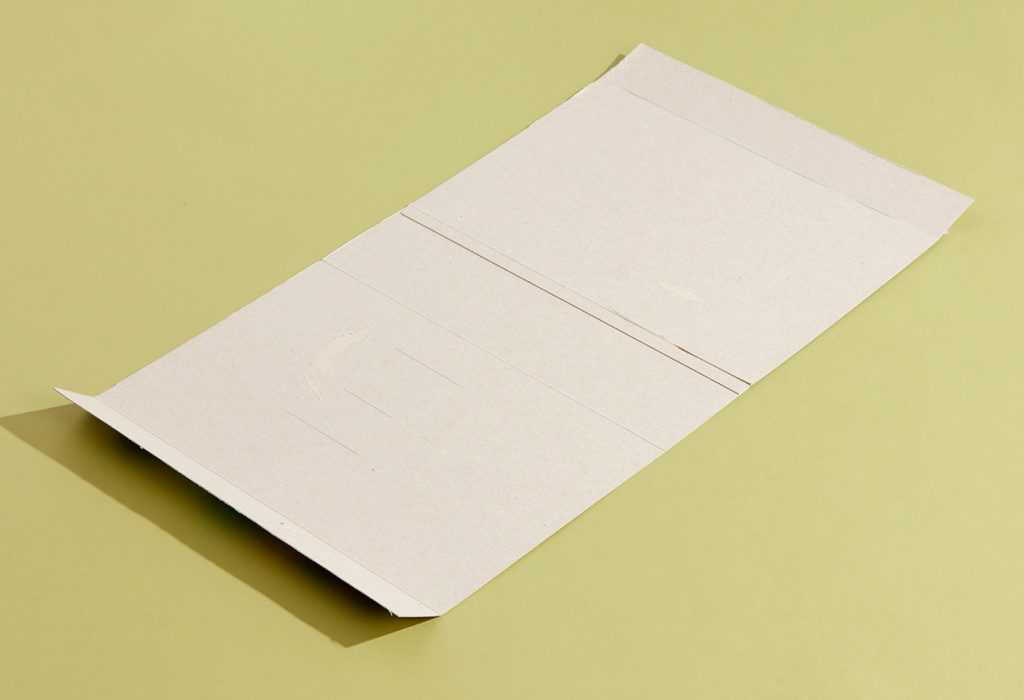 Step 1
First things first, these boxes will no longer be good for keeping cereal in once you've done this (we tried), so make sure you've eaten it all before you begin.
With the first cereal box cut off all the short flaps on the top and bottom. Then put it on its long, thin side and cut a straight line along the centre of the top side. It should open out like in the picture.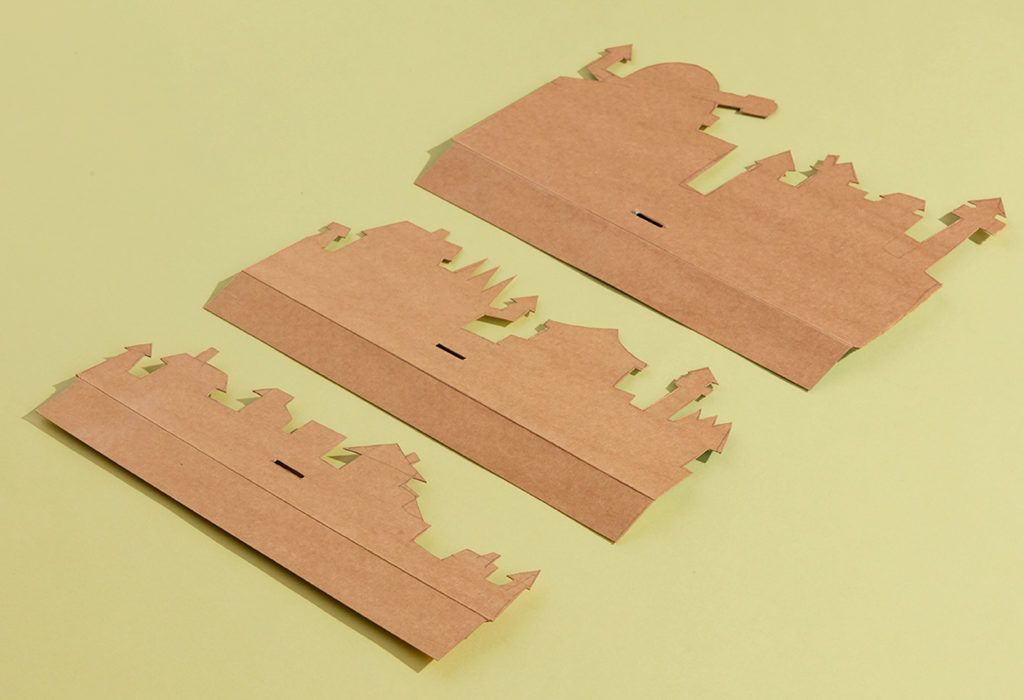 Step 2
Imagine what your perfect kingdom looks like. Then on the second cereal box, draw the outline and cut it out. Top tip: it needs three levels to make it really majestic – each level taller than the first.
Don't forget to leave a fold at the bottom to stick down to your suitcase. And rectangular slots in the middle – we'll tell you why in just a moment.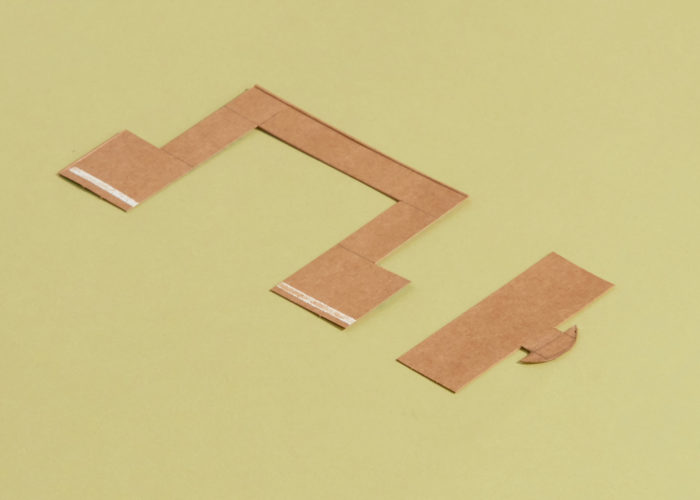 Step 3
It's time to get a handle on this kingdom case. Cut out a small handle which we'll attach later – your kid's hand should fit through and hold it comfortably. And cut out a tab, which will keep the case closed.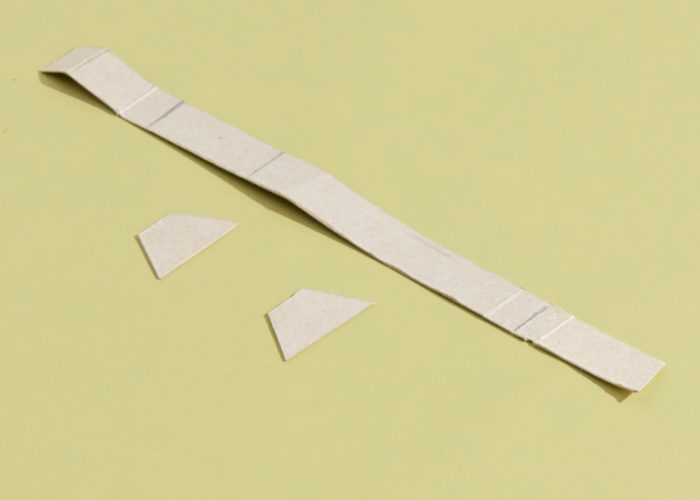 Step 4
We also need to make all the buildings pop up. Do that with what we've called a pop-up stick. Make it a bit longer than one side of your suitcase. And cut out two brackety bits likes the ones above, to act as reinforcement once you stick everything together.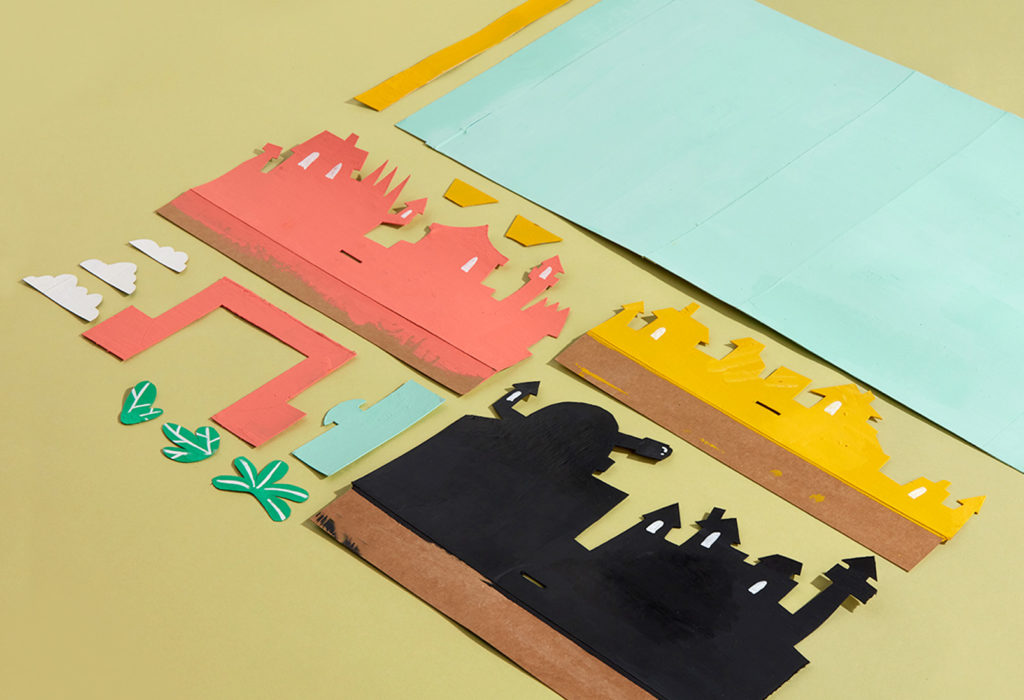 Step 5
Now your kingdom can begin its journey to true magnificence. Paint all the pieces in the brightest, boldest colours to make this a kingdom celebrated by all!
You could also add some extra touches, like clouds and greenery. Or anything else his or her majesty wishes.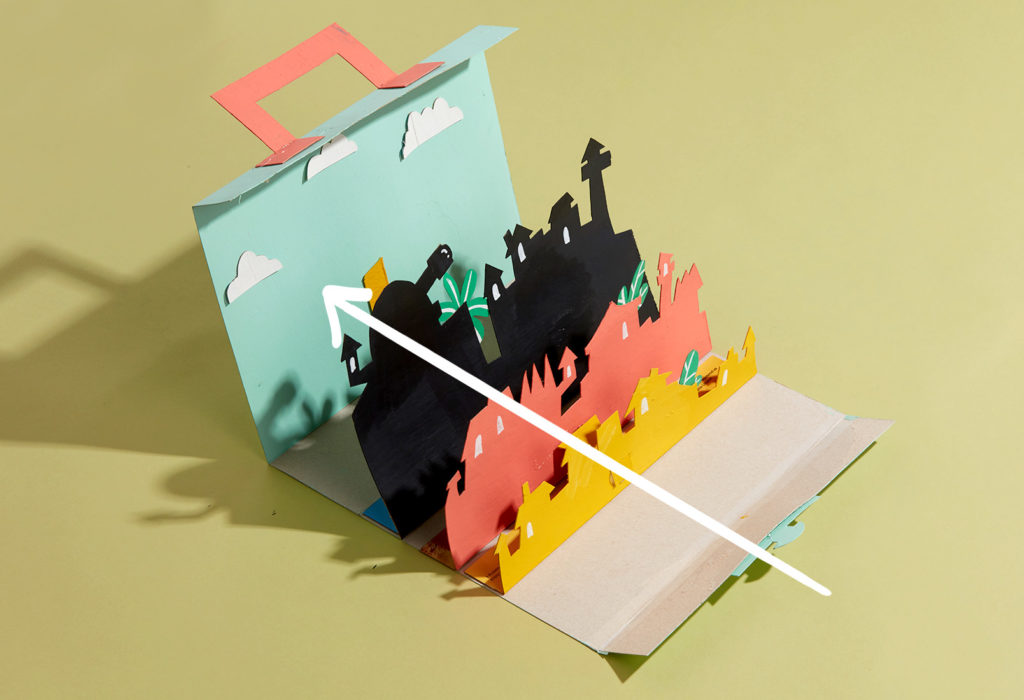 Step 6
Once the paint has dried, your kingdom is ready to be assembled. Slide the pop-up stick through the slots in your kingdom – following the white arrow in the picture. Glue one side to the front layer of buildings. The brackety bits from earlier should go where the pop-up stick joins the middle and back layers. That should help the buildings stand up strong.
And the handle goes on the top flap of the back panel. Put a crease in it so it also stands up.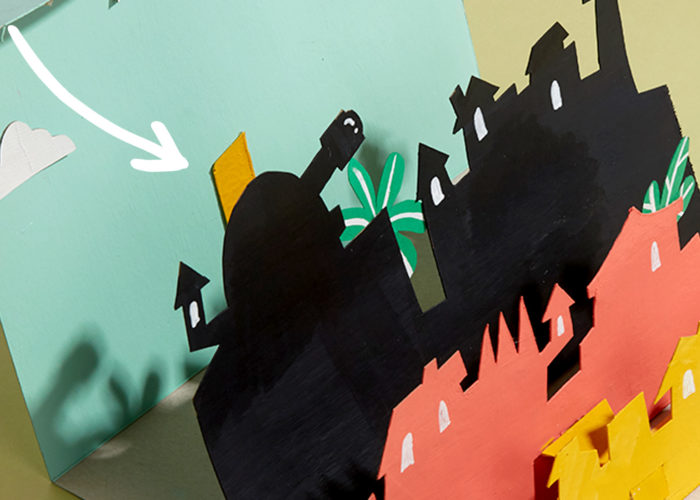 Step 7
Stick the pop-up stick to the back panel, so it gets pulled up every time you open the case.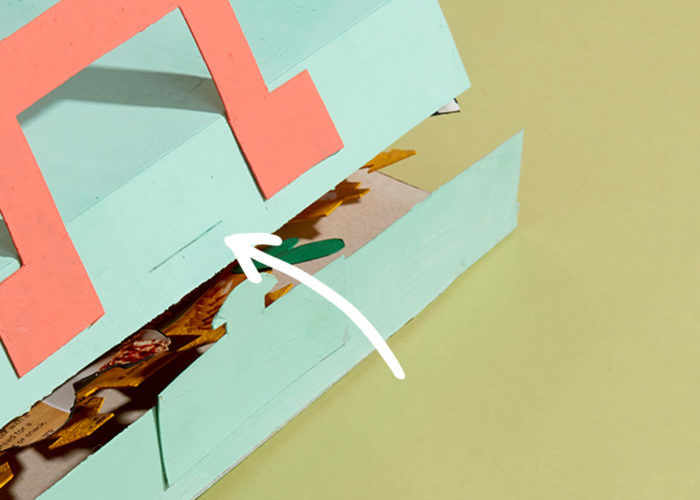 Step 8
Stick the tab from earlier to the bottom flap. Then carefully make a slit on the top panel – if it's lined up perfectly, the tab will tuck snugly into the slot.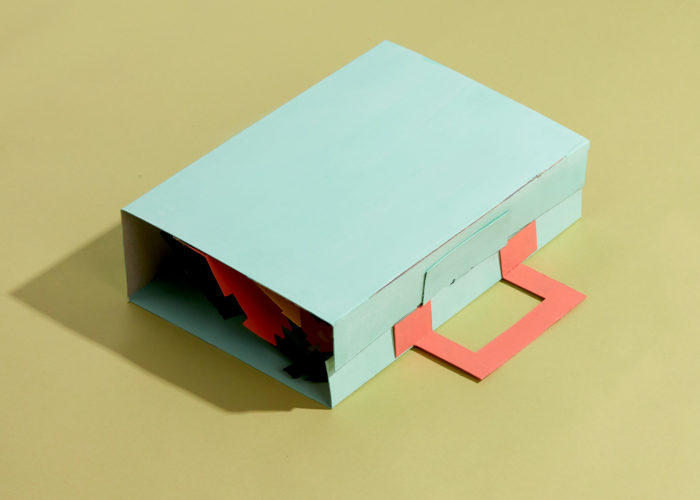 Step 9
Now we can do a test close. Your kingdom should fold down inside the case, and you'll be able to clasp it shut, like a proper case.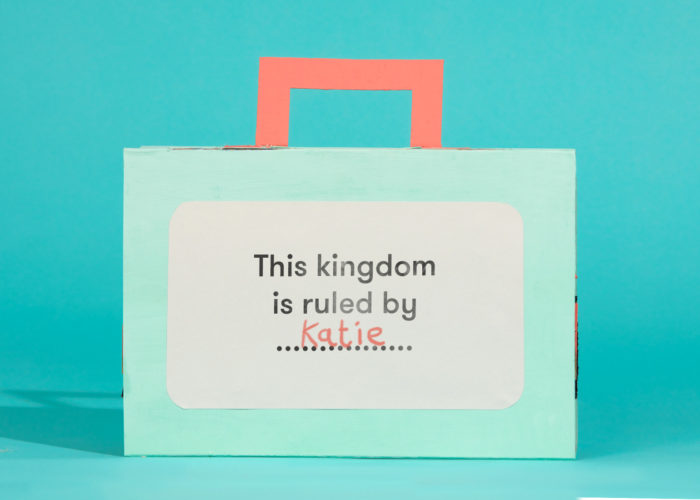 Step 10
As this pop-up kingdom will be ferried all over the place, our royal advisors have suggested designing a label to make sure it never gets lost.
Then all they have to do is fill it with their favorite things – toys, snacks, invisible pets – and away they go!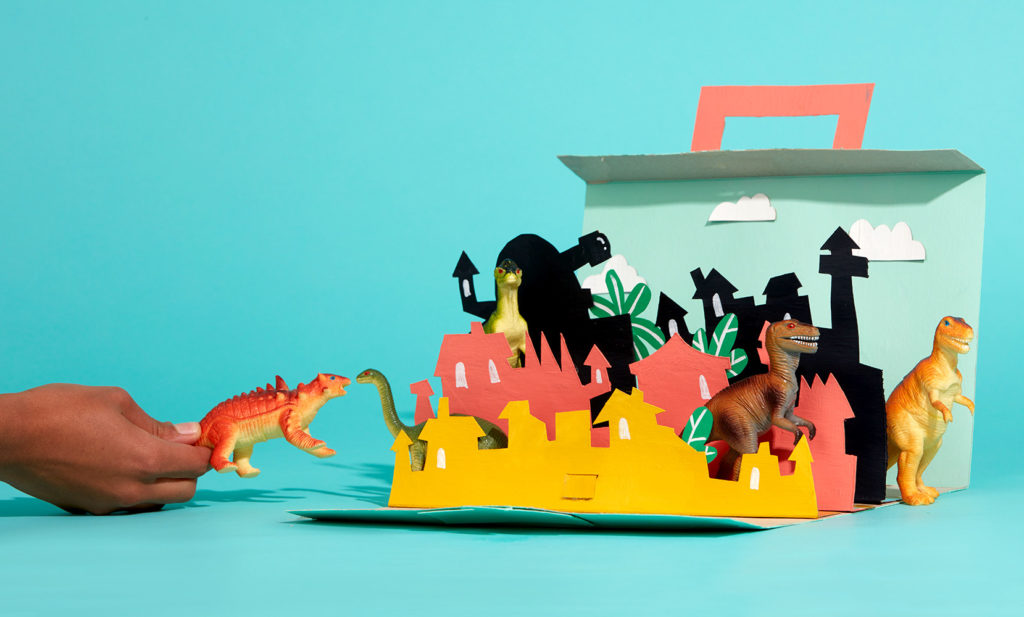 Hurrah! A mini Kingdom of You
If his and her young majesties have enjoyed their mini-kingdom, they'll love their own impossibly personalized book, Kingdom of You. In the story they get their own sparkling kingdom (with a little help from a genie friend) and surround themselves with their favorite things – including endless supplies of their most favorite food. What could be more special?