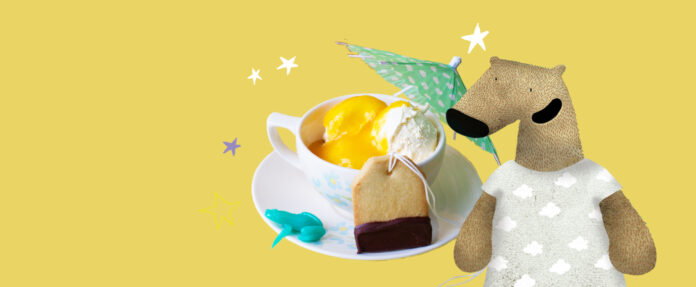 Here's a special recipe for an ice cream tea party. You're going to bake some shortbread tea bags for dunking, swap out the tea for ice cream and add a delicious apricot coulis. That's right, it's par-tea time for kids, grownups (and teddies).
You'll need
To make enough for 4 kids and 3 teddies
180g of butter
70g of icing sugar
1/4 zest of organic lemon
1 egg yolk
20ml of freshly squeezed lemon juice
A pinch of salt
280g of flour
For crafting
A straw
200g of dark bakin chocolate
Thick string
Tape
Apricot Coulis ingredients
500g of Apricots
2 tablespoons of honey
A squeeze of lemon
A splash of water
Make the shortbread tea bags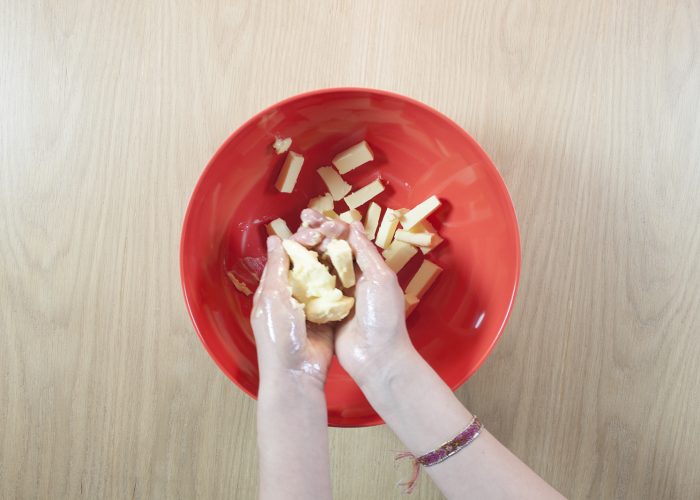 Step 1
Pop the butter into a bowl and work it with your hands until it's softened. Squishy squashy fun for the little ones.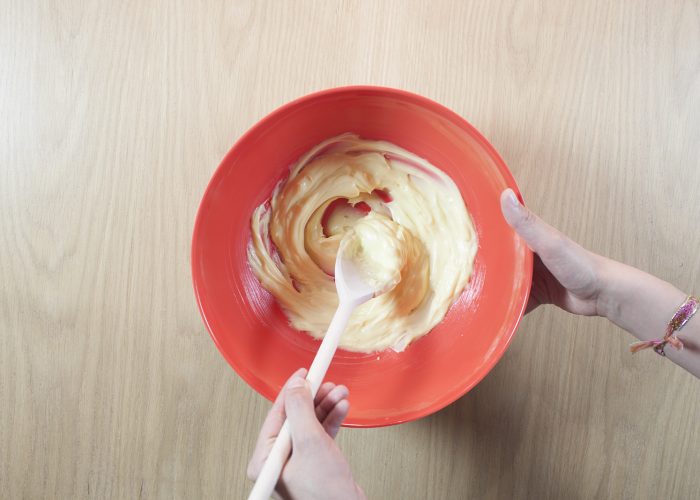 Step 2
Add the icing sugar and stir vigorously using a wooden spoon until it's a smooth and creamy texture. Really work those muscles.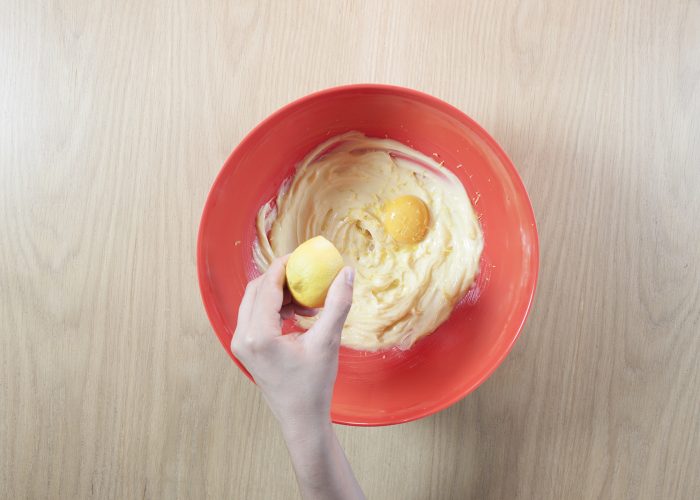 Step 3
Add the egg yolk and the lemon juice to the mix. Grownups grate the lemon zest. Now stir again until it's all blended together.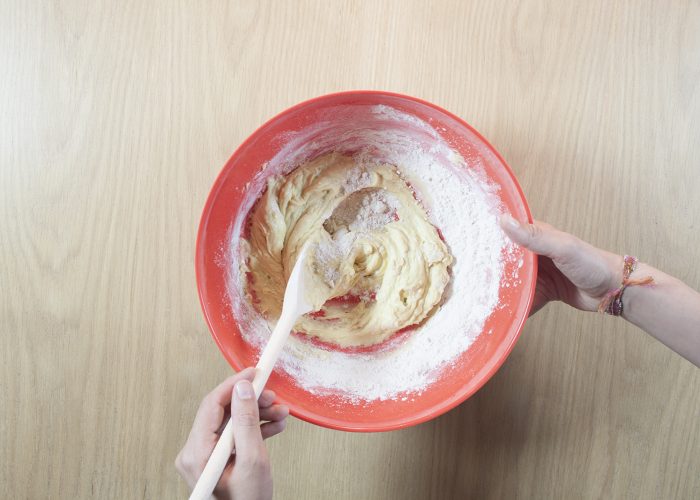 Step 4
Add the flour and mix. Finish with your hands until the texture is no longer sticky. Huzzah! We have the base for our marvellous biscuits.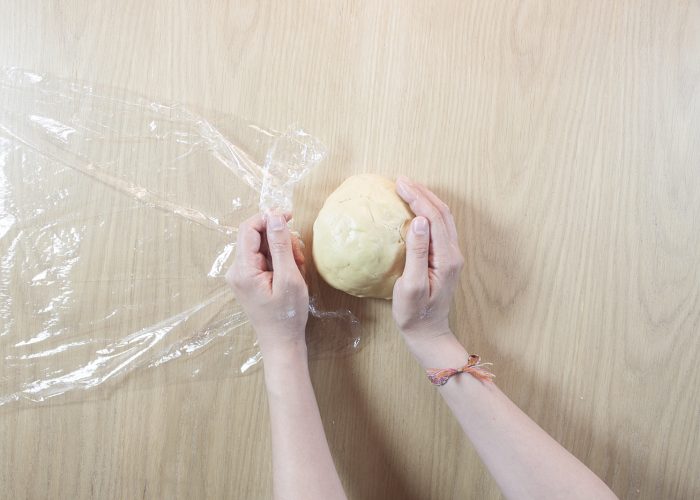 Step 5
Roll the dough in cling film and let it rest in the fridge for half an hour. You deserve a snack – why not snaffle one of those delicious apricots?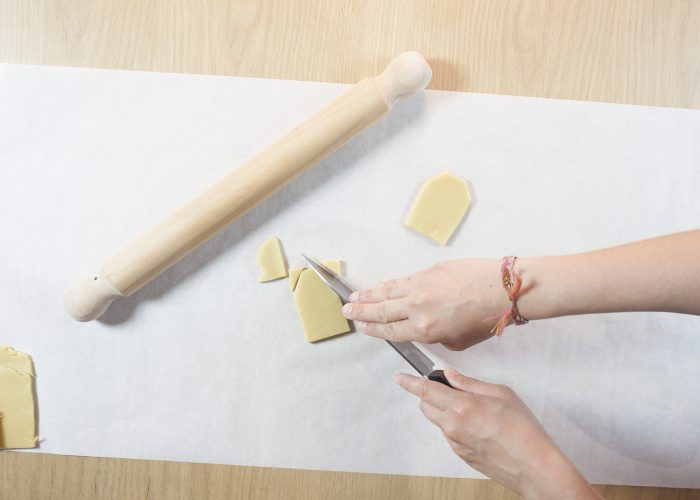 Step 6
Time to turn this dough into yummy dunkers. Spread a sheet of baking paper (to prevent the dough from crumbling). Make little balls and roll them out using a rolling pin until they're 0.5cm thick. Then, cut out the shapes using the template provided below and a knife. Keep little hands away.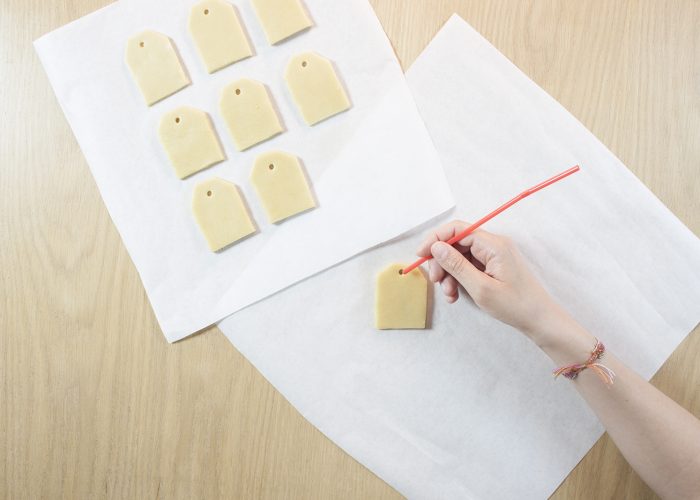 Step 7
Now grab the straw and make a hole in the tea bag. You want it in the middle but not too high. Then lay the biscuits next to each other in a grid (leave some space between them) and pop them in the oven for 12 to 18 minutes at 180°C. Mmm, smelling good.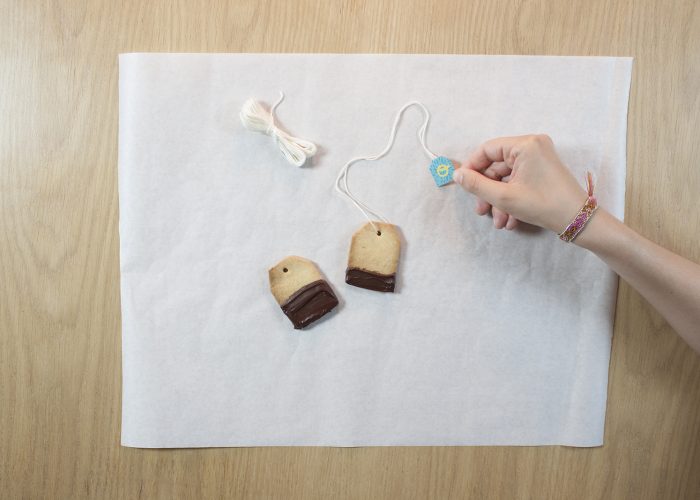 Step 8
Melt the chocolate in a bowl on top of a saucepan with gently simmering water – grownups only. Stir with a fork and remove the bowl from time to time to avoid burning the chocolate. Turn off the heat before it's completely melted. It should look shiny and silky. To finish, cover the bottom of the biscuits with chocolate and let it dry. Then, pass the string through the hole and tape the tag. We've created a B-branded tag (for Bear) but you can personalise yours to the letters of your names.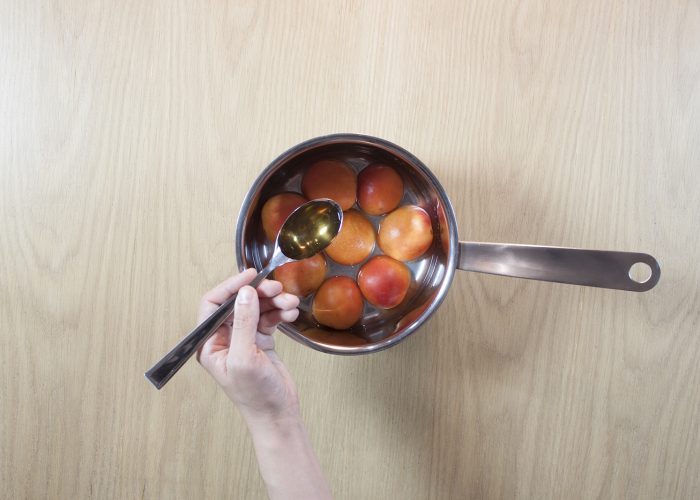 Step 1
Wash the apricots, cut them in two and pop them in a saucepan face down. Add a splash of water so they don't stick, then the honey and the lemon. Bring to the boil and then lower the heat and simmer for about 15-20 minutes.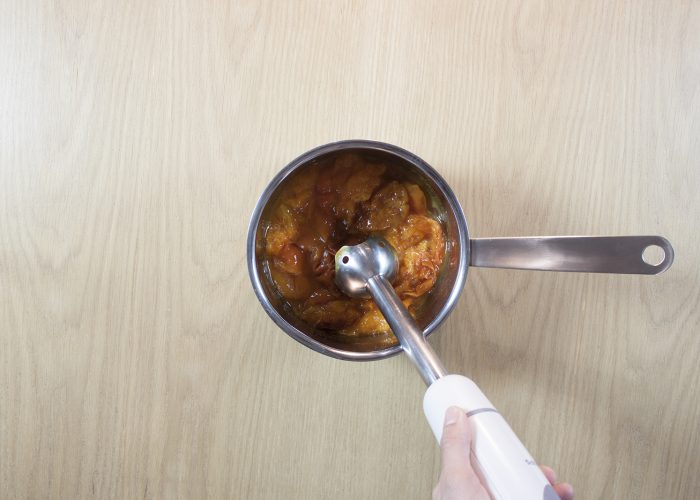 Step 2
Let the apricots cool down and use a blender to turn it into a coulis.
Finally… assemble! Scoop the ice cream into the teacups, then cover with the coulis. Add the dunkers around the cup. Now that's a tea party.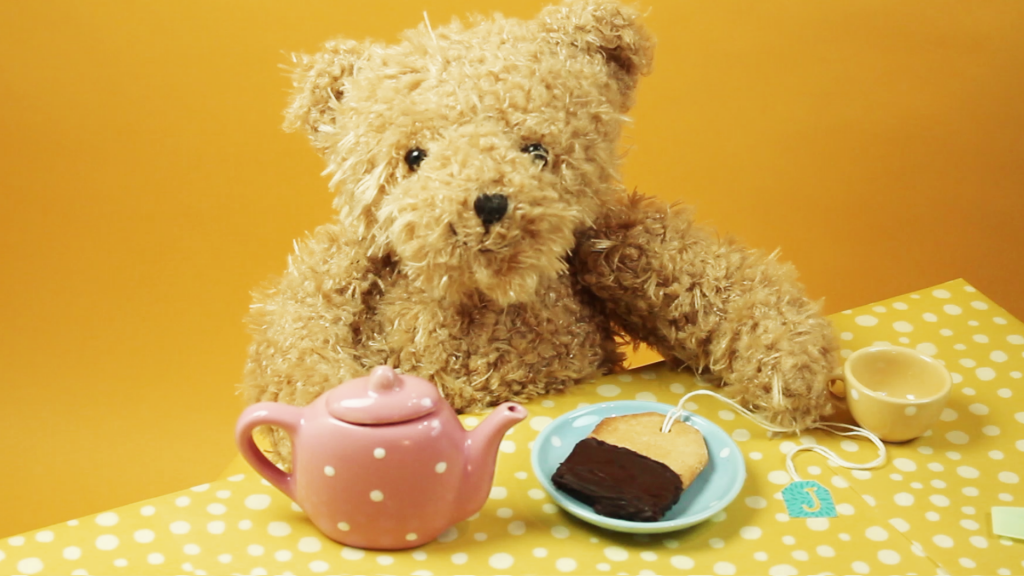 All done!
This recipe has been baked with seasonal produce (apricots in this case). So your ingredients travel less and are fresher… Hooray for us and the environment!
Fact: Teddy Bears are Presidential
When President Theodore Roosevelt went on a bear hunting trip, he encountered a problem – no bears. His assistants, not wanting to embarrass him, found a bear and tied it to a tree for Roosevelt to shoot (it was a different time). Roosevelt staunchly refused. The story spread like wildfire across the country, prompting a Brooklyn Candy shop that also made stuffed animals to create a 'Teddy Bear'.
Ready for your own Teddy Bear tea party? Download and print the templates below to get started.