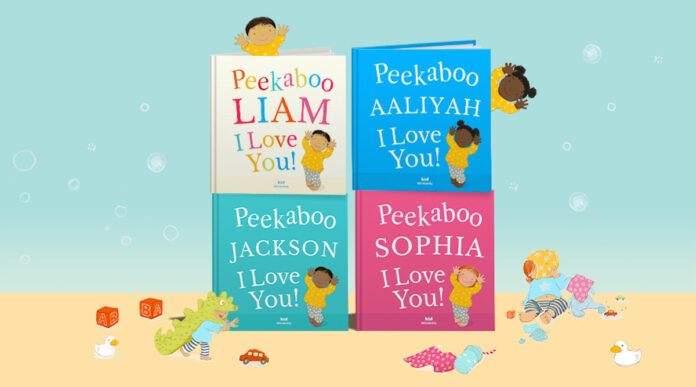 It is a truth universally acknowledged that every baby loves to play peekaboo. And we've taken it to giddy, giggly, toe-tickling new heights with our new personalised book, Peekaboo, I Love You! Read on to see why it's head-and-shoulders (and knees and toes) above the rest.
1. It's personalised on every single page
Simply add a little one's name and choose their adorably cuddly character. They'll love spotting themselves hiding, peeking, toddling and playing on every page.
2. In fact, it's the most personalised peekaboo book ever!
At Wonderbly, we don't simply whack a child's name on a cover and call it a day. Dear me, no! We create magical, meaningful personalised reading experiences. You'll see a child's name cleverly woven into the hand-drawn illustrations, and throughout the rhyming story.
3. You can choose from four cover colours
There's Raspberry, Bubblegum, Peppermint, or Vanilla Sundae. Each cover is also personalised with a child's name and character, for an absolutely one-of-a-kind book.
4. Every book includes a free dedication – from you!
Write your own heartfelt message, and we'll print in on the very first page. Something to remind a child how much you love them, every time they open their book.

5. It's made by the Children's Publisher of the Year 2021
Yes, indeed – that's us! It was a wonderful honour to be given this award, and a testament to the hard work that goes into making every book. Read more about our remarkable story.
6. Talking of awards, meet Lauren Tobia
Lauren is the award-winning children's illustrator behind Peekaboo, I Love You! We love her playful, expressive drawings and mischievous characters.
7. It's a treasure for your family's library
From fingers to toes to squidgy little cheeks, Lauren Tobia's illustrations perfectly capture the playfulness of children at that age. A keepsake to remind you of those gorgeous early years.
8. Grown-ups love reading it out loud
'I know a baby with a sweet button nose – peekaboo, you! Let's tickle your toes!' The sweetly rolling, rhyming story by David Cadji-Newby is a delight to read out loud with little ones.

9. It helps a little one learn
Playing peekaboo not only produces squeals of laughter. It also helps babies develop important cognitive and social skills. And with a Wonderbly book they learn one more important thing: their name!
10. It's packed full of bonding moments
We've made our peekaboo book as interactive as possible, to encourage plenty of cuddly, snuggly, giggly moments with a baby. Ahhhh.
Who made this peekaboo book?
We're Wonderbly, the Children's Publisher of the Year. We make the world's finest personalised books, and have so far delighted over six million children with our unique stories. Our mission is to inspire as many children as possible, by turning them into the hero of their very own book.