It's time to shake up your reading routine with our free printable reading activity (give it a really good shake until all the boring stories and dusty old bookmarks fall out). 
A bit like reading bingo, our Really Whacky Read-O-Meter activity has different challenges for you and your little ones to complete to discover new places and ways to read. Reading a book is marvelous. Reading a book in a fort is marvelously magical. Once you complete all the challenges you can reward yourselves with a treat as a family (book themed, of course).
What to do:
Step 1: Download and print out your Read-O-Meter worksheet.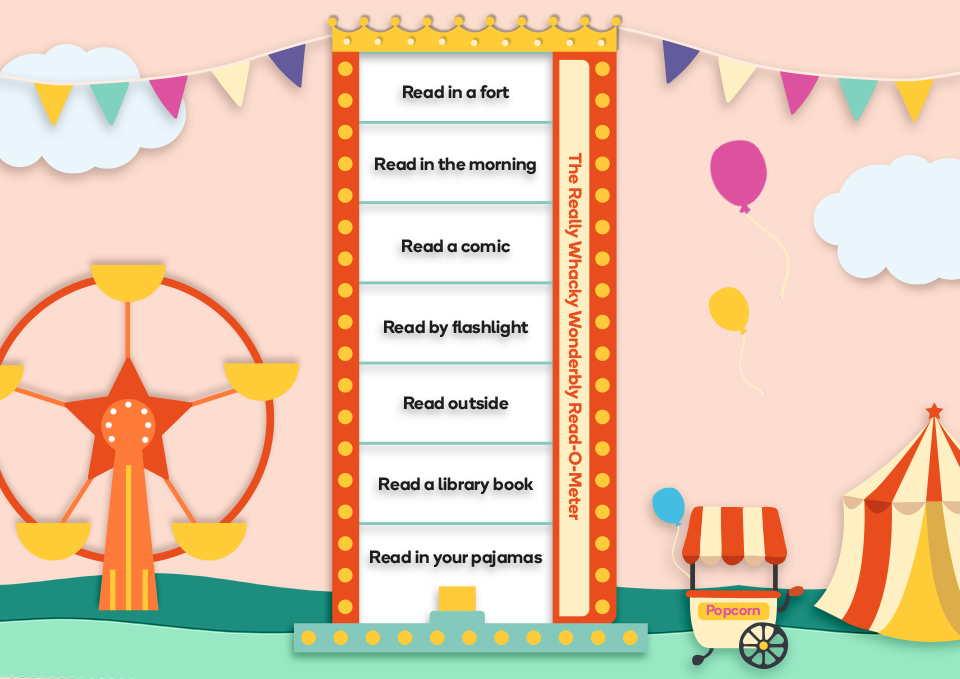 Step 2: Stick it somewhere nice and visible like the fridge (move aside, finger-painting masterpieces).
Step 3: Decide on a family prize together and fill in your ticket. Rewards could be things like a visit to a local bookshop to buy a new book or a special book-themed tea party.
Step 4: Every time you complete a challenge, your little bookworm can color in a section until they reach the top. You can do a challenge each day to complete it in a week or take a bit more time if you need to.
Bonus: We've added some extra reward tickets so you can make up your own reading challenges too.
Need some stories to get you started? Our personalized family books star you and your little ones getting up to all sorts of hilarious hijinks and astonishing adventures. Giggles and grins guaranteed…